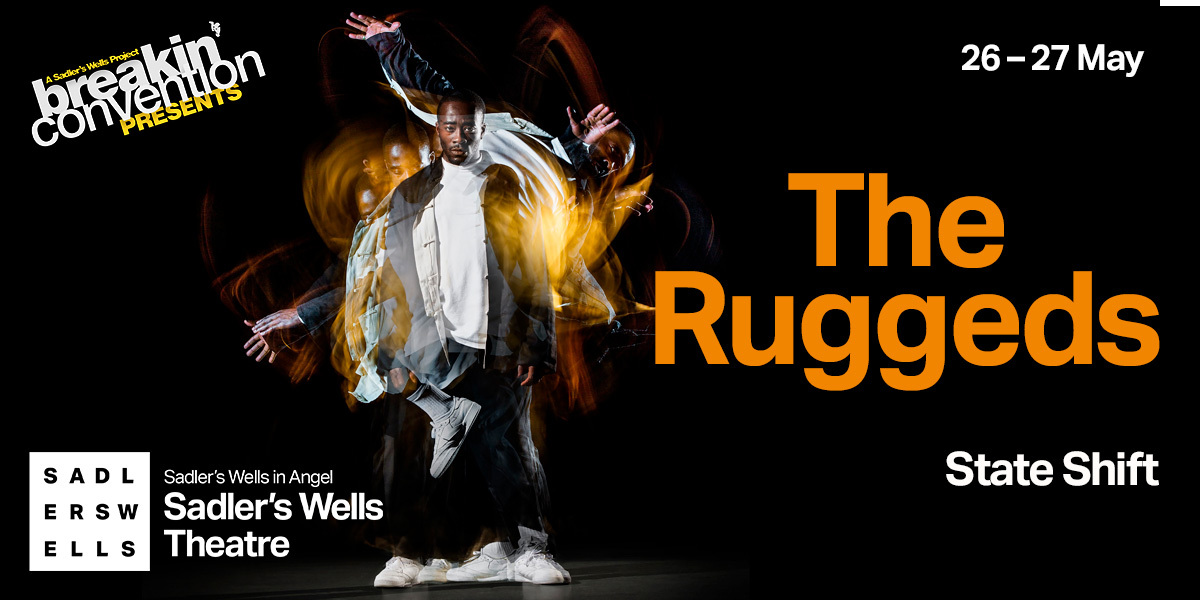 Back to Dance
Breakin' Convention Presents: The Ruggeds - State Shift Tickets
Adapt, improvise, overcome. The Ruggeds present a vivid duo of pieces in State Shift!
Keep me updated
We'll tell you as soon as tickets go on sale:
Tickets for Breakin' Convention Presents: The Ruggeds State Shift
The Ruggeds return to Sadler's Wells with State Shift - an electrifying double bill that explores adaptability, going with the flow and overcoming challenges. Adapt, improvise, overcome - book your tickets for The Ruggeds State Shift now! 
About Breakin' Convention Presents: The Ruggeds State Shift
State Shift is a fascinating exploration of adaptability featuring the captivating solo Turns and the dynamic duet Waterbrothers. Lee and Roy embody the fluidity of water, constantly shifting and evolving their movements. Meanwhile, in Turns, Virgil 'Skychief' Dey showcases his incredible range of motion and improvisational skills. The performance is accompanied by the entrancing music of Jessy 'Boi Beige' Kemper.
About The Ruggeds 
For 15 years, The Ruggeds have been pushing the boundaries of theatre, winning countless awards, including World Champion Breakers. With appearances in music videos like Justin Bieber's 'Where Are U Now', their performances are considered to be genre-defying and are known for taking steps most Breaking crews wouldn't take.
They had an appearance on NBC's World Of Dance Season 2, have won over 200 Breaking / Breakdance competitions, and took the first World Title in 2014 at the UK Bboy Championships. The dance group premiered a short version of Adrenaline at Breakin' Convention at Sadler's Wells in London as a Breaking / Breakdance Company. At the beginning of 2019, they created a new production Between Us which they performed throughout the whole year all over the Netherlands, including 'Lowlands', one of the Netherlands' biggest festivals.
Breakin' Convention Presents: The Ruggeds State Shift tickets are available now!
This magnetic double bill showcases The Ruggeds' innovative approach to breaking and is an unmissable and inspiring piece of art, book your tickets today!
Age restriction
To be confirmed.
Running time
1 hour (no interval)
Performance dates
26 May 2023 – 27 May 2023
Venue Information
Sadler's Wells
Rosebery Avenue, Islington, London, EC1R 4TN
Customer
Reviews
1 reviews
5.0