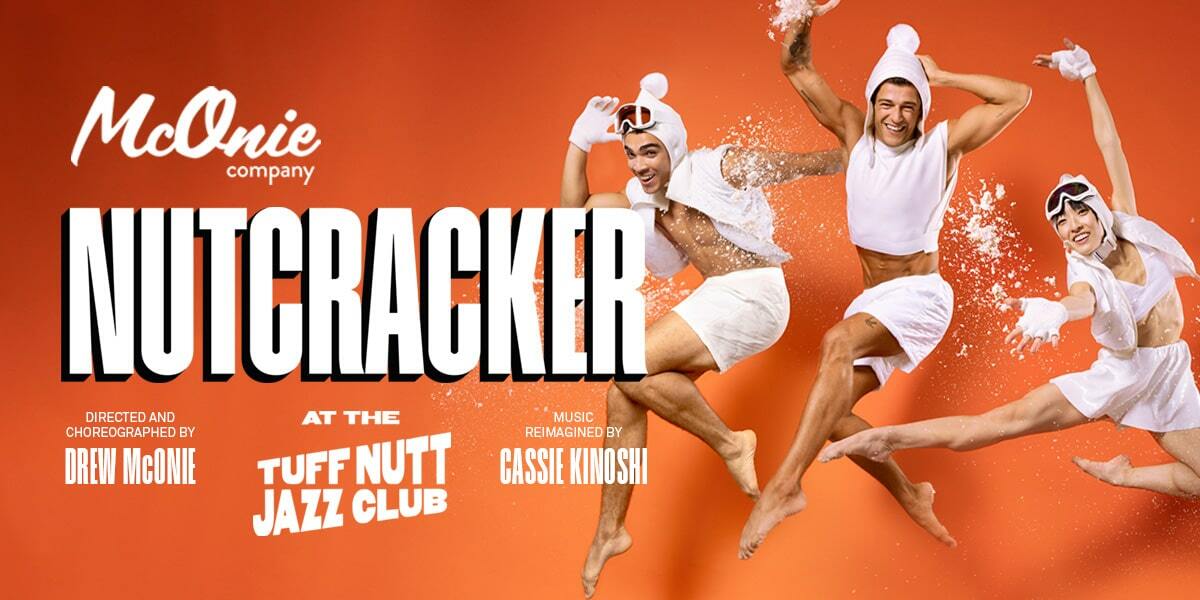 An immersive reimagining of the festive classic at the Royal Festival Hall
Nutcracker Royal Festival Hall Tickets 
Dive head-on into a glittering wonderland with this playful reimagining of the festive classic Nutcracker. Join us in a sultry pop-up jazz club under the Royal Festival Hall and take a seat within touching distance of the action. Wild-spirited, mischievous and a lot of fun this reinvention of Nutcracker is for anyone who wants to live life in full technicolour.
The story unfolds on Christmas Eve when a young girl named Clara receives a magical Nutcracker doll as a gift from her godfather. Later that night, as Clara falls asleep, she is transported into a fantastical world filled with dancing snowflakes, toy soldiers, and fairy-tale characters. Together with the Nutcracker Prince, Clara embarks on a quest to defeat the Mouse King and rescue the Sugar Plum Fairy, the ruler of the Land of Sweets.
The McOnie Company's Nutcracker is a thrilling reinvention of the timeless holiday classic. From your arrival at London's hottest new pop-up venue to the sultry reimagining of Tchaikovsky's world-famous score, everything familiar pulses with a new rhythm. Nutcracker London tickets are sure to go as fast as sweets, so book yours today!
Nutcracker Reimagined
The Nutcracker, composed by Pyotr Ilyich Tchaikovsky in 1892, is a two-act classical ballet set adapted from E. T. A. Hoffmann's 1816 short story, The Nutcracker and the Mouse King. The original choreography was created by Marius Petipa.
Nutcracker Nights features the brightest emerging jazz artists from Tomorrow's Warriors and seasoned professionals Ben Brown, Marcio Philomena, Lulu Pierre and Ineza & Women's Words, Sisters' Stories.
Tomorrow's Warriors is a pioneering talent development organisation, creative producer, learning and training provider, charity and consultancy specialising in jazz. Founded in 1991 by The Queen's Medal for Music recipient Gary Crosby OBE and Janine Irons OBE, Tomorrow's Warriors supports aspiring artists from diverse backgrounds to discover their magic and achieve creative ambitions.
A Black-led organisation, Tomorrow's Warriors plays a vital role in the UK music scene, pushing young talent to the forefront of the vibrant UK jazz scene and supporting those from challenging circumstances. Tomorrow's Warriors has mentored and trained musicians including Moses Boyd, Nubya Garcia (Nérija), Femi Koleoso (Ezra Collective, 2023 Mercury Prize winners) and Shabaka Hutchings (Sons of Kemet).
Did You Know
The original story of The Nutcracker and the Mouse King, penned by E.T.A. Hoffmann, was significantly darker and filled with violence compared to the ballet production commonly enjoyed today.
Peter Tchaikovsky, also composed the music for Sleeping Beauty and Swan Lake.
The story is over 200 years old.
In Germany, nutcrackers are thought to bring good fortune and are frequently given as Christmas gifts to children.
The name Clara has changed many times, she's been known as Marichen, Maria and Masha.
While The Nutcracker initially premiered in the United States in 1944 with the San Francisco Ballet, it didn't achieve widespread popularity until a decade later when George Balanchine's version was introduced. By the 1960s, the ballet had become an essential part of the holiday season across the country.
Please Bear In Mind 
Nutcracker at the Tuff Nut Jazz Club is suitable for ages 12+.
Nutcracker Southbank Centre Cast
Main Cast
Action Man - Amonik Melaco
Clive - Sam Salter 
Sugarplum - Patricia Zhou
Additional Cast
Chanelle Anthony, Christie Crosson, Tim Hodges, Lukas Hunt and Rachel Muldoon. Cast subject to change.
Nutcracker Southbank Centre Creatives
Main Creatives
Director & Choreographer - Drew McOnie 
Composer - Cassie Kinoshi 
Additional Music - Rio Kai 
Venue and Set Design - Soutra Gilmour
Costume Design - Ryan Dawson Laight
Music Supervision - Benjamin Kwasi Burrell
Lighting Design - Joshie Hariette
Sound Design - Simon Baker
Casting - Will Burton CDG.
Age restriction
This production is suitable for ages 12+
Running time
1 hour 15 mins
Performance dates
28 Oct 2023 –⁠ 6 Jan 2024
Access
Audio Description performances on Sun 19 Nov at 2pm and Wed 20 Dec at 7.30pm.
Special Offer
Nutcracker Ticket Offer Details
SAVE ON TICKET PRICES Valid for performances 17 November 2023 - 6 January 2024. Excluding selected Friday-Sunday performances and all performances 8 - 27 December 2023. Book by 5 December 2023.
Customer
Reviews
2 reviews
5.0
'⭐⭐⭐⭐ "Drew McOnie's new spin on Christmas classic The Nutcracker has a cabaret setting and a warm heart." '

'⭐⭐⭐⭐ "A Christmas dream of love that goes with a swing" '

'⭐⭐⭐⭐ "London's first Nutcracker of the season is clever, cute and compact as a Terry's chocolate orange." '