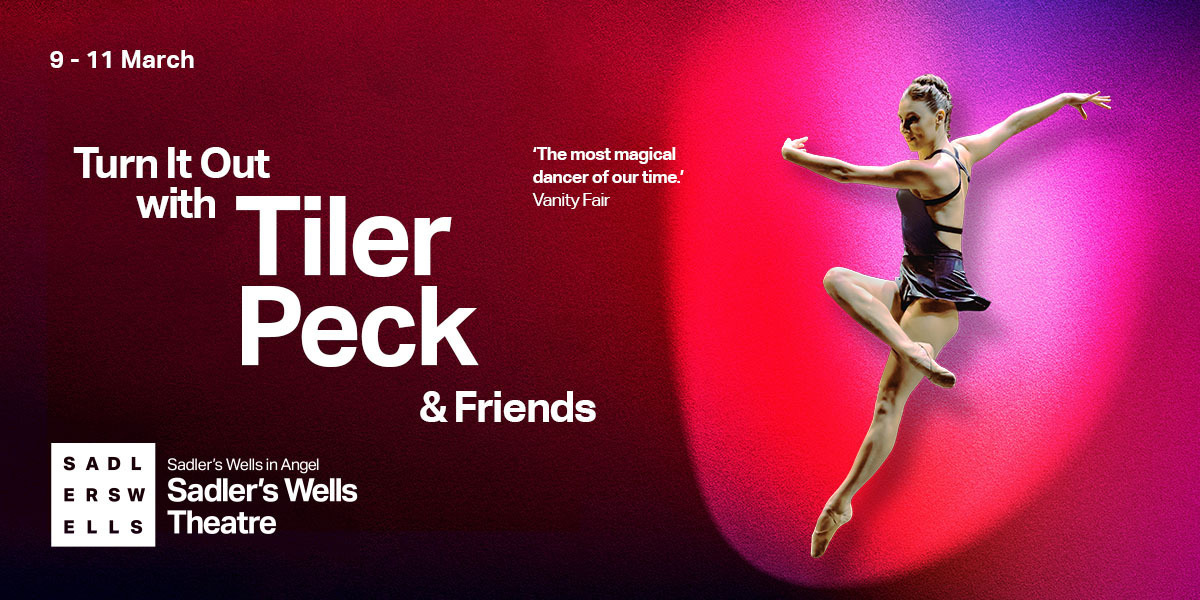 Witness Turn it Out with Tiler Peck & Friends with award-winning ballet dancer Tiler Peck!
Tickets for Turn it Out with Tiler Peck are available now! 
Renowned New York City Ballet principal dancer Tiler Peck brings her dance prowess to Sadler's Wells London with Turn it Out with Tiler Peck & Friends, following a sold-out world-premier in New York. The brand-new, electric programme will host an array of handpicked talent as the tour-de-force of ballet gathers and celebrates some of the most gifted modern dance artists of today! Book your tickets today for Turn it Out with Tiler Peck to see the mastermind herself in action!
About Tiler Peck 
Tiler Peck entered the School of American Ballet at the age of 14 and quickly rose as an apprentice with the New York City Ballet, subsequently, she was promoted to Principal Dancer in 2009 where she has continued to refine her skills ever since.
Peck is known for having an expansive and versatile career that pushes the boundaries of ballet. She has launched and starred in the Los Angeles Music Center's presentation of BalletNOW, and also starred in the Hulu documentary Ballet Now. Peck also choreographed John Wick: Chapter 3 – Parabellum.
Her additional credits include On The Town, The Music Man, Carousel, Susan Stroman's Little Dancer, Ray Donovan, Tiny Pretty Things, The Ellen DeGeneres Show, Dancing with The Stars, Bravo's Rocco's Dinner Party, Julie Andrews' Netflix series, Julie's Greenroom, and Ballet 422. She has also performed for President Barack Obama at the 2012 and 2014 Kennedy Center Honors.
Peck was named on the list of Forbes 30 under 30 in Hollywood Entertainment, she is the recipient of a Dance Magazine Award, a Mae L. Wien Award, a Janice Levin Honoree and many more!
About Turn it Out with Tiler Peck 
Turn it Out with Tiler Peck begins with Peck's own programme Thousandth Orange, which is set to live music by Pulitzer Prize winner Caroline Shaw. For the production, Peck has recruited West Coast icon Alonzo King to create Swift Arrow, the breathtaking pas de deux. Peck joins long-term collaborator and dance star Michelle Dorrance with Jillian Meyers on Time Spell. 
The program will close with The Barre Project, Blake Works II, an exciting piece that was originally created for the screen and has music by the incredible James Blake. The piece is the first creative partnership between Peck and choreographer William Forsythe.
The performers of Turn it Out with Tiler Peck 
Turn it Out with Tiler Peck features performances by India Bradley, Michelle Dorrance, Jovani Furlan, Christopher Grant, Lex Ishimoto, Lauren Lovette, Brooklyn Mack, Aaron Marcellus, Roman Mejia, Jillian Meyers, Mira Nadon, Tiler Peck, K.J. Takahashi, Byron Tittle, and Penelope Wendtlandt.
Turn it Out with Tiler Peck tickets are available now!
Don't miss out on your chance to see the directorial brilliance of Tiler Peck in Turn it Out with Tiler Peck, book your tickets today!
Age restriction
To be confirmed.
Running time
1 hour and 40 minutes (including two pauses and one interval)
Performance dates
9 – 11 March 2023
Venue Information
Sadler's Wells
Rosebery Avenue, Islington, London, EC1R 4TN
Cast Includes