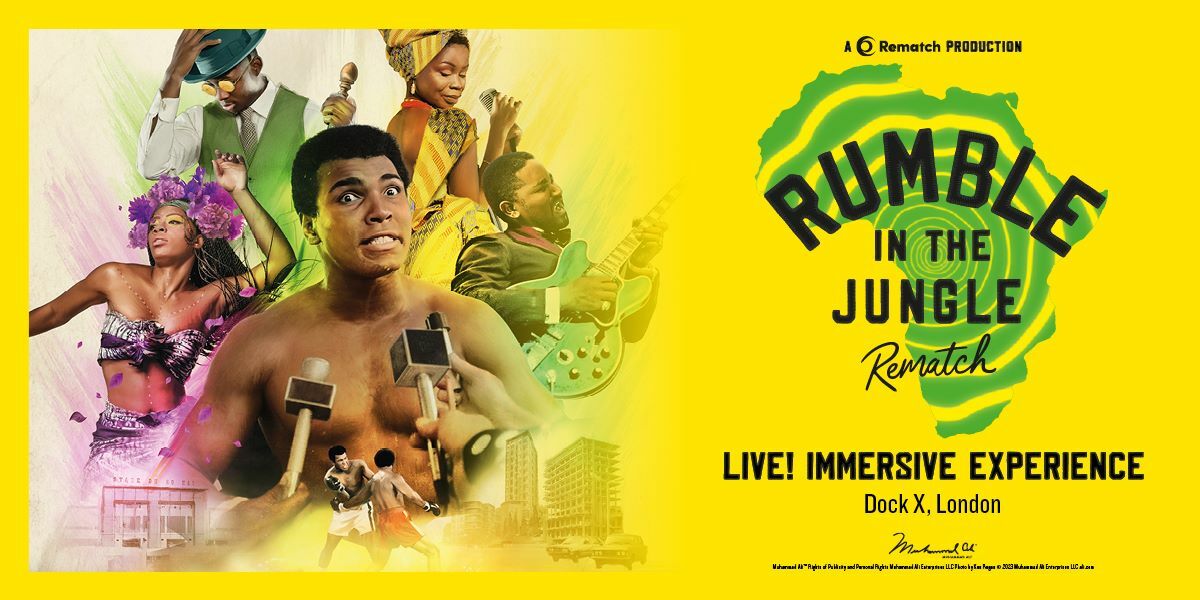 Join us as we travel back in time to Kinshasa 1974 for the Rumble in the Jungle.
Tickets for Rumble in the Jungle: Rematch are available now! 
Get ready to rumble…in the jungle! The time-travelling, creatively immersive experience Rumble in the Jungle: Rematch is making a grand appearance at London's new Dock X Canada Water venue! Fusing theatre and festival, Rematch retells one of histories most iconic sporting events through several immersive spectacles. Ding ding ding, book your tickets before the final bell rings!
About Rumble in the Jungle 
Theatre, sport and technology - Rumble in the Jungle: Rematch takes guests back in time to 1974 to see legendary boxers Muhammad Ali and George Foreman go head-to-head in Zaire. Brought to life by a live cast of actors, with live music, food and drink that create authentic smells and tastes of the time. From Ali's pre-match trash talking to the step-by-step play-out of the fight where his famous rope-a-dope was performed, Rumble in the Jungle will take audiences on a journey to discover The Greatest Sporting Event of the 20th Century. 
What happens in Rumble in the Jungle? 
Split into six chapters, Rematch begins in 1974 Zaire, where border security have been alerted to your arrival in Kinshasa. In Chapter 2, you see the vibrant tapestry of Kinshasa, Zaire as you attend the fighters' press conference, delve into the boxers' intense training camps, or simply savor the moment at a local bar.
Chapter 3 celebrates the rich rhythms of Afrobeat, Soul, and Salsa. Join the festivities and dance to the tunes that unite American, African, and Latin music. In Chapter 4, take a well-deserved interval break within the grandeur of the Stade du 20 Mai. 
Chapter 5 brings you to the clash between George Foreman and Muhammad Ali, who now stands as the underdog. In Chapter 6, the echoes of James Brown and other global music legends fill the air, creating a powerful finale.
The creatives of Rumble in the Jungle  
The creatives of Rumble In The Jungle include Miguel Hernando Torres Umba as creative director, with Tristan Fynn-Aiduenu as writer. Rumble In The Jungle contains original music by Femi Temowo, with creative production by Malu Ansaldo, Set Design by Takis, fight direction by Alex Payne, movement direction and choreography by Joseph Toonga, video design by Ian William Galloway and many more!
Rumble in the Jungle tickets are available now!
Experience Zaire 74, the legendary festival where Soul and Funk met Afrobeat and Salsa as you witness George Foreman and Muhammad Ali fight for the heavyweight championship of the world. Immerse yourself in the sights, sounds, scent, spectacle and sweet, sweet soul music of a forgotten festival and an unforgettable fight. Book your tickets today!
Age restriction
Anyone under 16 needs to be accompanied by a ticket holding adult (aged 18 or over)
Running time
Approximately 3 hours
Performance dates
14 September - 10 December 2023
Venue Information
Dock X
Unit 1 Canada Water, Surrey Quays Rd, London , London, SE16 2XU
Upcoming Performance Times
Wednesday

27 September 2023

Wednesday

27 September 2023

Wednesday

27 September 2023

Thursday

28 September 2023

Thursday

28 September 2023

Thursday

28 September 2023

Friday

29 September 2023
Performance Months
Jump directly to a month to select a performance