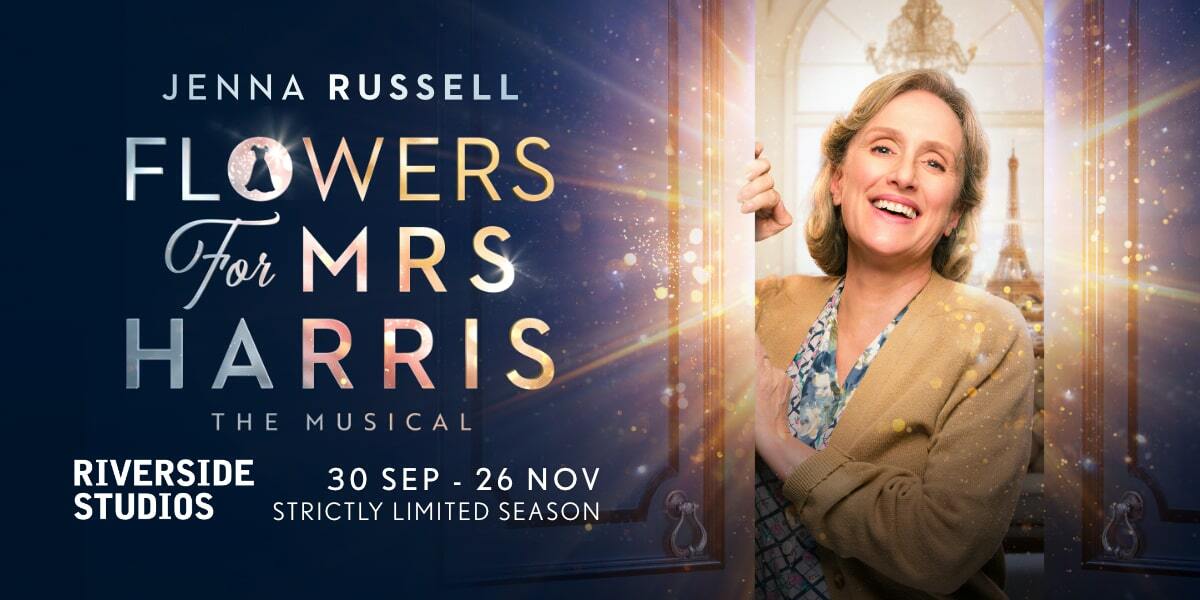 Fall in love with this heart-warming story of one woman's journey to achieve her dreams.
Keep me updated
We'll tell you as soon as tickets go on sale:
Tickets for Flowers for Mrs Harris are available now!
Get ready to fall in love as you are transported to the magical avenues of Paris on a journey of self-discovery. Flowers for Mrs Harris is an inspirational musical about friendship, adventure and ambition. Hurry, this heart-warming production about achieving hopes and dreams is only at the Riverside studios for a limited time. Book your tickets today!
About Flowers for Mrs Harris
Living in the cobbled streets of post-war Britian Ada Harris is working day-to-day as a cleaner, pleasing everyone else around her. However, that's all soon to change when she has a life-altering moment. Whilst working for a wealthy family in Belgravia she finds the most beautiful Dior dress, that not only takes her breathe away but changes her whole outlook on life. Her dream of travelling to Paris to buy a Dior dress for herself soon becomes a reality. But can she leave her past behind and let her own life blossom?
Flowers for Mrs Harris cast and creatives
Flowers for Mrs Harris is based on the novel by Paul Gallico, and directed by Bronagh Lagan. The book is by Rachel Wagstaff, with music and lyrics from Richard Taylor orchestrations by Jason Car. The musical director is Jonathan Gill. Casting is by Jane Deitch.
The Olivier Award-winning Jenna Russell will star in the role of Mrs Harris and will be joined by Hal Fowler (London Road) as Albert Harris / Marquis de Chassagne, Olivier Award-nominee Kelly Price (What's New Pussycat?) as Lady Dant / Madame Colbert, Annie Wensak (Half A Sixpence) as Violet / French Char Lady, Charlotte Kennedy (My Fair Lady) as Pamela / Natasha, Nathanael Campbell (Come From Away) as Bob / Andre, David McKechnie (Standing at the Sky's Edge) as Major / Monsieur Armand and many more!
Flowers for Mrs Harris tickets are available now!
Don't miss this stunning and heartwarming production, of how dreams and ambitions can come a reality. Smell the roses and book your tickets today!
Age restriction
This production is recommended for ages 7+
Running time
To be confirmed
Performance dates
30 September - 26 November 2023
Venue Information
Riverside Studios
Riverside Trust, Riverside Studios, 101 Queen Caroline Street, Hammersmith, London, London, W6 9BN
Customer
Reviews
12 reviews
4.3