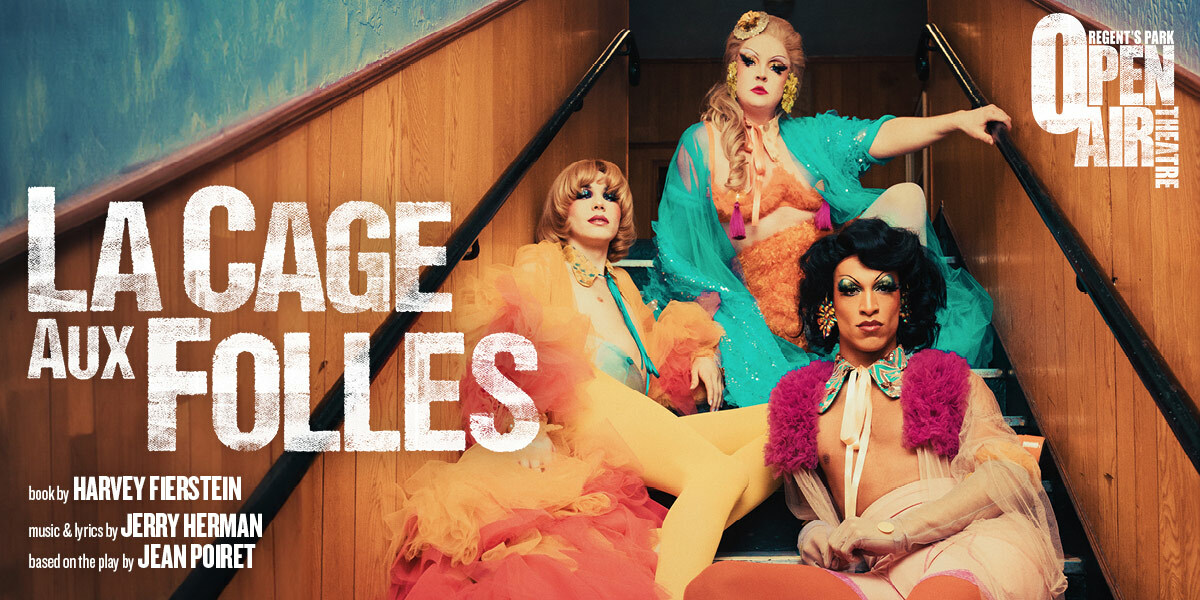 Open Air Theatre, Regent's Park, London
Discover the meaning of family in the bustling streets of St Tropez in La Cage aux Folles!
Keep me updated
We'll tell you as soon as tickets go on sale:
Tickets for La Cage aux Folles are available now!
Based on Jean Poirets' story of sexuality and sacrifice, La Cage Aux Folles presents a powerful and witty exploration of identity and family values, set to the beat of timeless songs such as 'The Best of Times' and 'I am What I Am'. Prepare to sip a cocktail or two under the bright lights of St Tropez! Surrounded by the mediterranean sea, the sunny little commune is home to the ambitious nightclub owner Georges and his dazzling drag artiste partner Albin, who are about to learn a lesson about love and acceptance. Book your tickets for La Cage Aux Folles at Regent's Park Open Air Theatre today!
About La Cage Aux Folles 
An outrageously funny play that gives insight into the nightlife of St Tropez. The story follows nightclub owner Georges and his partner Albin, who are renowned for putting on the most fabulous shows in town. However, the real show starts when Laurent, Georges' son, announces his engagement to the daughter of a right-winged politician who has made it their mission to bring down the curtain on the town's nightlife. Despite the imminent threat, Georges and Albin attempt to disguise their true nature as they entertain their future in-laws for the sake of their son. But how long will their façade hide who they really are?
The La Cage Aux Folles creative team
Featuring book by Harvey Firestein, music and lyrics by Jerry Herman, and adapted from the play of the same name by Jean Poiret. This new production of La Cage aux Folles is directed by Timothy Sheader.
La Cage Aux Folles tickets are available now!
The hilarious La Cage Aux Folles is a comedy that will have you laughing from beginning to end. The show features over-the-top characters, hilarious one-liners, and plenty of physical comedy. Book your tickets today!
Age restriction
This production is suitable for ages 12+. Children under the age of 4 will not be admitted to the venue.
Running time
2 hours 30 minutes (including interval)
Performance dates
29 July - 23 September 2023
Content
The production contains loud whip crack sounds and addresses themes of transphobia, homophobia and misogyny.
Special notes
Children under the age of 4 will not be admitted to the venue.
PLEASE NOTE: Tickets may only be exchanged or refunded in the case of a cancelled show. However, tickets are non-refundable in the event of cancellation or abandonment of a show as a result of the weather but may be exchanged to another performance, subject to availability, at Open Air Park Theatre. In the event of cancellation because of the weather, this will be announced at the time of cancellation, always after the scheduled start time of the performance, at the venue. If you decide not to attend a performance due to concerns over the weather and the performance goes ahead no refund, credit note, or exchange of theatre tickets will be possible.
Access
BSL signed performance Monday 28 August, 14:00. Captioned performance Friday 1 September, 19:45. Audio described performance Saturday 2 September, 14:15.