Heathers the Musical at Theatre Royal Haymarket
Updated on 28 September 2018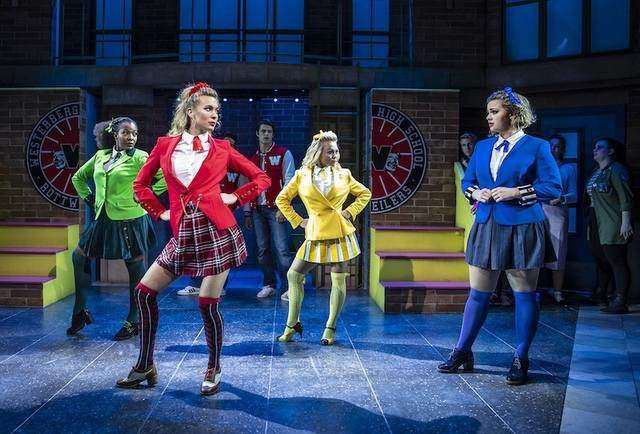 Pictured: Carrie Hope Fletcher as Veronica faces off against the Heathers.
---
Heathers follows misunderstood Veronica Sawyer, just another invisible student at Westenberg High trying to make it through High School alive. She's doing a pretty good job at it, until she is snapped up by The Heathers, who decide to build Veronica up as their new project. Veronica jumps at the idea, until she realises what is required in return.
Based on the 1988 cult hit classic, Heathers the Musical is like Mean Girls with murder and arguably the most satisfying show in the West End. Not only is it bursting with an impressive score (performed by a faultless cast, but more on them later) the show is laced with a dark, gripping storyline that takes the audience on a real journey. There were several moments where my hands flew to cover my face after another 'I didn't see that coming!'. Along with this, Heathers the Musical is also painfully funny. The comic timing amongst the cast and the awkward portrayal of the teenage angst heavily flowing in high school is hilarious.
Taking on the lead role of Veronica Sawyer is West End Star, Carrie Hope Fletcher. As leading roles go, this one must be up there as one of the most demanding for an actor to play, Fletcher barely leaves the stage but she doesn't let her performance slip for a second. Fletcher bursts through the ensemble in her reveal in the opening number 'Beautiful' and belts out her last, uplifting verse with ease and great amount of gusto. Listening to Fletcher sing is like dying and going to vocal heaven, and her comedic scenes as Veronica were hysterical.
Jamie Muscato plays the dark and twisted Jason Dean, JD, the boy who steals Veronica's heart. Muscato's eerie performance is chilling and his voice is sublime. Jenny O'Leary brings the role of Martha Dunnstock to life with a huge amount of heart and her rendition of Kindergarten Boyfriend powers through the audience. Taking on the infamous Heathers are Sophie Isaacs as the plucky Heather Mcnamara, T'Shan Williams as Heather Duke (who blew me away with her incredible new number) and Jodie Steele as their fearless leader, Heather Chandler. Playing the 'epic bitch', Steele is the comic pulse of the show.
Christopher Chung and Dominic Anderson play the smartest guys on the football team, Kurt Kelly and Ram Sweeney and only add to the comedic essence of the show.
Directed by Andy Fickman and choreographed by Gary Lloyd, the fresh and vibrant ensemble make every second of Heathers the Musical engrossing. Grab your scunchie, because this is the show not to be missed. How very.
---
Heathers The Musical is playing at Theatre Royal Haymarket until 24 November. Make sure you book your Heathers tickets while you still can!