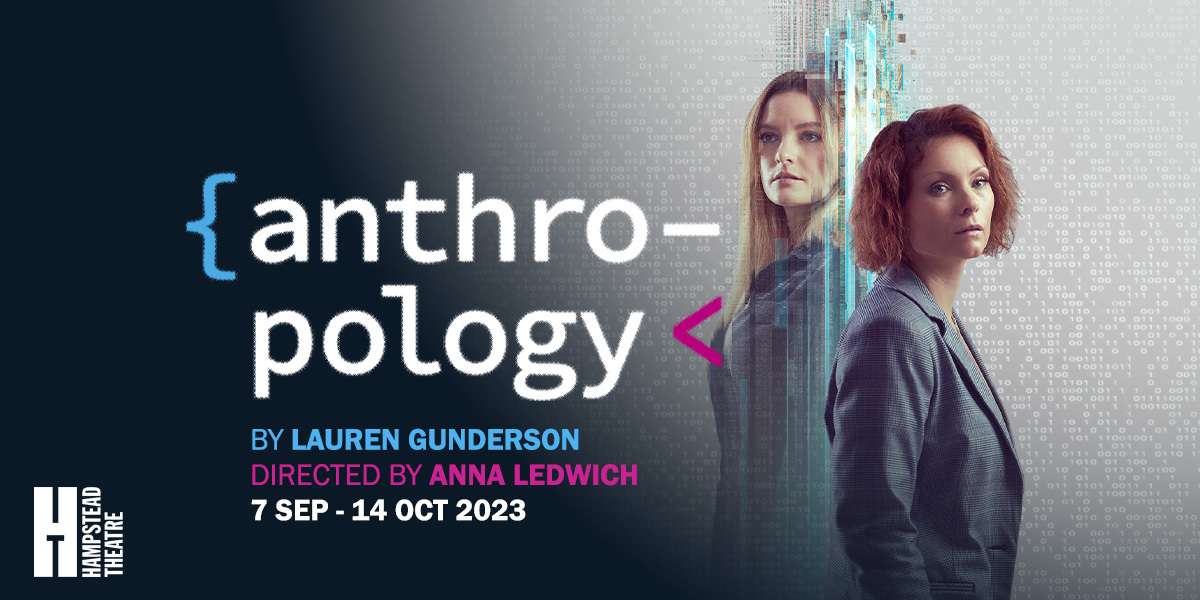 Hampstead Theatre, London
The gripping artificial intelligence thriller Anthropology comes to Hampstead Theatre
Tickets for Anthropology are available now! 
In an ever-evolving world where technology is seamlessly integrated with our daily lives, picture a scenario where we're able to resurrect those we've lost in the form of a digital presence. Lauren Gunderson's enigmatic sci-fi masterpiece, Anthropology, takes us on a journey through uncharted territory, highlighting consequences that stretch far beyond our imagination. Fans of science fiction and suspense will love Anthropology at London's Hampstead Theatre, book your tickets now!
About Anthropology 
"It's not that hard – you're basically a chatbot.
Merril, an expert software engineer hailing from the heart of Silicon Valley, finds her world turned upside down when her younger sister Angie mysteriously disappears on her way back from college. In the wake of a failed police investigation and armed with Angie's digital footprint, she assembles every last shred of her sister's digital presence, fashioning a lifelike digital simulation of Angie.
This digital doppelgänger may help fill the aching void left by her sister's absence for now, when it begins to unearth concealed facts about Angie's vanishing, Merril finds herself caught in a dance with an unsettling and eerie truth. 
The cast and creatives of Anthropology 
Lauren Gunderson is one of the world's most produced playwrights and returns to Hampstead following the highly successful I and You in 2018. The author of over 20 plays, Lauren is the winner of multiple awards, including the Lanford Wilson Award. 
Anthropology is directed by Anna Ledwich and it is the twelfth play that Anna has directed for Hampstead, where her work has ranged from Labyrinth to the Olivier-nominated productions of Dry Powder and Four Minutes Twelve Seconds. 
MyAnna Buring (Twilight: Breaking Dawn; The Witcher; Downton Abbey; Ripper Street; A Very Expensive Poison) plays Merril. She is joined by Dakota Blue Richards (_The Golden Compas_s; Skins; Arcadia), Yolanda Kettle (Patriots, Deep Blue Sea, National Theatre and Eden) and Abigail Thaw (Endeavour and The Strange Death of John Doe).
Anthropology tickets are available now
Lauren Gunderson's gripping thriller about artificial technology is one you don't want to miss, secure your tickets today!
Age restriction
To be confirmed.
Running time
To be confirmed.
Performance dates
7 September - 14 October 2023
Content
This production contains strong language, references to death, domestic abuse, and substance abuse.
Special notes
PATRONS EVENING PERFORMANCES and POST SHOW DISCUSSION - 26 September - 19:30; 5 October - 19:30.
Access
CAPTIONED PERFORMANCE and POST SHOW DISCUSSION - 10 October - 19:30. AUDIO DESCRIBED - 14 October - 14:30.