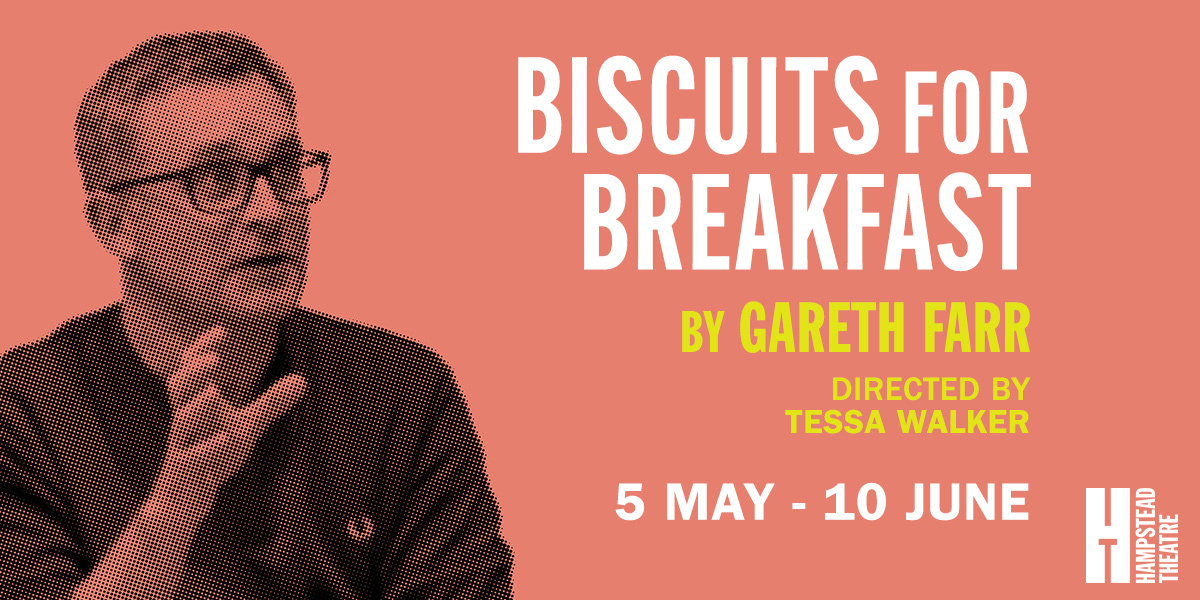 Hampstead Theatre, London
An unlikely match joins forces to overcome their struggles in Biscuits for Breakfast.
Keep me updated
We'll tell you as soon as tickets go on sale:
Biscuits for Breakfast tickets are now available! 
'People always need to eat. If you can cook, really cook, if you know flavour and taste and texture, people will pay you to do it. People always need to eat. Always'. Gareth Farr's touching and inspiring Biscuits for Breakfast at the Hampstead Theatre presents a tale of two individuals who join forces in the hopes of overcoming both their individual and societal struggles. Book your tickets today to witness this heartfelt story at the Hampstead Theatre!
About Biscuits for Breakfast 
Biscuits for Breakfast follows the struggles of two everyday dreamers. Meet Paul, a man who is introverted and thoughtful, a man whose only secret is the deep and aching grief that he carries for his father. Then there's Joanne, a rather defensive and spiky soul, traits that come from having to be a survivor. At first, it appears that the pair do not match, but as time draws on, Paul's passion for cooking and his taste for finer foods forges an everlasting bond between the two.
Everything appears to be going according to plan, until the sudden announcement that the hotel where Paul and Joanne work is closing. What happens next is a descent into poverty that jeopardises their future, including their plans to open a restaurant and write a cookbook. More importantly, though, is the fact that their hope of creating a life together looks more and more out of reach with each passing day.
The creatives of Biscuits for Breakfast
Biscuits for Breakfast is created by award-winning playwright for theatre and television, Gareth Farr. In 2011, Farr won the Bruntwood Prize for his play Britannia Waves the Rules (Royal Exchange Manchester), which later went on two tours and has since been produced in Australia. Renowned director Tessa Walker directed his play The Quiet House, which was presented at Birmingham Rep and Park Theatre. After producing Ravenscourt, Big Big Sky, and The Glad Game Downstairs at Hampstead Theatre, Tessa Walker returns to Hampstead with her second collaboration with Gareth Farr.
Casting for Biscuits for Breakfast is yet to be announced.
Tickets for Biscuits for Breakfast are available now!
This reflective look at poverty and survival explores the effects these issues have on those who live them. Prepare to be moved by the realistic tones of Biscuits for Breakfast, book your tickets for Biscuits for Breakfast today!
Age restriction
To be confirmed.
Running time
To be confirmed.
Performance dates
5 May – 10 June 2023
Content
This production contains strong language as well as references to death and addiction.