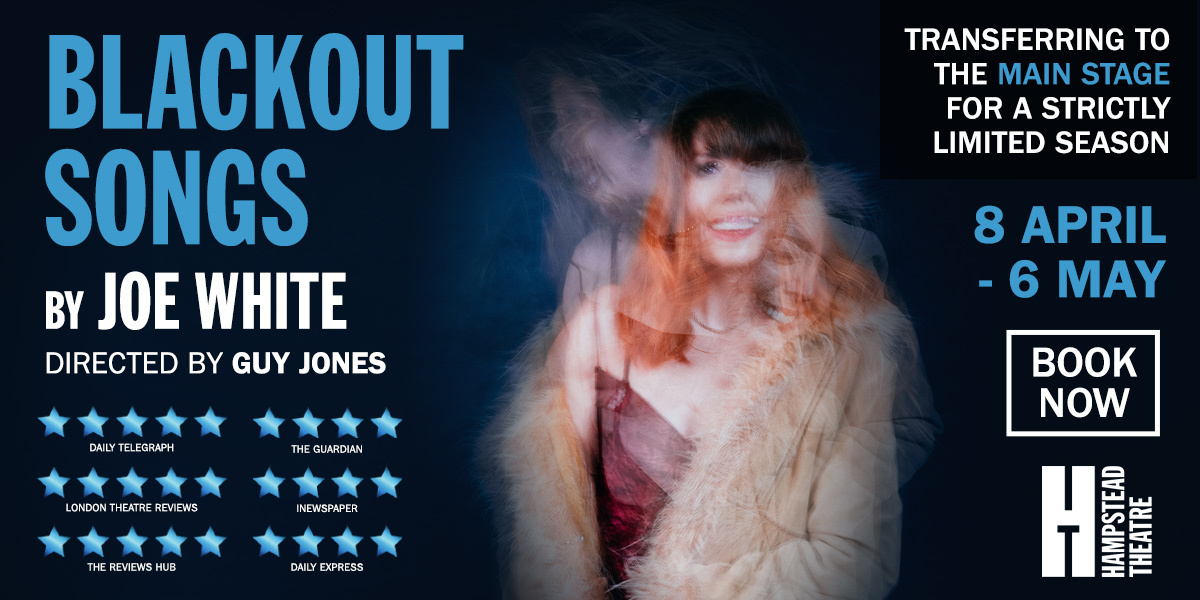 Hampstead Theatre, London
In this romantic tragedy, two lovers navigate a romance whilst grappling with alcoholism.
Tickets for Blackout Songs are available now! 
Joe White's heartfelt romantic tragedy tells the story of a codependent couple in their battle against alcoholism, as they desperately attempt to save themselves. Balanced with tenderness and internal pain and conflict, Blackout Songs is White's latest true-to-life story that displays all angles of alcoholism recovery. Book your tickets for Blackout Songs at Hampstead Theatre today! 
About Blackout Songs 
'You told me you loved me, once. You said you carried me. You remember that? You still carry me? Or did you drop me, somewhere along the line?'
At an accidental AA meeting, an intense attachment forms. They are drawn instantly together. Later, they resume drinking. There is a feeling that they may have met before, maybe in a past life…but that's not possible, maybe they're just thinking about other people. If they could get sober and work things out, everything would be better. They will…after one last sip. Self and addiction become one, identity is lost - compulsion and addiction consume it.
The cast and creatives of Blackout Songs
The cast of Blackout Songs includes Alex Austin (I Hate Suzie, Gundog) as him and Rebecca Humphries as her (Ten Percent, Wild Honey). Blackout Songs is written by Joe White, a former Channel 4 Playwriting Award winner whose play Mayfly (Orange Tree) won Most Promising New Playwright at the OffWestEnd Awards. Guy Jones, who directed Mayfly, returns to Hampstead following his incredible production of Ruby Thomas' Either.
Blackout Songs tickets are available now! 
Enter this rebellious love story, one that is warm and dangerous as it is fuelled by a life of binges. Romance meets the unpredictable in the incredible Blackout Songs, book your tickets today!
Age restriction
To be confirmed.
Running time
To be confirmed.
Performance dates
8 April – 6 May 2023.