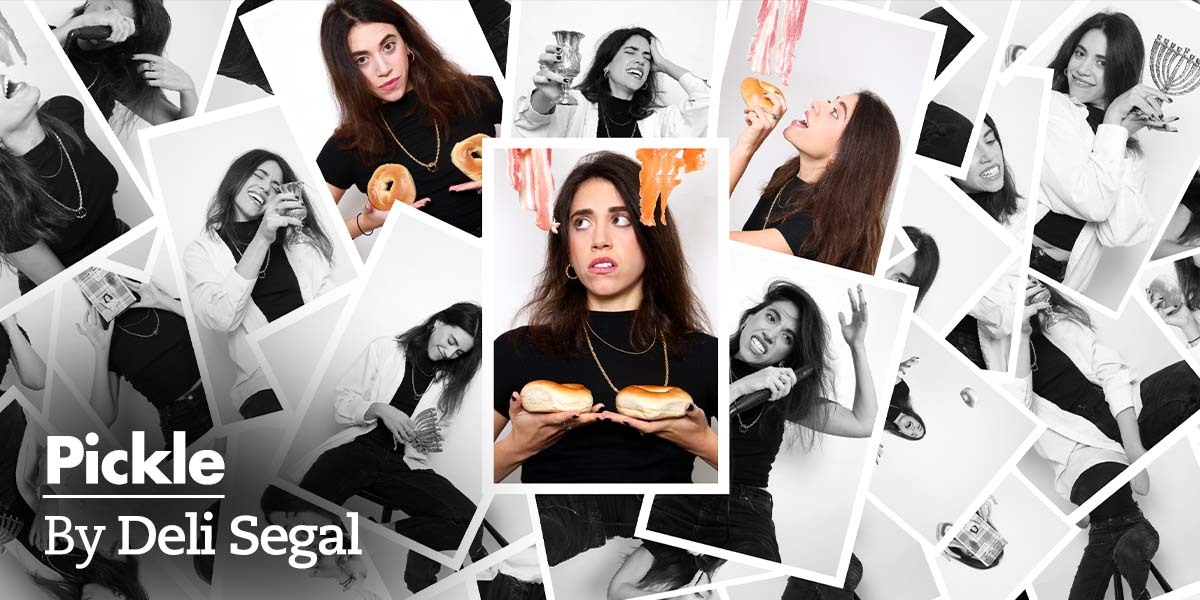 This hilarious show returns to the Park Theatre for an extremely limited run
Tickets for Pickle in London are now available!
Tanya Truman Productions (in association with Park Theatre) presents Pickle, a darkly tongue-in-cheek celebration of Jewish culture. After selling out at the Park Theatre's Come What May festival, Pickle has returned to the Park Theatre for a limited two-week run. Make sure to grab your tickets today!
Ari finds herself in a pickle
Ari is torn between two realities. Half of her time is spent living at her family home in North-West London, where her freedom is controlled by bossy parents, traditions, and heavy expectations. The other half finds her seeking refuge in her life at the pub, her job. 
The cast of Pickle
Pickle is a one-woman extravaganza written and performed by Deli Segal; it is a Simcha around being a Jewish woman (whilst also being secular) in the UK. With smoked salmon, bagels, and a hefty amount of guilt and self-sabotage, Pickle is an exploration into the highs and lows of modern Jewish life. 
Pickle tickets are in high demand, be sure to book before they sell out!
Want to see how Ari navigates the duality of her life? Make sure that you get your tickets today to witness her story!
Age restriction
This production is recommended for ages 16+.
Running time
1 hour (no interval)
Performance dates
14 - 26 November 2022
Content
Please note this production contains: swearing, drugs references and sexual references.
Special notes
This performance has a caption unit onstage operated to simultaneously display anything spoken or sung onstage, as well as information on sound effects and music. Captioning can be useful when strong accents are used or for people who speak English as a second language, as well as for Deaf and hard of hearing audiences.
PLEASE NOTE: Finsbury Park station and the surrounding area can get very busy when Arsenal play at home. Please plan your travel to the theatre accordingly.
Latecomers may not be admitted.
Access
Captioned performance 23 November 2022, 7pm
Venue Information
Park Theatre
Park Theatre, Clifton Terrace, Finsbury Park, London, N4 3JP
Cast Includes