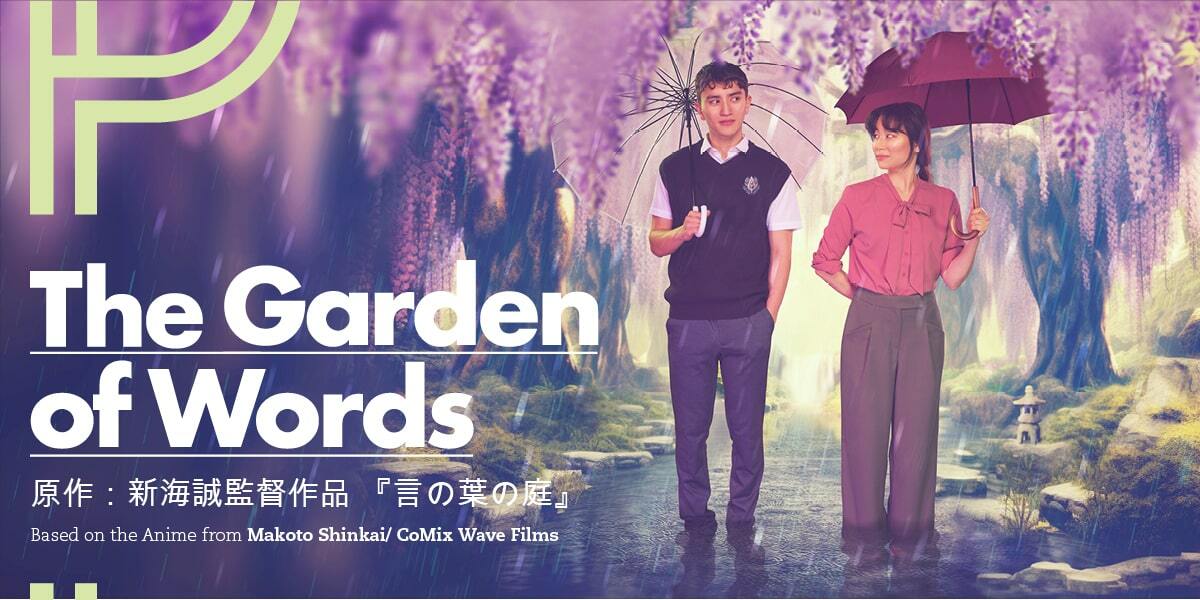 One rainy day in a Japanese garden, two people cross paths and find comfort in each other.
Keep me updated
We'll tell you as soon as tickets go on sale:
Tickets for The Garden of Words are available now! 
Adapted from the work of legendary filmmaker Makoto Shinkai (your name., Suzume) the groundbreaking adaptation of The Garden of Words is returning to the UK stage, taking inspiration from an anime and novel by Shinkai!
The Garden of Words brings the best of Japanese animation, defying stereotypes and pushing the boundaries of what we've come to expect from this beloved genre. Be one of the first to see this production from one of the world's most celebrated filmmakers. Book your tickets for The Garden of Words at Park Theatre today!
About The Garden of Words 
One rainy day in a Japanese garden, Takao and Yukari cross paths and find comfort in their mutual sense of isolation. She is a peculiar woman, he is a quirky teenager - they share their interests in classical poetry, shoemaking, and cooking. As they form a genuine connection, they learn that their newfound companionship may also bring complications. 
Set in Tokyo, this poignant tale by Shinkai explores the blurred lines between platonic and romantic longing and the struggle of feeling disconnected in a bustling city consumed by technology. Through the lives of seven lost souls, the story depicts the difficulty of forging meaningful connections in a world that seemingly thrives on disconnection. The film captures the same bittersweet tone as Lost in Translation, creating a refreshingly honest portrayal of the human experience.
The G_arden of Words_ creatives
This new collaboration has emerged between the UK's Whole Hog Theatre and Tokyo's Nelke Planning, specialists in Anime stage productions such as Attack on Titan, Naruto, and SailorMoon. Whole Hog Theatre is renowned for creating the world's first-ever stage adaptation of a Hayao Miyazaki film, Princess Mononoke, with the permission of Studio Ghibli. These two innovative theatre companies have come together to create a truly unique Anglo-Japanese production. The Garden of Words is directed by Alexandra Rutter and produced by Shuang Teng.
The Garden of Words tickets are available now!
From one of the most beautifully animated films of all time, The Garden of Words brings the rainy season of Japan to the London stage in an emotionally captivating story of love, loneliness, and human connection. Book your tickets today!
Age restriction
This production is recommended for ages 12+
Running time
1 hour 45 mins (including an interval)
Performance dates
10 August - 9 September 2023
Special notes
Parent & babies performance: 24 August 2023, at 1pm.
Venue Information
Park Theatre
Park Theatre, Clifton Terrace, Finsbury Park, London, N4 3JP
Customer
Reviews
2 reviews
3.0