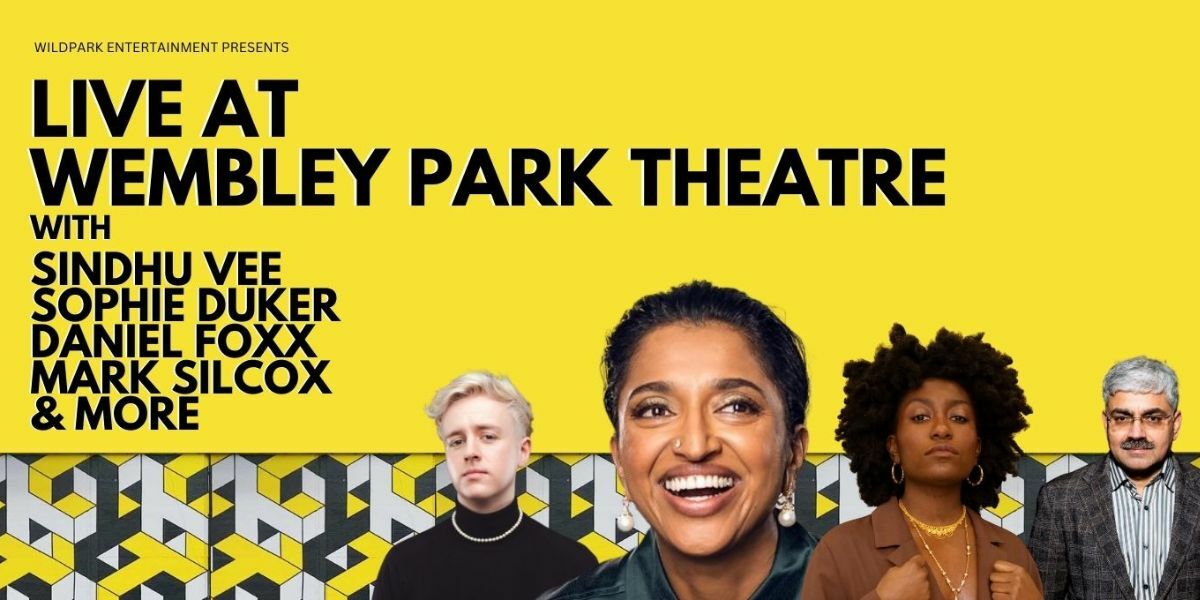 Troubadour Wembley Park Theatre, London
Queen of comedy and accents Sindhu Vee brings her sharp wit to Wembley Park Theatre!
Tickets for Live at Wembley Park Theatre with Sindhu Vee are available now! 
With her polished stage presence, deadpan style and gift for imitating accents - Sindhu Vee has mastered the art of captivating audiences. The banker-turned-comedy-queen is heading for Wembley Park Theatre for a night of belly-clutching giggles! You won't want to miss this chance to see one of the funniest comedians around do what she does best, book your tickets today!
About Sindhu Vee
Sindhu Vee is a force to be reckoned with in the world of comedy. With a sharp wit and infectious energy, she has quickly risen to become one of the UK's most beloved acts. Vee has appeared on a range of hit TV shows, including Live at the Apollo, Would I Lie To You?, Mock the Week, and Have I Got News for You. She has also starred as the lovable and hilarious Mrs Phelps in the glorious film adaptation of Matilda The Musical!
However, it is in stand-up comedy that Vee truly shines, as she expertly weaves personal stories and social commentary into her performances. Her unique perspective and relatable humour have earned her a devoted following. Between 2013 and 2017, Vee performed regularly at the Edinburgh Festival Fringe. In 2016, she received a nomination for the prestigious BBC New Comedy Award. The following year, she placed second in the highly competitive Leicester Mercury Comedian of the Year competition, and also achieved joint third place in the NATYS: New Acts of the Year Show in 2017. 
About Live at Wembley Park Theatre with Sindhu Vee
For a night filled with endless laughter, look no further than Live at Wembley Park Theatre with Sindhu Vee! With its intimate ambience and an impressive roster of legendary comedians, it's certain to be a feast for comedy lovers! You'll delight as Vee steps up to the stage, armed with her endearing talents - a delightful mix of side-splitting observations and personal anecdotes that cover everything from family life to the latest current events. With her infectious stage presence, Vee is sure to leave you in stitches long after the lights go out!
The stars of Live at Wembley Park Theatre with Sindhu Vee
Vee will be joined on stage by some of the most talented comedians in the business. Sophie Duker, a regular on Frankie Boyle's New World Order, who is known for her sharp wit and bold, unapologetic humour will be bringing her comedy A-game to the stage! 
TikTok sensation and star of Comedy Central Live Daniel Foxx will also make an appearance. Foxx has quickly become one of the most sought-after comedians in the UK for his brilliant sketches and spot-on impressions. You'll also get the chance to see the comedy genius of Mark Silcox, a regular on Joe Lycett's Got Your Back, Silcox is known for his quick thinking and deadpan delivery - and there are even more talented comedians to be announced in due course. Talk about a bang for your buck!
Live at Wembley Park Theatre with Sindhu Vee tickets are available now! 
Ready to see Sindhu Vee in all her comedic glory as she finds the humour in everyday situations? Then don't delay, book your tickets for this stand-out comedy show today!
Age restriction
This production is suitable for ages 16+
Running time
2 hours 45 minutes (including two 20 minute intervals)
Performance dates
5 May 2023
Content
This production contains strong language and sexual content.