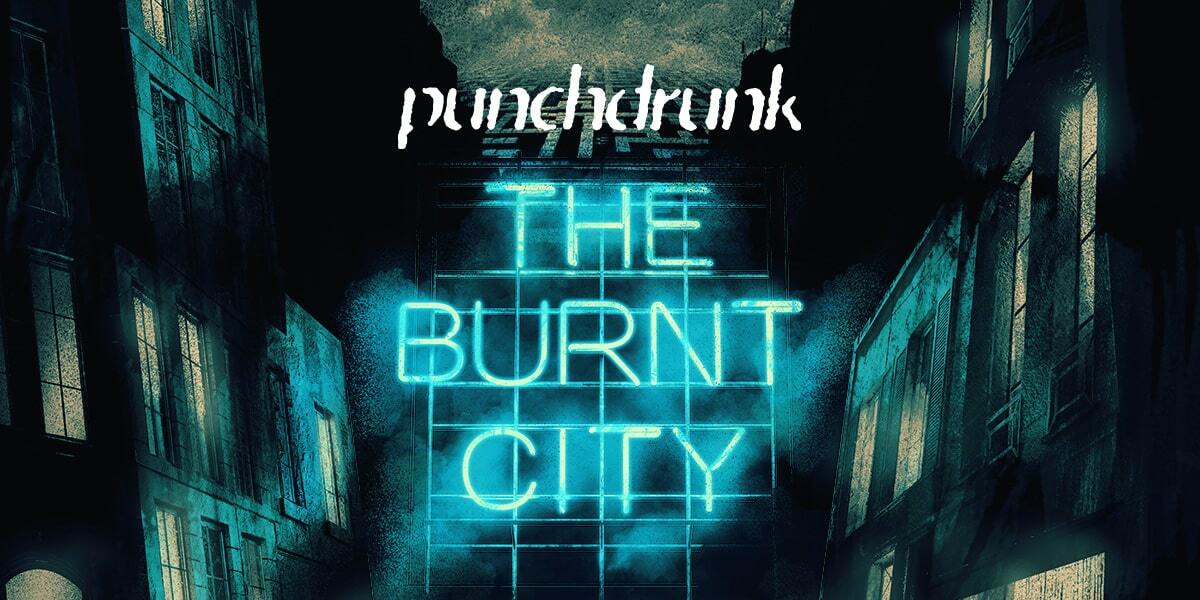 The city has fallen, its streets and people are decaying and you are the witness to it all
Keep me updated
We'll tell you as soon as tickets go on sale:
Tickets for The Burnt City are available now! 
The shadowy and foreboding metropolis of The Burnt City is Punchdrunk's latest genre-defying experience. With endless twists and turns, the story is yours to bend at will. As you journey deeper into the heart of the post-apocalyptic city of Troy, the unknown lurks around each corner. You'll be alone, so choose your path wisely, as you forge your own outcome. Who knows will emerge from the shadows of The Burnt City - book your tickets today to find out!
About The Burnt City 
Step into the bombed-out and hazy backstreets of Downtown Troy, where you'll find yourself immersed in the fallen city's gritty and decaying grandeur. Wander through a vast labyrinth of buildings, each filled with intricate details waiting to be discovered.
As you explore, you'll encounter residents of the city who are eager to share their stories, no matter how gruesome they may be. Some may dance ritualistically, attempting to make sense of a city trapped in chaos. Others may cry, writhe, or hold their heads in their hands, screaming into the sky as they mourn their losses and attempt to hold onto any last shred of sanity.
Every journey to The Burnt City is unique, full of unexpected encounters and strange places. As the night falls for one last time, trust your instincts and be bold. Follow your curiosity and explore any places you come across and if someone captures your attention, follow them, for they'll lead you deeper into the despairing aftermath of war.
This immersive experience is not like any other, you'll want to learn more before you attend!
About Punchdrunk 
For audiences all across the world, Punchdrunk creates genre-defying experiences. Their work spans from projects that leverage new technology to massive site-specific performances, fusing classic texts, contemporary dance, physical performance, and award-winning architectural installations.
The Burnt City tickets are available now
Whether you navigate the haunted palace of Greece or the neon lights of downtown Troy. There are stories deep within the city to seek out. Whatever you decide, don't miss out on the once-in-a-lifetime experience that is The Burnt City! Book your tickets for Punchdrunk's The Burnt City today!
Age restriction
This production is strictly 16+, and under 18s MUST be accompanied by an adult. ID must be provided upon request.
Running time
Please allow up to 3 hours.
Performance dates
Booking through 24 September 2023
Content
This production contains Haze, Strobe, Smoking, Blood and Loud Moments as well as Violence, Nudity, and Content that viewers may find disturbing.
Special notes
We ask all audiences to wear a Covid mask. On top of this you will wear one of Punchdrunk's signature theatrical masks. This will give you anonymity throughout the performance to help you feel empowered to explore, and also make you distinguishable from the performers. These masks can be taken off in the bar area. Your Punchdrunk mask will be provided on entry and collected on exit. It will fit over most glasses. If you have the option, wearing contact lenses is recommended.
Cameras and mobile devices are not allowed anywhere except for the bar and will be bagged on arrival. Photography or filming is not permitted.
Venue Information
Punchdrunk
1 Cartridge Place, Royal Arsenal, London, SE18 6ZR, London, SE18 6ZR