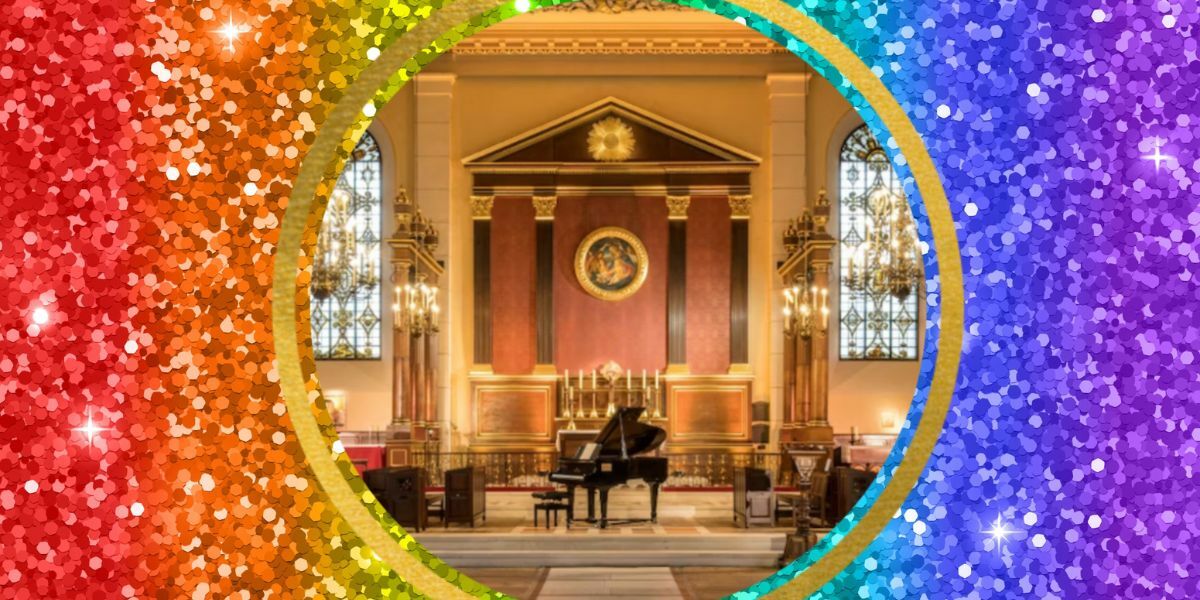 St Pauls Church, Covent Garden, London
Release your inner freedom with the epic Pride party of the year, Don't Tell The Bishops!
Tickets for Don't Tell the Bishops: An After-Pride Party at the Actors' Church are available now!
Mark Robert Petty presents Don't Tell The Bishops: An After-Pride Concert at The Actors' Church on Sunday 2nd July. Featuring an all-star West End cast (that is yet to be announced) join Mark Robert Petty for an evening of joy and liberation, as we celebrate the magic of LGBTQ+-themed musicals and classic pop songs. Book your tickets today!
About Don't Tell The Bishops: An After-Pride Party 
This extraordinary concert invites your spirit to soar and your legs to dance freely. However, the true purpose behind this night of revelry is to raise funds for an incredible cause, the LGBT charity OneBodyOneFaith, which passionately advocates for marriage equality within the Church of England!
With an atmosphere of carefree celebration, Don't Tell The Bishops: An After-Pride Party shows that love and identity know no boundaries. This extraordinary event will transport you into the enchanting worlds of LGBTQ+-themed musicals, showcasing the inspiring stories and captivating melodies that have touched hearts and inspired change throughout history.
About Mark Robert Petty 
For the past five years, Mark has successfully organised the concert series The Crazy Coqs Presents. Additionally, he has been the producer of A Musical Theatre Christmas, a delightful event taking place at The Actors' Church for the past two years.
Mark is not only a skilled producer but also a talented lyricist. Collaborating with Barry Anderson, they form the renowned songwriting duo, Anderson & Petty. 
Mark has released two remarkable albums. The first, titled You Are Home: The Songs of Anderson & Petty, features extraordinary performances from numerous stars from the stage and screen. 
The second album, Wish - The Anderson & Petty Holiday Album, showcases the enchanting voices of Liz Callaway, Drew Seeley, Alexa Green, Natasha J. Barnes, Sean Allan Krill, and many others. Notably, their song "(Stowin' Away) In Santa's Sleigh" recently gained recognition as it was featured in the beloved Hallmark Holiday movie, Christmas By The Book.
Don't Tell The Bishops: An After-Pride Party tickets are available now! 
Every note resounds with empowerment in this epic pride party! Slip on your best dancing shoes, because this celebration will be one for the books! You'll wish that the night will never end, book your tickets now!
Age restriction
This performance is suitable for ages 11+
Running time
2 hours 30 minutes
Performance dates
2 July 2023
Access
This performance will take place in the church, however there is step-free access to the performance space.