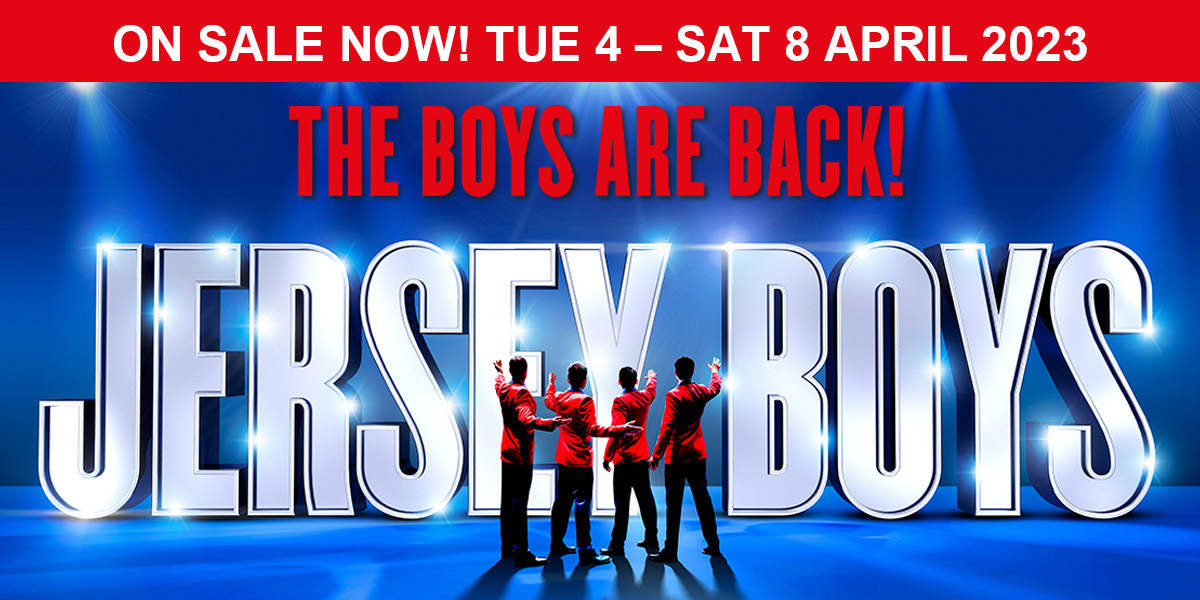 Jersey Boys - the unforgettable story of a group of working class boys from the wrong side of the tracks.
Keep me updated
We'll tell you as soon as tickets go on sale:
Top Rated ShowReviewers highly rate this show
Tickets for Jersey Boys at Cliffs Pavilion are available now! 
The electrifying story of The Four Seasons bursts to life in the smash-hit musical sensation Jersey Boys. With an award-winning soundtrack packed full of soulful classics, Jersey Boys is a show-stopping celebration of the rock'n'roll kings' extraordinary legacy, from humble beginnings to unprecedented success. Coming to the Cliffs Pavilion for an extremely limited run, this story of trials and tribulations allows you to witness the power of friendship, loyalty and the unbreakable bonds of brotherhood. Book your tickets today!
About Jersey Boys 
The 60s were a time of revolution and upheaval, and in the midst of it all, The Four Seasons burst onto the scene with their electrifying harmonies and irresistible charm. Led by the incomparable falsetto of Frankie Valli, this quartet quickly rose to become one of the best-selling musical acts of all time, with over 100 million records sold worldwide.
But as with any story of fame, underneath the glitz and glamour, there was a darker side to The Four Seasons' story. In Jersey Boys, their incredible journey is told in all its raw, unvarnished truth. From the highs of unimaginable success to the lows of personal struggles and betrayal, this musical takes audiences on a journey that is both exhilarating and heart-wrenching. As each season unfolds, we see a different side of the boys - the ambitious Bob Gaudio, the brash Tommy DeVito, the troubled Nick Massi, and of course, the magnetic Frankie Valli. 
The cast and creatives of Jersey Boys at Cliffs Pavilion
The cast of Jersey Boys includes Luke Suri as Frankie Valli, Adam Bailey as Bob Gaudio, Benjamin Yates as Tommy De Vito and Karl James Wilson as Nick Massi. The musical features music by Four Seasons member Bob Gaudio, with lyrics by Bob Crewe and book by Marshall Brickman and Rick Elice.
Jersey Boys is directed by Des McAnuff and is choreographed by Sergio Trujillo, a Tony Award-winning duo. The musical contains scene design by Klara Zieglerova, with costumes by Jess Goldstein. Orchestrations are by Steve Orich, with music supervision and vocal arrangements from Ron Melrose.
The hits of Jersey Boys
Immerse yourself into a catalogue of The Four Seasons' hits, as you've never heard before. The musical features all of the sweetest, nostalgic singalong classics, such as Sherry, Beggin', Walk Like A Man, Big Girls Don't Cry, December, 1963 (Oh What a Night), My Eyes Adored You, Can't Take My Eyes Off You, Let's Hang On (To What We've Got), Working My Way Back to You, Fallen Angel, Who Loves You and Rag Doll. It's the ultimate jukebox affair, pumped with nostalgia, swooning rock/pop and a hefty dose of raw emotion. 
Jersey Boys tickets are available now for Cliffs Pavilion Southend!
With endless, smash-hits that have stood the test of time, The Four Seasons' legacy continues to inspire today. Through Jersey Boys, their incredible story is given new life, reminding us all of the power of music to heal, inspire, and transport us to a world where anything is possible. Tickets for this Tony, Grammy and Olivier Award-winning musical are available now!
Age restriction
Age guidance: Contains genuine New Jersey language which may not be suitable for younger audiences - parental guidance advised
Running time
2 hours 20 min (including an interval)
Performance dates
4 April - 8 April 2023
Content
Contains genuine New Jersey language which may not be suitable for younger audiences - parental guidance advised.
Special notes
Please be aware that this production of Jersey Boys takes place at Cliffs Pavilion, Southend-on-Sea. This is not the West End run of Jersey Boys. Please be sure you would like to attend the production in Southend-on-Sea as no exchanges, refunds or cancelations will be allowed due to venue confusion.
Venue Information
Cliffs Pavilion
Station Road, Southend-on-Sea Essex , Southend-on-Sea, SS0 7RA
Customer
Reviews
277 reviews
4.7