Consent Review: No means no, yes?
Posted on 27 June 2018
Nina Raine's West End transfer of Consent could not have come at a better time. With the #metoo campaign gaining momentum daily (as it should), Consent manages to open up our eyes just a little bit further to an issue that is often brushed under the rug.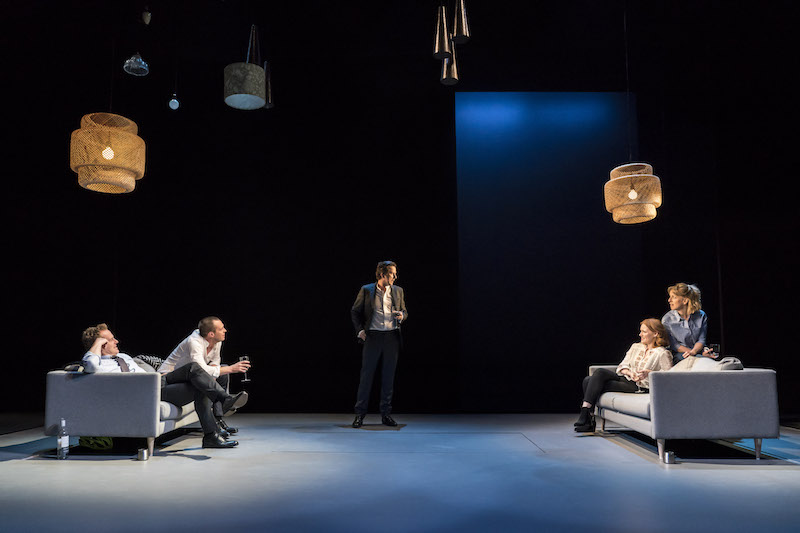 The Harold Pinter Theatre offers an intimate-enough space for staging this six-hander piece. Rest assured that you will momentarily glance at the wonder of the settings, appreciate the bleakness of the stage and very quickly become enraptured in the dialogue of this play. And quite frankly, play seems to be too gentle a word here – I feel that drama would be a better fit, and given that this production is played out partly in a courtroom, it is indeed a very robust setting fit for the word drama. One salient plot point remains quite simple: two friends are working the same case with one prosecuting and the other defending. And that's where the simplicity ends.
The drama opens with four upper-middle-class pals toasting to the birth of their friend Kitty's baby, discussing, amongst other things, their respective day's work at the Inns (with the exception of Kitty and her friend Zara). It becomes apparent that there is no clear distinction between lawyers Ed, Tim and Sian and the clients themselves as the phrase, 'I am doing a lot of raping these days,' becomes a part of their conversation. Gayle, the much lower-class rape victim, is shown in an unnerving light as her past mental health illnesses are brought to the forefront: she had been drinking the night of the alleged attack, she has a history of depression, and she is tearful and on edge.
In sharp contrast, we see little of the attacker's past history being aired. Where is the justice in that? Not only does this evoke a feeling of inequality, but also keeps you thinking both during and after the performance – no should mean no, right? How easy is it to turn off after a hard day's night? How can what you do for 8, 9 or even 10 hours a day not have any effect on your life at home?
Consent shows, quite literally, how the ripple in the pond affects us all and, most importantly, how you should never feel afraid to speak your own truth, whatever your story may be.
---
Consent is now playing at the Harold Pinter Theatre and will run until 11 August 2018. Don't miss your chance to see this fascinating and thought-provoking play, which will end just ahead of the launch of the highly anticipated Pinter at the Pinter season.
Purchase your Consent tickets here.