Dear Diary; it's October 2018 at the Haymarket
Posted on 26 October 2018
Following a very successful run at The Other Palace, Heathers is now standing as a beacon for hope at the Haymarket. Indeed, such is its popularity that the producers have now imposed a ban on asking the cast and crew for selfies. That's another topic. Back to the one in hand. Having seen the dark and somewhat cadaverous film from the 90s, being utterly enthralled by the casting of Carrie Hope Fletcher in the role as Veronica Sawyer and with an, ahem, killer, soundtrack I attended Westerburg High for my day at an all-American school.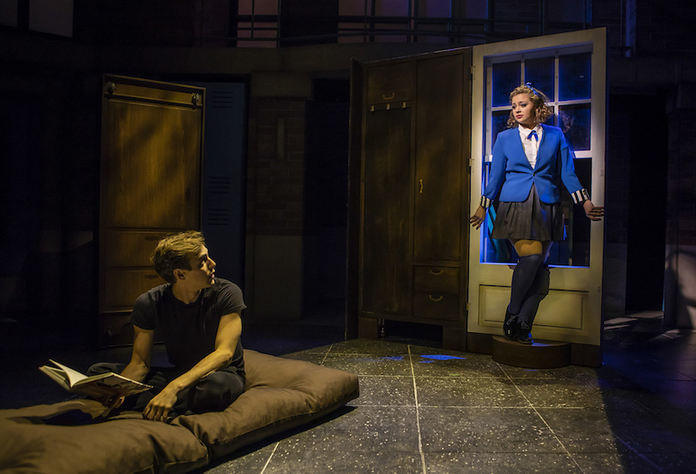 Pictured: Veronica (Carrie Hope Fletcher) enters JD's (Jamie Muscato) room through the window.
---
Heathers is an unusual choice for a musical; the context is slightly unnerving and the lessons that are learnt are perhaps not suitable for impressionable young adults. That is where the magic lies and the producers are firmly waving their magic wands.  By way of example, one Heather (there are three of them) is bulimic. We see her struggles fairly early on in the show. The fairy godmothers of this show have taken a negative and firmly turned it into a positive. The same with the Martha Pig, bullies get their comeuppance and it is clear that whilst this telling of the story isn't too far from the original, the powers that be have dealt with darker parts of this show with care, integrity and responsibility.
Fletcher is, without any degree of hyperbole, the golden girl.  Her vocal ability is a feat in itself – she finds light in a very shady place. She has made Veronica, though the outsider on the periphery of everything, likeable. Her innocence at the deaths of Kurt and Ram contained a child-like view, wide-eyed with 'what had just happened'. She approached the sex scene with tenderness and that should be marked. Chung and Andersen are the comedic double act, working together well and their enthusiasm was infectious.   Muscato played JD with aplomb. To be able to sit in the mind of a character and portray the abject feelings of unworthiness whilst doing a sterling job is something Jamie exceeds at. Jodie Steele, T-Shan Williams and Sophie Issacs as the Heathers each portray their intricacies with diligence, and despite first impressions, with kindness.
I left the Haymarket feeling uplifted, which was not what I expected. I had a preconceived notion that the popularity and draw of this show was primarily because of Fletcher. I was wrong. This is a cohesive show and one which I (a) will return to, and (b) hope will have an extended run.
How very of me!
---
Heathers is only playing at the Theatre Royal Haymarket until 24 November. Book Heathers tickets now or you'll live to regret it.