London Theatre Review: The Curious Incident of the Dog in the Night-Time at the Piccadilly Theatre
Posted on 14 December 2018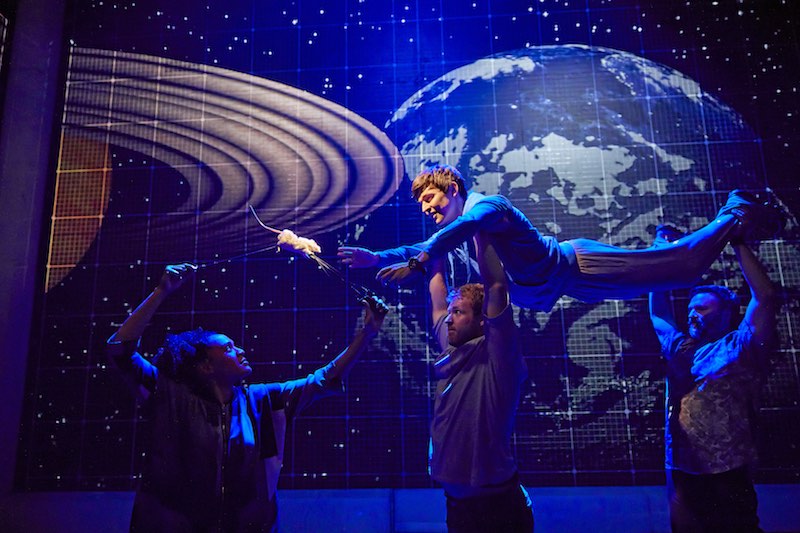 Curious Incident begins as an arguably simple tale about a 15-year-old boy who embarks on a Sherlockian investigation to discover who was responsible for the murder of Wellington; his neighbour's dog. Yet the complexities of human relationships and common ideas about neuroatypical people run throughout the piece and are explored in an accessible yet detailed way.
The use of physical theatre and dance sequences break the audience out of moments of emotional poise and leave little room for empathetic connection with the characters on stage. Yet this does not weaken the piece. Although Christopher's parents Ed and Judy rely on cliché, becoming caricatures, this is how Christopher himself perceives his parents. The audience sees the characters as Christopher himself would: representing behavioural mysteries that we cannot totally connect or sympathise with.
Whilst the show allows us an extremely brief glimpse into the world of individuals with unusual mental abilities, it is the pure spectacle of the piece that makes this show so popular. Bunny Christie's set is a work of art; combining projections, hidden compartments, and simple boxes expertly repurposed throughout the show. The set was simple enough for the moments of physical theatre and quick scene changes to function effortlessly, yet complex enough to reflect the complexities of Christopher's mind, and keep the audience engaged.
There was a significant moment in the piece where the pure genius of the set, costume, choreography and direction came together in triumph: where Christopher embarks on his fraught journey through the London Underground. The neutral tones of the 'commuters' costumes contrasted with the hazardously bright, orange anorak worn by Christopher. Multi-rolling, performing lifts, undergoing physical theatre sequences with intense precision; and juggling props in so skilful a manner should be applauded.
Whilst Curious Incident is a show that lends itself to fast dialogue and flowing movement, the snap scene changes in the second half, in particular, left the audience with little chance to fully digest the preceding sequence of events. It is understandable for the actors to be wary of lagging behind in a piece that demands continuous stimulation in order to bring Christopher's world to life.
My advice: come with an open mind, a curious nature, and make sure you hang around after the bows – you will not be disappointed.
---
Curious Incident is currently booking at the Piccadilly Theatre until 27 April 2019. Get your tickets today and save on no booking fees! This offer is valid until Christmas Day and covers all performances from 15 December 2018 to 9 February 2019!
Purchase your tickets to The Curious Incident of the Dog in the Night-Time.