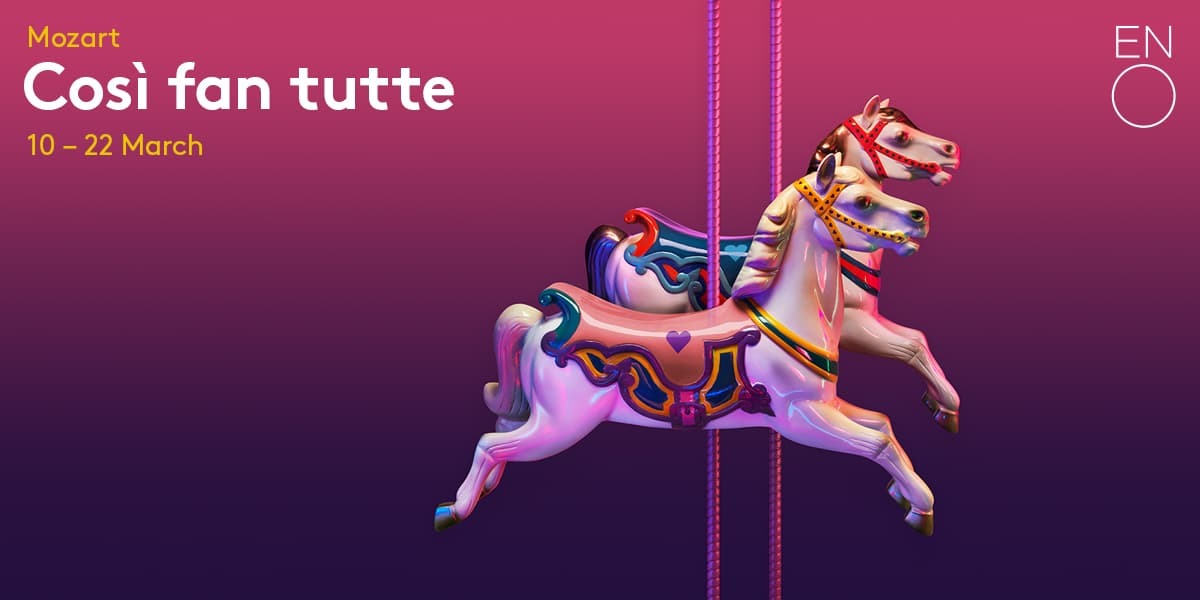 the ENO presents Così Fan Tutte at the London Coliseum
Tickets for Così fan tutte at the London Coliseum!
You will not want to miss this, or any of the other incredible shows in the ENO 2021 Season!
All the fun of the affair. You won't want to miss Così fan tutte at The London Coliseum.
In Mozart's comic masterpiece, sisters Fiordiligi and Dorabella are enjoying a holiday in Coney Island with their fiancés, Ferrando and Guglielmo. However, the fairground is a place where anything can happen – and its manipulative master, Don Alfonso, has a game to play with the lovers…
The sublime score unfolds to tell a story of love, lust and desire, played out in a world in which the boundaries between what is real and what is make-believe are blurred. Once the deceit is unmasked, can their lives really go on as before?
Be transported to 1950s Coney Island for an unforgettable holiday filled with romance and intrigue in Phelim McDermott's 'rollercoaster of a production' (Evening Standard).
Così fan tutte ENO cast and creatives
British conductor Kerem Hasan leads an exceptional cast of young talent with Harewood Artists Nardus Williams as Fiordiligi, Benson Wilson as Guglielmo, and Soraya Mafi as Despina, with mezzo-soprano Hanna Hipp as Dorabella, tenor Amitai Pati as Ferrando and baritone** Neal Davies** as the cynical Don Alfonso.
Book your Così fan tutte tickets now!​
You will not want to miss your chance to see this incredible opera in its limited run this autumn. Make sure you book tickets to Così fan tutte early to avoid disappointment!
Age restriction
This production is suitable for all ages.
Performance dates
10 - 22 March 2022
Special notes
Sung in English. Our surtitles system displays sung words above the stage.
Entry requirements All customers will need to meet one of the conditions below depending on their age;
Anyone aged 18 or over will be required to show either a valid NHS COVID Pass (or international equivalent) as proof of double vaccination or evidence of a negative lateral flow test within the last 24 hours to enter
Children aged 11-17 are strongly encouraged to take a Lateral Flow Test within 24 hours of attendance, and you may need to show the result of this test.
Children under 11 do not require any additional checks at this time.
Please arrive as early as possible and no later than 15 minutes before the performance starts. Main doors and all bars will open 90 minutes before the performance. Auditorium doors open 60 minutes before.
To avoid delays, please have your tickets ready on arrival; download or print your NHS COVID Pass in advance and arrive in good time to allow these extra checks to take place.
Face Coverings All customers must wear face-coverings at all times during their visit unless;
They are under the age of 11,
When they are eating or drinking
If medically exempt. (If you are exempt, please let staff know on entry, and if you have one, please wear an exemption badge. We encourage all customers to be mindful and respectful of others as some people are less able to wear face coverings, and the reasons for this may not be visible to others.)
There is a zero-tolerance policy approach to abuse of any kind towards staff. We ask that all audience members respect our team as they carry out these extra checks