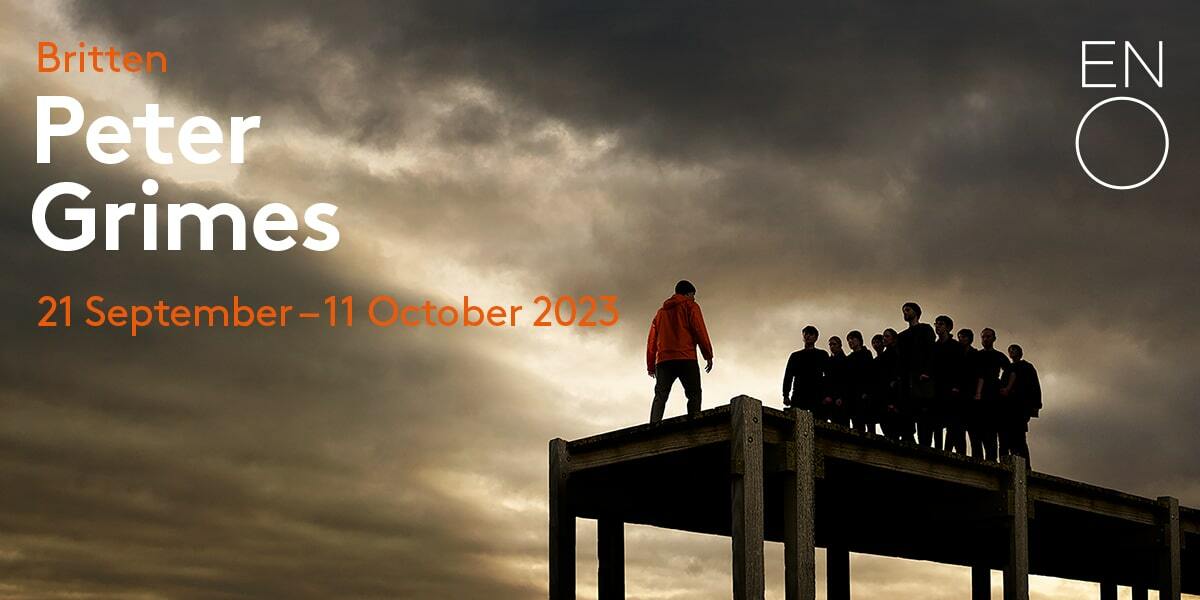 Britten's masterpiece lives on in this tale of isolation, persecution and societal power.
Tickets for Benjamin Brittens' Peter Grimes ENO 2023 season are available now! 
One of the most powerful and moving musical performances, Benjamin Britten's Peter Grimes features some of the most emotive and compelling operatic music of all time, vividly depicting how a small community can transform into a hateful mob in the wake of a local tragedy. Tickets for this suspenseful masterpiece are available to book now at London Coliseum! 
The story of Benjamin Brittens' Peter Grimes
When the apprentice of Peter Grimes mysteriously vanishes, the distrust that the villagers have for the fisherman spirals into something far more sinister. Rumours become harsh suspicion, which leads to accusations. With disastrous results, the locals band together to face Grimes, the ultimate outsider.
Peter Grimes is an exquisitely straightforward tale that balances psychological thriller and morality. Laced with stunning musical expression, Peter Grimes explores the powers of intolerance, suspicion, and terror, touching upon how unchecked forces can repress our diversity and savagely tear us apart communities.
Benjamin Brittens' Peter Grimes history 
Peter Grimes is an opera composed by Benjamin Britten with a libretto by Montagu Slater. It premiered on June 7, 1945, at Sadler's Wells Theatre in London, with Britten himself conducting. The opera is considered one of the most important and influential works in 20th-century British music and is often referred to as an English national opera.
The success of Peter Grimes established Britten as a leading figure in contemporary opera. 
The work marked a departure from the more traditional operatic style prevalent at the time, embracing a modern approach with its realistic portrayal of characters and social issues. Britten's skilful blending of powerful music and dramatic storytelling brought renewed attention to English opera and paved the way for further exploration of national themes in his subsequent works.
Peter Grimes remains a staple of the opera repertoire and continues to be performed worldwide. Its themes of alienation, individuality, and the struggle against societal constraints have become timeless.
The cast and creatives of Peter Grimes ENO season 
The production is led by Martyn Brabbins, director of music at ENO, and is directed by David Alden, a seasoned ENO associate. It stars Gwyn Hughes Jones in the lead role, along with current Harewood Artist John Findon as Bob Boles and previous Harewood Artists Elizabeth Llewellyn and Alex Otterburn as Ellen Orford and Ned Keene, respectively. 
Christine Rice plays Auntie, Clive Bayley plays Swallow, David Soar plays Hobson, Ronald Samm plays Reverend Horace Adams, and Simon Bailey plays Balstrode to complete the cast.
Benjamin Britten's Peter Grimes tickets are available now!
Benjamin Britten's masterwork is one of subdued beauty that paints a hauntingly realistic portrait of the mistrust, misunderstandings, and sinister secrets that linger even in the tightest of communities.
Age restriction
To be confirmed.
Running time
3 hours 15 minutes
Performance dates
21 September - 11 October 2023
Access
BSL signed performance 9 October 2023, 19:00