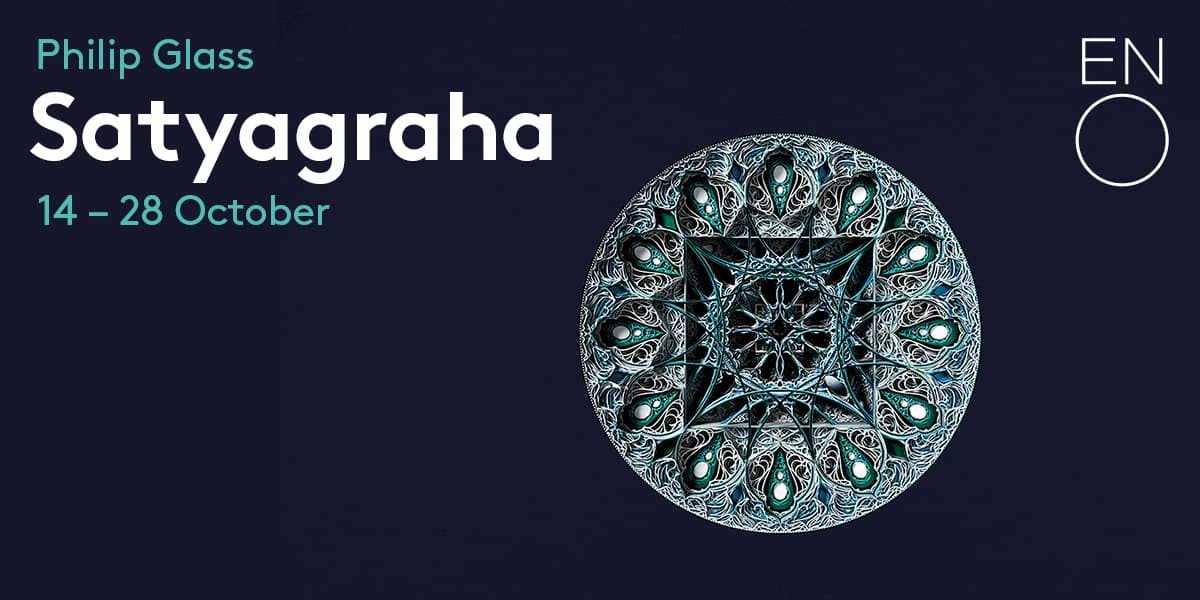 Back to Opera
Satyagraha Tickets
London Coliseum, London
3.5
8 reviews
Satyagraha comes to the London Coliseum this autumn
From £12
Tickets Refunded if your event is cancelled
Official tickets from an authorised retailer
100% Secure booking process guaranteed
Tickets for Satyagraha at the London Coliseum!
You will not want to miss this, or any of the other incredible shows in the ENO 2021 Season!
Satyagraha is composer Philip Glass's meditation on Gandhi's early years in South Africa, tracing the progress of his concept of non-violent protest as a positive force for change.
First staged in 2007, Phelim McDermott's highly acclaimed, spectacularly theatrical production is a visual feast. Glass's use of repetitive musical structures – 'minimalism'– creates a mesmerising soundscape, quite unlike traditional operas.
ENO's Satyagraha cast and creatives
Sean Panikkar, 'a Gandhi firm of voice and full of charisma' (LA Times) leads a cast that also features bass-baritone Musa Ngqungwana as Lord Krishna and Harewood Artist William Thomas as Parsi Rustomji. Carolyn Kuan, 'one of the most exciting and outstanding conductors of her generation' (Marin Alsop) makes her ENO debut.
Book your Satyagraha tickets now!​
You will not want to miss your chance to see this incredible opera in its limited run this autumn. Make sure you book tickets to Satyagraha early to avoid disappointment!
An unmissable masterpiece' - The Daily Telegraph
'A striking achievement on many levels' - The Guardian
'Enthralling' - The Financial Times
---
Age restriction
Children under 5 will not be admitted.
Performance dates
14 - 28 October 2021
Content
This production contains realistic but non-graphic violence.
Special notes
Please note that Satyagraha is sung in Sanskrit without surtitles.
Customer Reviews
8 reviews3.5
Christine Achten
19th February
Splendid performance , orchestra did great job! Not so common work, in mine opinion too long ( 3th act!).
P.A. Simmonds
17th February
Loved it, easily worth 5 stars. The music was mesmerizing and the slow movement of the cast on stage almost Zen like, the orchestra outstanding ! Carmen it is not, but if your willing to be transported into an almost meditative state of bliss you will enjoy. Thank you cast, crew and especially the orchestra for wonderful experience. (Berkshire).
Paul-adrien CUVILLIER
17th February
An amazing opera wonderfully realized
Henriette Hollaar
16th February
Breathtaking! The beauty and synchronicity of music and cast made it an exceptional experience and individual invitation to reflect on life.
Agata Bloch
15th February
Overal we're giving four stars. First Two Acts absolutely mesmerising. Brilliant minimalistic music by P. Glass. Visual feast. The Third Act unfortunately disappointing. It simply should be shorter. Also for those who bought tickets on the balcony and upper circles - you won't be able to see important text projected as a background. This could be easily fixed by projecting it slightly lower but director decided to fully involve only those who spent hundredths on their tickets.
Shefali Solanki
12th February
It was by far one of the worst productions I have seen in a long time. Where to begin - the seats are super uncomfortable compared to most theatres in London. The stage set-up didn't accommodate for those sat at the top and it felt like it didn't matter if we saw the production or not. No subtitles where offered to understand what was going on. The Royal Opera House have subtitles on screens for Latin performances. It was such a disappointment that we left after the first act as we had no idea what was going on and we go to see a play/dance/opera performance once a week. Was a truly disappointing performance.
Mohan Chauhan
11th February
Not impressed with the stage razzmatazz. Seats are very uncomfortable. Could not read the writing on the screen too high
Elena Gaynullina
8th February
1st-star for singers 2nd-for the idea 3rd-for costumes The music and action were awful, too boring
Performance Times
Upcoming Performance Times
Thursday

14 October 2021

Saturday

16 October 2021

Sunday

17 October 2021

Wednesday

20 October 2021

Saturday

23 October 2021

Wednesday

27 October 2021

Thursday

28 October 2021
Performance Months
Jump directly to a month to select a performance