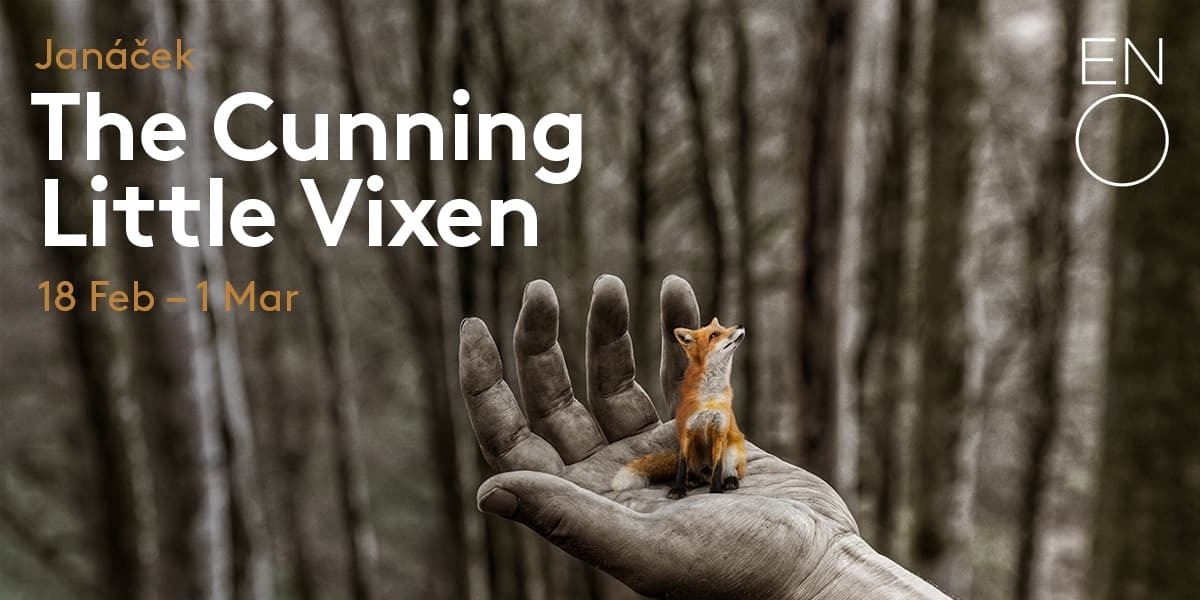 The ENO presents The Cunning Little Vixen at the London Coliseum
Tickets for The Cunning Little Vixen at the London Coliseum!
You will not want to miss this, or any of the other incredible shows in the ENO 2021 Season!
In the wild, we return to our true nature. You won't want to miss *The Cunning Little Vixen * at The London Coliseum.
The Cunning Little Vixen tells the tale of a clever vixen named Sharp Ears. Captured by a local Forester when she is young, she later manages to escape his clutches, but he is forever haunted by her memory.
Exploring man's relationship with nature, the opera moves through the contrasting worlds of the Vixen and the Forester, showing how one chance meeting can forever change the lives of both.
The Cunning Little Vixen ENO cast and creatives
This new production is directed by up-and-coming director Jamie Manton, following his acclaimed stagings of Paul Bunyan and The Day After for ENO's talent development programme Studio Live.
Incorporating elements of Moravian folk music, Janáček's dramatic score is conducted by ENO Music Director Martyn Brabbins. An outstanding cast includes soprano Sally Matthews as the Vixen, soprano Pumeza Matshikiza as the Fox, baritone Lester Lynch as the Forester, bass Clive Bayley as the Priest, with ENO Harewood Artists Claire Barnett-Jones as the Dog, John Findon as Innkeeper, and Alexandra Oomens as Pepik and the Woodpecker.
Book your The Cunning Little Vixen tickets now!​
You will not want to miss your chance to see this incredible opera in its limited run this autumn. Make sure you book tickets to The Cunning Little Vixen early to avoid disappointment!
Age restriction
This production is suitable for all ages.
Performance dates
18 February - 1 March 2022
Special notes
Sung in English. Our surtitles system displays sung words above the stage.
Entry requirements All customers will need to meet one of the conditions below depending on their age;
Anyone aged 18 or over will be required to show either a valid NHS COVID Pass (or international equivalent) as proof of double vaccination or evidence of a negative lateral flow test within the last 24 hours to enter
Children aged 11-17 are strongly encouraged to take a Lateral Flow Test within 24 hours of attendance, and you may need to show the result of this test.
Children under 11 do not require any additional checks at this time.
Please arrive as early as possible and no later than 15 minutes before the performance starts. Main doors and all bars will open 90 minutes before the performance. Auditorium doors open 60 minutes before.
To avoid delays, please have your tickets ready on arrival; download or print your NHS COVID Pass in advance and arrive in good time to allow these extra checks to take place.
Face Coverings All customers must wear face-coverings at all times during their visit unless;
They are under the age of 11,
When they are eating or drinking
If medically exempt. (If you are exempt, please let staff know on entry, and if you have one, please wear an exemption badge. We encourage all customers to be mindful and respectful of others as some people are less able to wear face coverings, and the reasons for this may not be visible to others.)
There is a zero-tolerance policy approach to abuse of any kind towards staff. We ask that all audience members respect our team as they carry out these extra checks