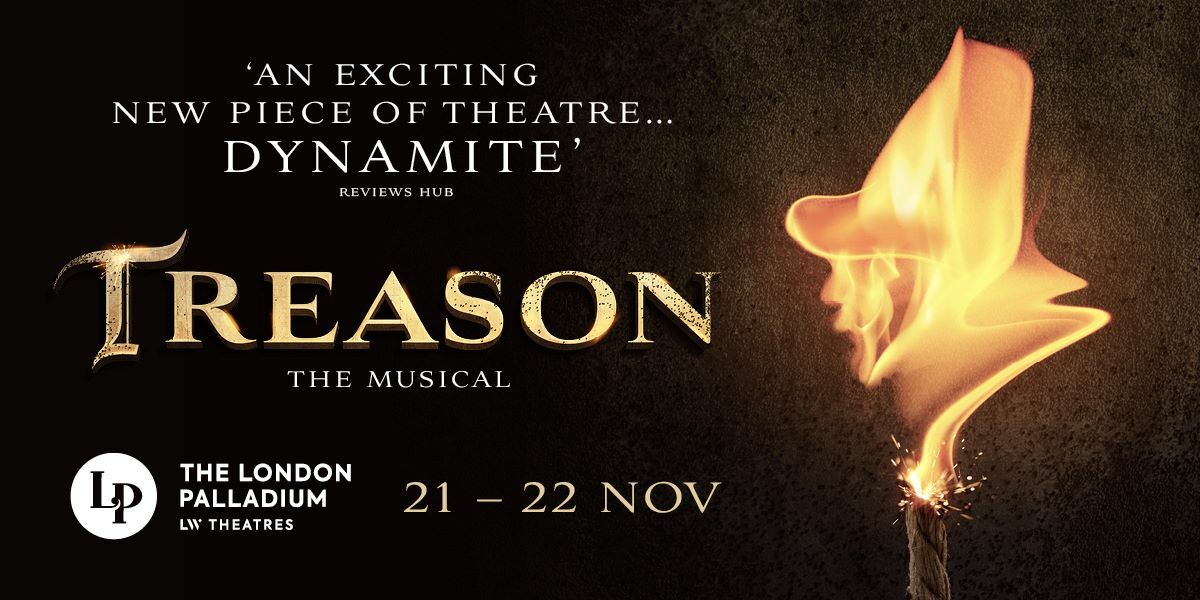 We promise you, you won't forget this explosive musical!
Keep me updated
We'll tell you as soon as tickets go on sale:
Tickets for Treason The Musical in London
During the Opening of Parliament in November 1605, a failed attempt to assassinate King James I of England shook the nation. Treason tells the story of the notorious gunpowder plot that took place that day.
Treason The Musical reminds history to remember, remember the 5th of November. With barrels of gunpowder, plot-twists at every turn and plenty of Treason, this explosive new show is set to hit the London stage this year! After a highly-streamed online concert and 2 sold-out concerts at the Theatre Royal Drury Lane, Treason comes to the London Palladium for a limited run. Book your Treason tickets now!
About Treason The Musical
Set to blow you away with stunning original folk and pop songs, this one-of-a-kind show tells one of the most intriguing tales in Britain's history as it's never been seen before.
This new British musical has garnered a global audience with a streamed concert in 2021, a mesmerising twice sold-out award nominated live concert at the iconic Theatre Royal Drury Lane in 2022 and in 2023 the songs continued to set the world on fire, now being streamed a staggering 1 million times by over 100,000 plotters across 96 countries.
This Autumn you can be one of the first to experience the new production. Join the Plotters and their world of love, secrecy and revolution in this new British musical.
Please Bear In Mind
Treason The Musical is suitable for ages 5+, Under 16 year olds must be accompanied by and adult 18+
Treason The Musical London Cast & Creatives
Main Cast
Nicole Raquel Dennis
Joe McFadden
Alongside a host of musical theatre stars which are yet to be announced.
Main Creatives
Composer & Creative Producer - Ricky Allen
Book & Lyrics - Kieran Lynn & Ricky Allen
Age restriction
To be confirmed.
Running time
To be confirmed.
Performance dates
21 & 22 November 2023
Special Offer
Treason The Musical - London Palladium Ticket Offer Details
SAVE ON TICKET PRICES Valid for all performances. Book by 22 November 2023.