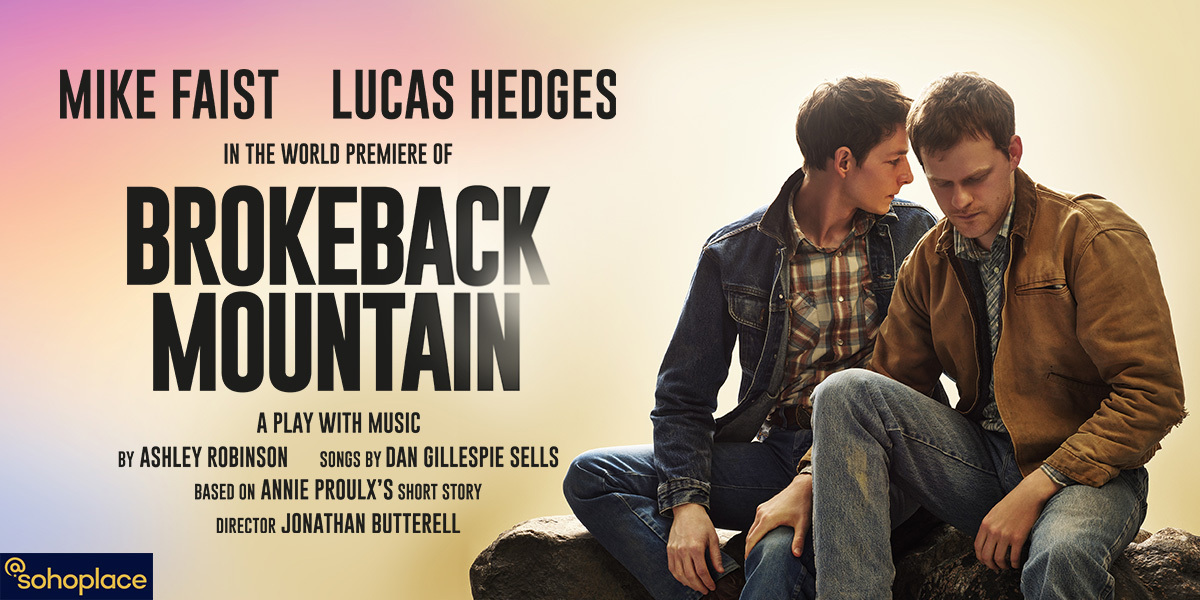 Discover an unforgettable story of love, passion and sacrifice in Brokeback Mountain.
Tickets for Brokeback Mountain are available now!
In the wild and rugged landscape of 1960s Wyoming, two cowboys find themselves drawn to each other in ways they never expected. Their love is passionate and intense, yet it is also fraught with danger and the fear of discovery. 
Adapted from Annie Proulx's short story and the smash-hit movie of the same name, this new play (with music) brings the iconic love story of Brokeback Mountain to life, in a tale of heartbreaking beauty that explores the depths of human emotion and the enduring power of love, even in the face of unconquerable obstacles. Tickets for this stunning adaptation of Brokeback Mountain at @sohoplace are available now!
About Brokeback Mountain
Brokeback Mountain is a tale of love, loss and societal pressures. When Ennis and Jack, two young men living in extreme rural poverty in tight, conservative communities, take jobs on the isolated Brokeback Mountain, their lives are forever changed by an intense connection that sparks between them. As they navigate their unexpected emotional bond and the treacherous terrain of their own hearts, they must confront the harsh realities of their society and the tragic consequences of their forbidden love.
Dan Gillespie Sells' soulful and haunting Country and Western melodies form the backbone of Brokeback Mountain, infusing the play with a powerful sense of longing and desire. With every note and chord, the music immerses the audience in the emotional landscape of Ennis and Jack's illicit love.
The cast and creatives of Brokeback Mountain
Making their highly anticipated West End stage debuts, Mike Faist and Lucas Hedges bring to life the unforgettable characters of Jack and Ennis. Brokeback Mountain is directed by Jonathan Butterell, the creative force behind the hit musical and film, Everybody's Talking About Jamie. Brokeback Mountain features original music by Dan Gillespie Sells and is performed by the extraordinary singer, Eddi Reader, accompanied by her onstage Country and Western band: Sean Green (piano/MD), Meelie Traill (upright bass), Julian Jackson (chromatic harmonica), and BJ Cole (pedal steel guitar).
Brokeback Mountain tickets are available now!
Witness a powerful and deeply moving theatrical experience that celebrates the beauty and complexity of love in all of its forms. Don't miss out, as performances are running for a limited season until 12 August 2023. Book your Brokeback Mountain tickets today!
Age restriction
This production is suitable for ages 16+
Running time
90 minutes (no interval)
Performance dates
10 May - 12 August 2023
Access
British Sign Language performance – 12th July 2023 7:30pm. Audio Described performance – 29th July 2023 2:30pm. Captioned performance – 4th August 2023 7:30pm
Venue Information
@sohoplace
4 Soho Place, W1D 3BG, London , W1D 3BG
Customer
Reviews
12 reviews
4.5