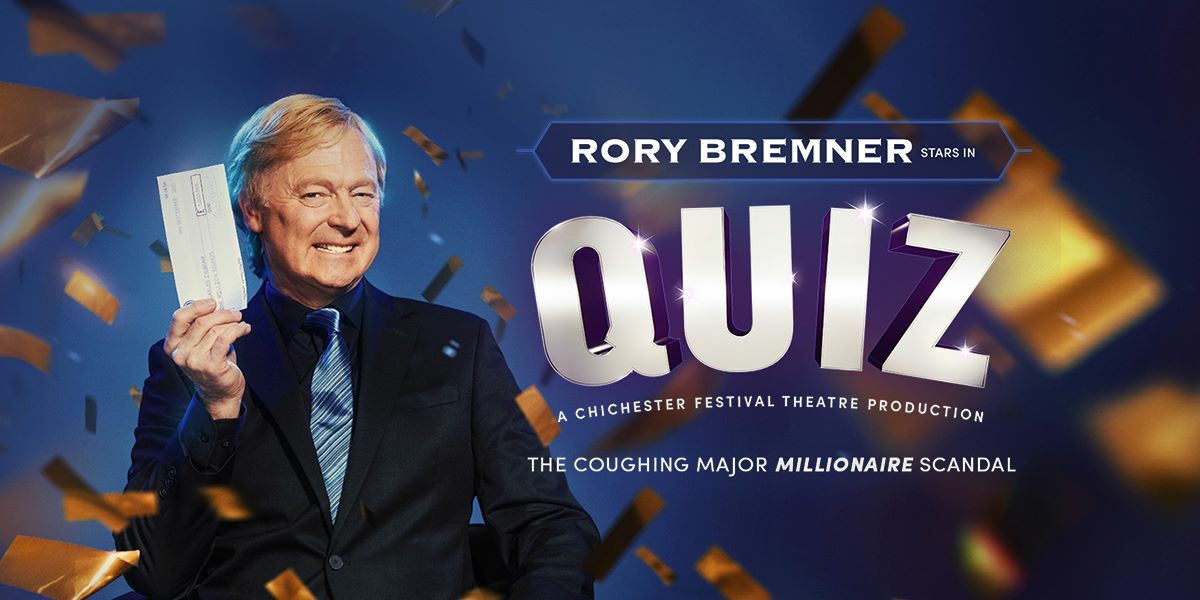 Based on a jaw-dropping scandal, James Graham's Quiz is the world's greatest quiz show!
Keep me updated
We'll tell you as soon as tickets go on sale:
Tickets now available for Quiz at Bromley's Churchill Theatre!
The year is 2001 and a gameshow scandal has shaken the nation…it will go on to be discussed decades into the future: its frontman Charles Ingram will be coughed at in public, be known as the Coughing Major and subsequently face a trial for organising the Coughing Scandal on Who Wants to Be a Millionaire?. From the critically-acclaimed writer of Ink and Labour of Love James Graham, Quiz is a love letter to the tantalising evening television that we grew up watching from the sofa. 
About QUIZ 
Rory Bremner, Britain's leading satirical impressionist stars in the new production of Quiz. Britain is obsessed with quiz shows; watching them, being selected for them and winning them and Charles Ingram was determined to win, even if it meant losing everything. Graham was a teenager when he became fixated on the Who Wants to Be a Millionaire coughing scandal - he believed to be the most British crime case ever. Now, his sharply witty play Quiz returns, shining the spotlight on quiz shows and the events that followed Ingrams' failed cheating attempts.
In Quiz, Graham reminds us that we are slightly ever obsessed with seeing people compete in quiz shows, we thrive on stakes being piled higher than ever before, as represented in this masterful show that blends the lines between courtroom and showbiz.
Quiz in London 
Quiz moved to the West End's Noel Coward Theatre following its debut performance in Chicester. For the West End production of Quiz, James Graham rewrote over 40% of the play, with on-stage seating being introduced to give the audience a more studio, immersive experience. Following each act, the audience was given the chance to serve as the jury by using electronic voting, where they would have seen the arguments for the prosecution and defence to determine if Ingram was guilty. The show was nominated for two Olivier Awards including Best New Comedy.
James Graham's Quiz tickets are on sale now!
How do you go from being a millionaire to losing it all overnight? All of this and more are explored in James Graham's Quiz! Book your ticket to Quiz now!
Age restriction
To be confirmed.
Running time
To be confirmed.
Performance dates
6 - 11 November 2023
Special notes
QUIZ is a fictional imagination based on real events which took place in 2001 following an episode of Who Wants To Be A Millionaire? It is not in any way connected with the makers of the programme or any of the individuals portrayed.
Please be aware this production takes place at the Churchill Theatre in Bromley, this production does not take place in central London. No refunds, cancellations or exchanges will be permitted due to venue confusion.
Customer
Reviews
48 reviews
4.3