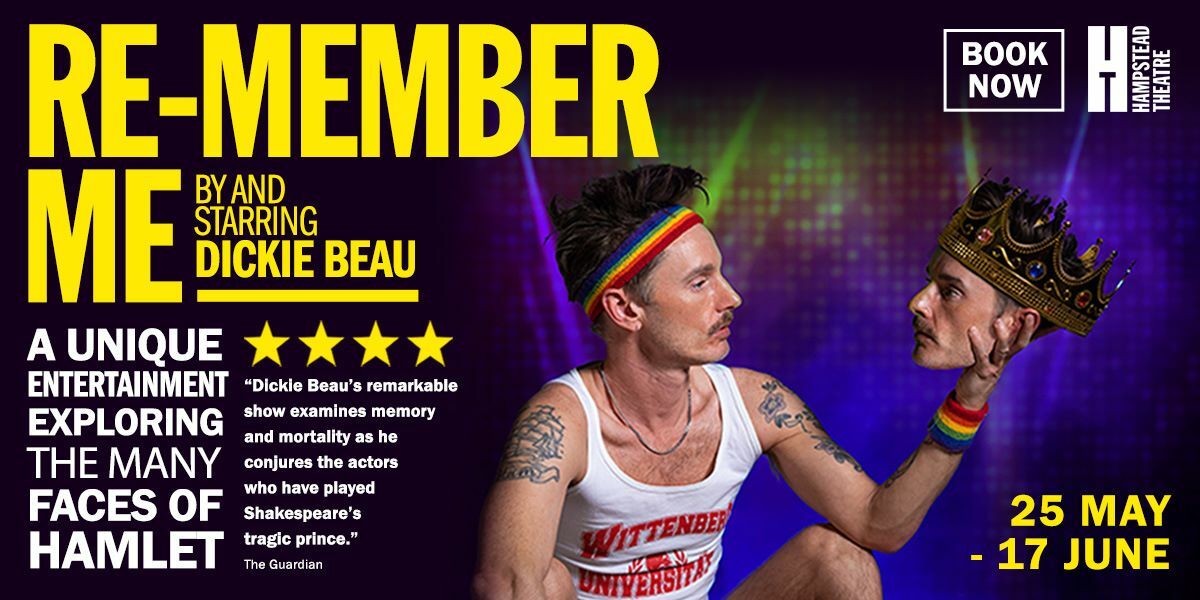 Hampstead Theatre, London
Re-member Me explores the many faces of Hamlet - one of history's most iconic characters
Tickets for Re-member Me at Hampstead Theatre are available now! 
Described by Benedict Cumberbatch as "A new evolution in terms of theatre", Re-member Me is the latest production from acclaimed theatre artist Dickie Beau and explores the many faces of Hamlet - one of history's most iconic and tragic characters, in this astonishing one man lip-sync show. The upcoming arrival of Re-member Me comes to Hampstead Theatre for a strictly limited run. Book your tickets today! 
About Re-member Me
Dickie Beau is on a mission to create the ultimate mix-tape of Hamlet performances by legendary actors to form an epic lip-sync show. During his search, he stumbles upon a particularly exceptional portrayal of a past Hamlet that has left a lasting impression on all who witnessed it. Sadly, no recordings of this performance exist, leaving it lost in time.
Undeterred, Dickie Beau sets out to bring this forgotten Hamlet back to life through a combination of documentary theatre and modern-day séance techniques. Through exclusive interviews with esteemed actors like Ian McKellen and Richard Eyre, Dickie Beau seeks to re-member this legendary performance and pay homage to the greatest Hamlet that most people have never seen. The result is Re-Member Me, a one-of-a-kind theatrical tribute.
The creatives of Re-member Me
Dickie Beau is a highly versatile actor and performance artist, whose unique approach sets him apart from his contemporaries. His work has been described as "peerless" by The Times.
Following his critically acclaimed performance in the title role of "Botticelli in the Fire," Dickie Beau is set to return to Hampstead to showcase his exceptional talent once again. With his distinctive style and unparalleled ability to captivate audiences, he is sure to deliver a performance that is both captivating and unforgettable.
Remember-Me is directed London-based writer and director Jan-willem van den Bosch - a true master of his craft. With a particular focus on new writing, verbatim, classical texts, and devised productions, he has earned widespread acclaim for his award-winning theatrical work.
His innovative and thought-provoking approach has seen his productions staged all around the globe, including in Britain, China, Germany, Russia, Bosnia and Herzegovina, and Israel.
Re-member Me tickets are available now!
He was the Hamlet who never was, perhaps the greatest of them all, and now you have the chance to discover this forgotten and masterful take on one of the greatest characters of all time! Book your tickets for Re-member Me at Hampstead Theatre today!
Age restriction
This production is suitable for ages 14+
Running time
1 hour 10 minutes (no interval)
Performance dates
25 May 2023 - 17 June 2023