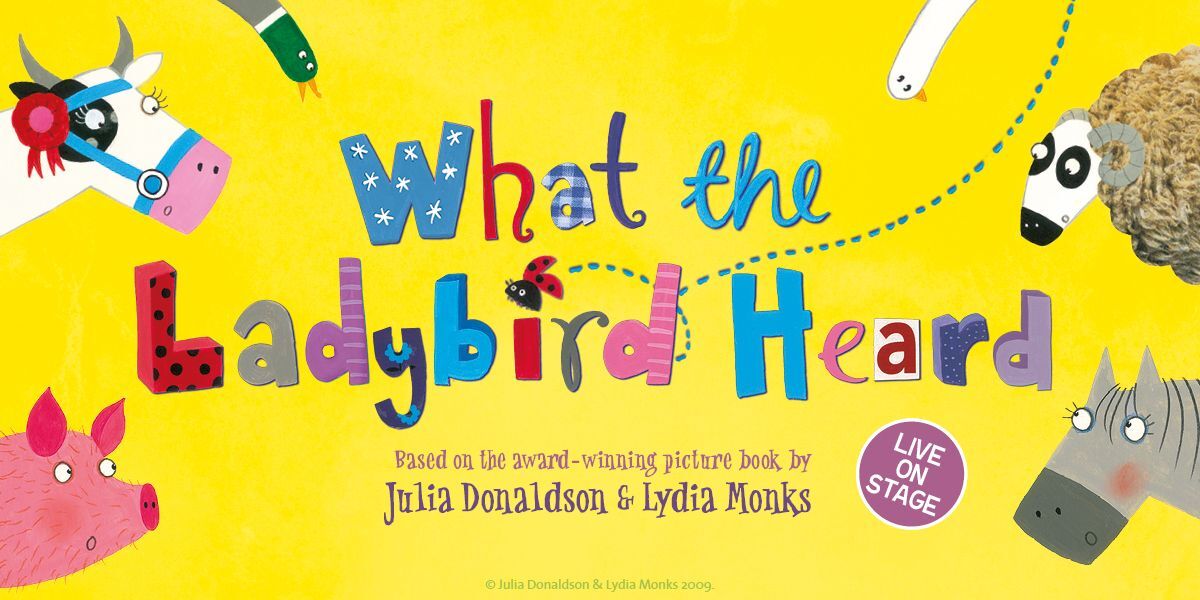 Back to Plays
What The Ladybird Heard Tickets
Palace Theatre, London
4.7
10 reviews
A colourful adventure for all ages!
Keep me updated
We'll tell you as soon as tickets go on sale:
Tickets Refunded if your event is cancelled
Official tickets from an authorised retailer
100% Secure booking process guaranteed
Top Rated Show
Reviewers highly rate this show
What The Ladybird Heard coming to the Palace Theatre!
Two crafty robbers, one tiny ladybird, and a whole farmyard of fun! Hefty Hugh and Lanky Len have a cunning plan to steal the farmer's fine prize cow. But they reckon without the tiniest, quietest creature of all: The Ladybird has a plan of her own! Book now for this perfect family treat, live on stage in the West End!
Join the woolly sheep, the hairy hog, the fat red hen and the dainty dog in this glittering stage adaptation of Julia Donaldson & Lydia Monks' colourful farmyard adventure. With live music, puppetry, plenty of audience participation and lots of laughs!
"Bursting with colour and verve" --Daily Telegraph (on the book)
Book your tickets now!
---
Running time
55 minutes, no interval
Performance dates
15 July - 29 August 2021
Access
Relaxed performance: 21 July at 11 am. BSL performance: 22 July at 11 am
Venue Information
Palace Theatre
Shaftesbury Avenue, London, W1D 5AY
Group Pricing
Special Offer
What The Ladybird Heard Ticket Offer Details
**TICKETS FOR £15.50 Valid Sunday performances 15 July - 29 August 2021 Book by 12 August 2021 **
Customer Reviews
10 reviews4.7
Daksha Trivedi
1st September
It was my grandson's (4 years old) first theatre experience and overall, he found the play interesting. The only part where he felt really sad and cried was when the thieves were plotting to steal the prize cows.
Janet Andrews
24th August
We really enjoyed the show but I was disappointed to realise that because I booked early and paid a full price of £29.50 for myself and my 4year old and my friend who booked the weekend before paid £24.50 for herself and had a free ticket for her 4yr old grandson. They sat in the row behind us in the dress circle. I was rather annoyed. i i
Alec
20th August
An excellent show for 3-6 year olds. Lasted about an hour and a quarter with breezy songs and consistent story line.
ANNE-MARIE THOMAS
19th August
Money well spent! Really enjoyed it
Emma John
17th August
This production was fabulous! Rooted in fantastic story-writing by Julia Donaldson but brought to life on stage with imagination, humour and age-appropriate interaction and engaging puppetry. Superb, would highly recommend it.
Katie Thompson
9th August
Excellent my granddaughter loved it very well done
Jing Sun
26th July
Fantastic story and multi-talented actors. My daughter and I really enjoy it. It is an unforgetable experience in London.
Ozlem Ildiz
21st July
It was enjoyable, boys love it and enjoyed it a lot.. thank you...
Elena Lileeva
13th July
Everything was excellent!
Lynne Conlon
9th July
Absolutely brilliant! Show was fantastic, my two and a half year old loved every second. Seats were perfect although I could have done with a booster for my child. She did manage to see everything though. Hope they will do "What the ladybird heard next". We will definitely come back to see that!