---
---
Donmar Warehouse is a small not-for-profit theatre in the Covent Garden area of London, with a capacity of 250.

Under the artistic leadership of Michael Grandage, Donmar Warehouse has presented some of London's most memorable award-winning theatrical experiences, as well as garnered critical acclaim at home and abroad. The theatre has a diverse artistic policy that includes new writing, contemporary reappraisals of European classics, British and American drama and small-scale musical theatre.

Over the last 17 years the theatre has created a reputation associated with artistic excellence: it has showcased the talent of some of the industry's premier creative artists, and built an unparalleled catalogue of work. As well as presenting at least six productions a year at its home in Covent Garden, the Donmar presents work nationally and internationally. Every year the Donmar tours one in-house production in the UK.
History

Theatrical producer Donald Albery formed the Donmar company in 1953, the name reputedly formed from the first three letters of the names Donald Albery and Dame Margot Fonteyn, the prima ballerina and a friend.

In 1961, Albery bought the site, a space that was once the vat room and hops warehouse of a brewery. He adapted it for use as a private drama studio and rehearsal room for Fonteyn's London Festival Ballet.

In 1977 the Royal Shakespeare Company acquired it as a theatre and renamed it the Warehouse, converting and equipping at "immense speed". The first show was a transfer of Schweyk in the Second World War, Directed by Howard Davies, transferred from the Other Place in Stratford and opening on 18 July 1977; the electricity for the theatre was turned on just 30 minutes before curtain up and the concrete steps up to the theatre still wet.

The Warehouse was an RSC workshop as much as a showcase and the seasons were remarkably innovative, including Trevor Nunn's acclaimed Stratford 1976 Macbeth, starring Judi Dench and Ian McKellen, which opened at the Covent Garden venue in September 1977 before transferring to the Young Vic. The RSC went on to stage numerous acclaimed productions, both original and transfers from The Other Place, Stratford. In 1980 nearly all the RSC company were involved in Nicholas Nickleby so a new two hander was found from the pile of submitted scripts. Educating Rita, with Julie Walters and Mark Kingston directed by Mike Ockrent, went on to be one of the RSC's biggest successes.

From 1983-89 it came under the artistic directorship of Nica Burns.

In 1990 Roger Wingate was responsible for the acquisition of the Donmar Warehouse. He completely rebuilt and re-equipped it in the form it is known today. Prior to its reopening in 1992, Roger Wingate appointed Sam Mendes as the theatre's first Artistic Director. As a board member and theatrical producer, Roger Wingate remains closely involved with the Donmar to the present day.
Under Sam Mendes (1992-2002)

The Donmar became an independent producing house in 1992 with Sam Mendes as artistic director. Mendes quickly transformed the theatre into one of the most exciting venues in the city. His opening production was Stephen Sondheim's Assassins which revelled in the show's dark, comic brilliance and rescued it from the critical opprobrium it had suffered on its American opening. He followed this with a series of excellent classic revivals, many of which attracted some of the finest actors and biggest stars of the decade.

Among Mendes's productions were John Kander and Fred Ebb's Cabaret, Tennessee Williams's The Glass Menagerie, Stephen Sondheim's Company, Alan Bennett's Habeas Corpus and his farewell duo of Chekhov's Uncle Vanya and Twelfth Night, which transferred to the Brooklyn Academy of Music.

As artistic director Mendes gave opportunities to many young directors. Matthew Warchus's production of Sam Shepard's True West, Katie Mitchell's of Beckett's Endgame, David Leveaux's of Sophocles's Elektra and Tom Stoppard's The Real Thing were amongst the most critically acclaimed of the decade. The Donmar's present artistic director Michael Grandage directed some of the key productions of the later part of Mendes's tenure, including Peter Nichols's Passion and Privates on Parade and Sondheim's Merrily We Roll Along.
Under Michael Grandage (2002-present)

In 2002 Michael Grandage succeeded Sam Mendes as Artistic Director. Grandage appointed Douglas Hodge and Jamie Lloyd as artistic directors; in 2007 Rob Ashford succeeded Hodge.

The Donmar Warehouse produces a mixed programme of new plays, revivals and musicals. For its revivals of foreign plays, the company regularly commissions new translations or versions, including Ibsen's The Wild Duck (David Eldridge), Racine's Phaedra (Frank McGuinness), Dario Fo's Accidental Death of An Anarchist (Simon Nye) and Strindberg's Creditors (David Greig).

Its musical productions have included Grand Hotel and the Stephen Sondheim works, Pacific Overtures, Merrily We Roll Along, Company, Into the Woods and the 1992 production of Assassins that opened Sam Mendes' tenure as Artistic Director.

Under the umbrella of Warehouse Productions, the theatre sometimes opens shows in the West End. Examples of this include 1999's Suddenly Last Summer and 2005's Guys and Dolls.

Many well-known actors have appeared at the theatre, including Nicole Kidman (The Blue Room), Gwyneth Paltrow (Proof), Ian McKellen (The Cut) and Ewan McGregor (Othello).

With only 250 seats, the tickets for Othello starring McGregor were in such demand that Grandage feared it could become "a bad news story". His response was to plan a one-year season at the 750-seat Wyndham's Theatre, four major new productions presented by Donmar West End. It commenced on 12 September 2008, with Kenneth Branagh in the title role of Chekhov's Ivanov, given in a new version by Tom Stoppard and directed by Grandage. The West End season continued with Derek Jacobi in Twelfth Night, Judi Dench in Yukio Mishima's Madame de Sade and Jude Law in Hamlet, all directed by Grandage.

Following the Donmar West End season, the Donmar held three productions internationally: transfers of Red, Piaf and Creditors, to Broadway, Madrid and BAM respectively. Furthermore, starting from the 30th of September until December, the Donmar will have the first of three year resident spots at Trafalgar Studios 2, in order to showcase its past Resident Assistant Directors.

In late 2010 the Donmar will lead the UK celebrations to mark Stephen Sondheim's 80th birthday to recognise his long association with the theatre. It will include a new production of Passion directed by Jamie Lloyd.
---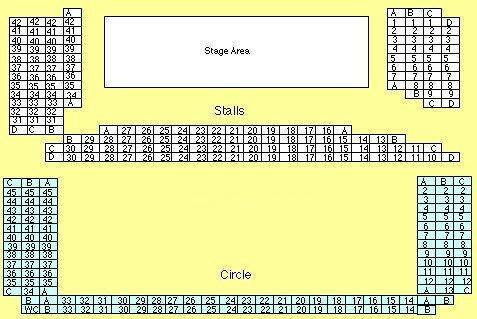 ---
There is nothing currently showing at Donmar Warehouse. Sign up to receive for priority updates about upcoming shows at Donmar Warehouse.
Donmar Warehouse is located in London. The full address is Donmar Warehouse, 41 Earlham Street, Seven Dials, London WC2H 9LX.