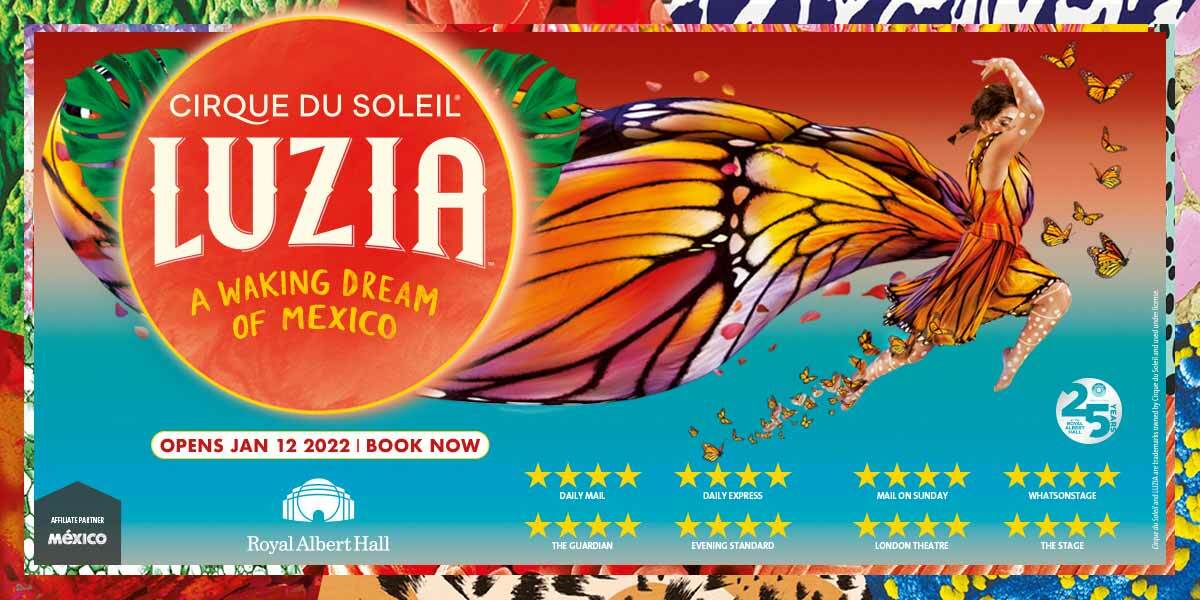 Back to Dance
Cirque du Soleil: Luzia Tickets
Royal Albert Hall, London
4.5
148 reviews
Cirque du Soleil: Luzia is dream journey through Mexico
From £58
Tickets Refunded if your event is cancelled
Official tickets from an authorised retailer
100% Secure booking process guaranteed
Affordable Cirque du Soleil: Luzia tickets are on sale now!
The next Cirque du Soleil show to hit London has been announced! Luzia makes its way to the town to join the ranks of OVO and Totem, the Cirque du Soleil shows that played at the Royal Albert Hall in 2018 and 2019, respectively. Tickets to Cirque du Soleil shows are always in extremely high demand and it's no wonder with their reputation for breathtaking and colourful acts that tell stories on such grand scales. You'll want to book your Cirque du Soleil: Luzia tickets soon to be in on the high flying action!
What is Cirque du Soleil: Luzia?
Cirque du Soleil: Luzia takes you on a dream journey through Mexico. A mixture and balance of light (luz in Spanish) and rain (lluvia) combine to satisfy the spirit and comfort the soul. Making use of a variety of grand visual surprises, colourfully intense costumes and their characteristically breathtaking acrobatic performances Luzia pulls on aspects of traditional and modern Mexican culture and lore to bring the show to life.
The faces, places and sounds of Mexico are presented in smooth though startling new ways. Make your way from an old movie set to the ocean. Witness the desert, a sinkhole, and underwater world, a city alleyway and a dance salon. Complete with never before seen acts that incorporate water and surrealistic animals of all sizes, you will be amazed at the transition from the urban to the natural world, from the past to the present, and tradition to modernity.
Cirque du Soleil London
The Royal Albert Hall has been the London home of Cirque du Soleil for over twenty years. While the partnership of the Canadian contemporary circus troupe with such a grand venue might seem quite far removed from the traditional big tops, the lavish interior and ample seating make Royal Albert Hall the perfect place for the company's elaborate and awe-inspiring productions. If Cirque du Soleil: Luzia does make it to London, you can be sure it will feel right at home at the Royal Albert Hall.
Cirque du Soleil: Luzia tickets are available now at affordable prices for its limited Royal Albert Hall run next year. Tickets for Cirque du Soleil: Luzia will certainly be in high demand so make sure you are among the first to know they're available!
★★★★★ 'Stole my breath away' Sunday Express
★★★★★ 'Brilliantly crafted and ingenious reminder why Cirque du Soleil have stayed at the top of their game for so many years' BroadwayWorld.com
'Mind bending stunts' Telegraph
---
Age restriction
To be confirmed.
Running time
2hr 15min (including interval)
Performance dates
12 January 2022 - 12 February 2022
Special notes
Covid-19
You may be asked to show your Covid status (negative test result within the last 48 hours, proof of double vaccination + 14 days or proof of natural immunity) through the NHS Covid Pass on the NHS App, NHS.UK, your vaccination card, as a letter that can be requested by ringing NHS 119 or through an EU Digital Covid Certificate.
Customers can also show text or email confirmation of test results from either a PCR or rapid lateral flow test.
It is a legal requirement for people aged 11 and over to wear a face covering in indoor settings including at the Hall. Please wear a face covering unless you are eating or drinking, or you are exempt.
All safety measures are under constant review and we will always follow government guidance and requirements. Please check the FAQs on the Hall's website before your visit in case any of the guidance has changed.
Special Offer
Cirque du Soleil: Luzia Ticket Offer Details
SAVE 30% ON SELECTED TICKETS Valid on Tuesday - Friday and Sunday performances in January 2022 Book by 29 November 2021
Customer Reviews
148 reviews4.5
David Tyler
3rd March
Absolutely spellbinding. The most "edge of your seat" performance I have ever seen. Unique and simply mesmerising.
Jessica Di Luccio
2nd March
Great show and venue. Staff are extremely helpful and polite. Bit disappointing that in this day and age of plastic reduction and eco awareness they still serve drinks taken into the show in plastic cups. Shame they don't trust a grown woman along with thousands of other grown ups there with a glass bottle of beer.
K T VARGAS-PACHECO
2nd March
Magic as usual!!!
Dean Harris
2nd March
The show from start to finish was mesmerising. My girlfriend and I both thought it was one of the most awesome things we have seen in ages.
DEREK STARK
29th February
Very average show, not worth the bother of travelling from Glasgow, really disappointing.
Aleksandra Sobolewska
29th February
Amazing performance!!!! Highly recommended!
Andre Paul blackaby
29th February
What a talented group they are loved the show and the clown was very funny with some great interaction with the audience. Some amazing routines left us all gasping and holding our breath .Well done to the whole cast .
Vince Porritt
29th February
Excellent performance from ALL the artistes. Would come back again to see Brilliant
Anne Ridge
27th February
Amazing, an experience you won't forget. Book a ticket now! I've been to two of Cirque du Soleil's performances and I loved both! They just keep getting better.
Rebecca lloyd
25th February
A-maze-ing!!!!!! From the venue (Royal Albert Hall) to the lighting, props, costumes, music, performance! Best show I've ever seen (I'm 50yrs old)....
Stephen
24th February
Business partner has been to 8-9 shows and highly very rated. I took my family and left 2/3 of the way through, we all thought content was c**p. what they dud was put together well, there was little to no wow factor whatsoever and everything they did we'd more or less seen. Some we found very childish, like a clown with football and whistle for ten minutes. My business partner went to this show only this weekend. He's response was, 'out of the 9-10 shows I've been too this was the worst, if you told me they'd changed the director i'd say that makes sense. This is NOTHING like what I've seen before unfortunately.'
Anthony Holloway
24th February
Excelllent show and entertainment only spoilt by the inability of RAH to stop people constantly using their mobile phones and tablets to take pictures and make recordings.