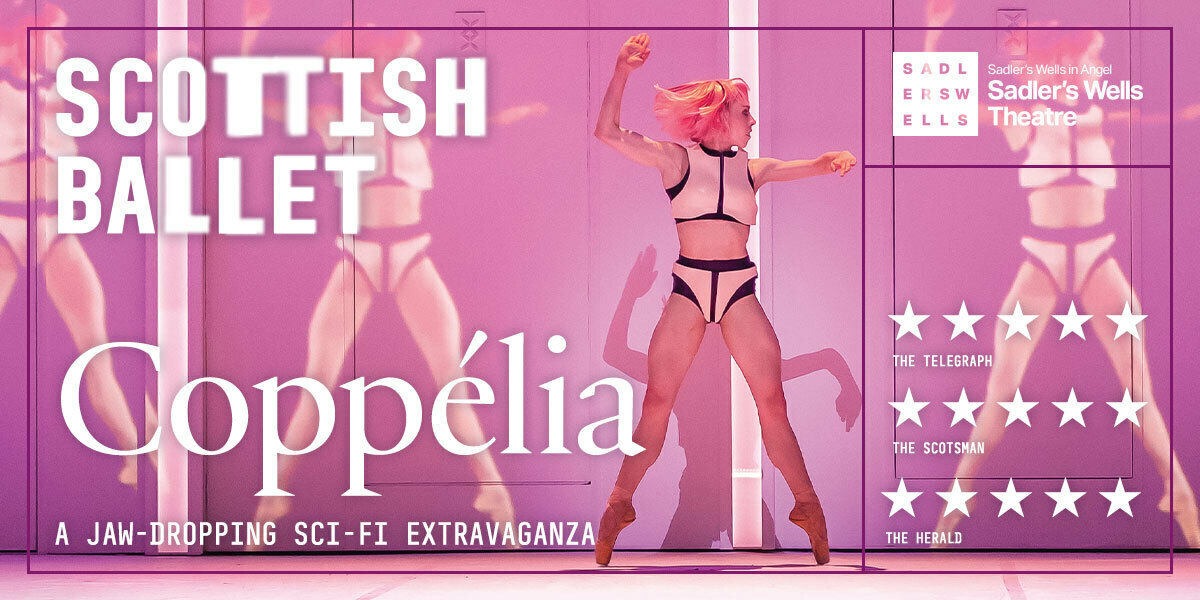 Léo Delibes' ballet has been given a high-tech makeover in this adaptation of Coppélia!
Tickets for Scottish Ballet - Coppélia are available now! 
Léo Delibes' 19th-century comic ballet has been given a high-tech makeover in this stunning adaptation of Coppélia! Enter a world of artificial intelligence, where the lines of human and robot life blur together in hypnotic, hyper-real obsession. After wowing audiences at the Edinburgh International Festival, Coppélia is coming to the stage of Sadler's Wells, presented by the incredible Scottish Ballet. Book your tickets for Coppélia today! 
About Leo Delibes' Coppélia
Delibes' 19th-century tale plays upon the fear of human-like figures and the twisted darkness of desire. In the original Coppélia, old alchemist Dr Coppelius lives isolated at the edge of a village square. Beheld to be a strange and feared sorcerer, Coppelius spends his weary days conducting inhuman experiments and as a result…Coppélia is born - a mechanical doll who is so human-like that the villagers believe she is alive. Doctor Coppelius find himself so taken by his 'daughter', that he will do anything to bring her to life - even through the use of magic.
About Scottish Ballet - Coppélia
Step inside the futuristic world of Silicon Valley, where entrepreneur and trail-blazing inventor Dr Coppelius runs the company NuLife. Journalist Swanhilda and her fiancé Franz arrive at NuLife to interview Coppelius about his ground-breaking new Artificial Intelligence creation. Its name is Coppélia.
Through various (and questionable) trials and tribulations, Coppelius tries with all of his efforts to make Coppélia exist in the real world. Meanwhile, Swanhilda notices that Franz has become enamoured and possessed by the idea of artificial intelligence. As their budding curiosity propels them further into the dark web of NuLife, Swanhilda and Franz must navigate the depths and experiments of the laboratory corridors, and see between the lines of what is real and artificial in order to escape back into the material world before it is too late.
The creators of Scottish Ballet - Coppélia
Scottish Ballet - Coppélia is created by UK-based choreographers Morgann Runacre-Temple and Jessica Wright, known for their prior award-winning cinematic pieces for Scottish Ballet and Tremble and The Secret Theatre. 
Prepare to witness unmistakable humour, sharp solos, exciting full ensemble sequences and breathtaking live projections set to the beat of an astonishing new composition by Mikael Karlsson and Michael P Atkinson, which incorporates a recreated version of the original Delibes music. 
Scottish Ballet - Coppélia tickets are available now!
This ground-breaking new version will distort audiences' perception of reality and leave them wondering what is true and what is artificial as they are drawn into Dr Coppelius' robotic universe. Don't miss out on the opportunity to see this modern masterpiece. Book your tickets today!
Age restriction
To be confirmed. Under 5s will not be admitted.
Running time
1 hour 20 minutes (no interval)
Performance dates
2 – 5 March 2023
Special notes
Children under 5 years will not be admitted.
Access
Audio Described Performance and Touch Tour - 4 March 2023 at 2:30pm
Venue Information
Sadler's Wells
Rosebery Avenue, Islington, London, EC1R 4TN
Cast Includes
Customer
Reviews
3 reviews
5.0