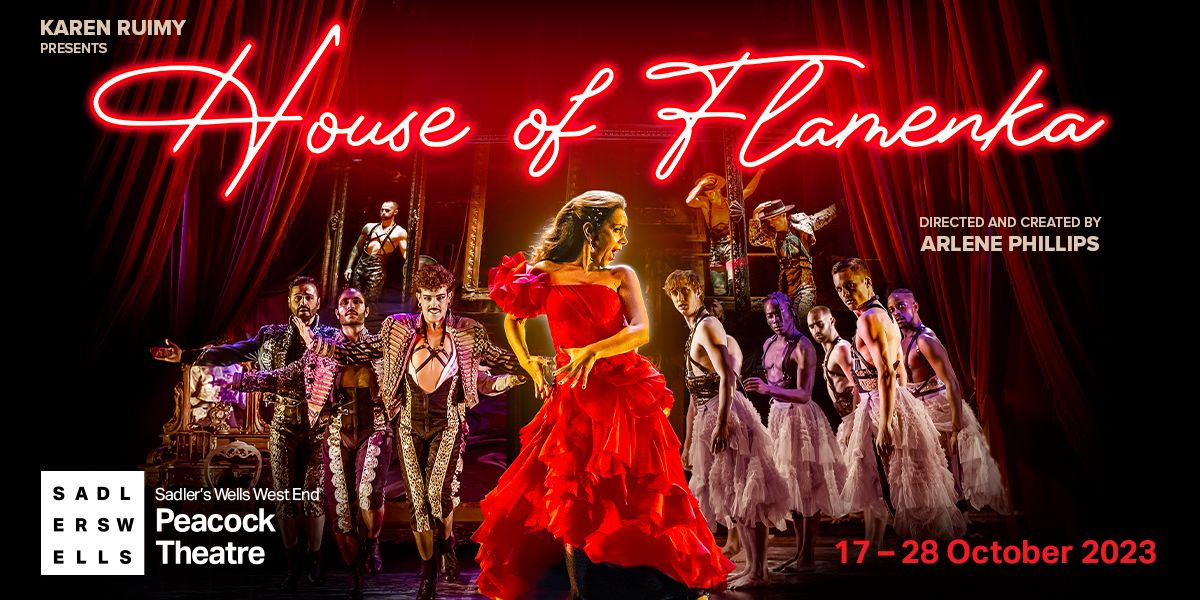 Arlene Phillips spectacle House of Flamenka returns to the Sadler's Wells stage.
Keep me updated
We'll tell you as soon as tickets go on sale:
Tickets for House of Flamenka at London's Peacock Theatre are available now!
Flamenco meets fabulousness in House of Flamenka, a fusion of lavishness, extravagance and high camp! Combining the classic art of flamenco with contemporary dance, dance icon Arlene Phillips has directed and co-created this jaw-dropping extravaganza which returns to the Peacock Theatre! It's infectious, it's bold and it'll leave you wanting to take flamenco lessons yourself! Take a visit to the House of Flamenka, book your tickets now! 
About House of Flamenka 
You must be a party person because you've personally been invited to the House of Flamenka, where hypermasculinity and high camp come together to create the sexiest, hottest night you'll ever experience in London.
An ensemble of internationally hailed-male dancers is about to set the stage alight! A glittering set, expensive costumes, and smoking choreography merge to create an epic night of theatre, finished off with a red-hot intoxicating blend of modern, pop, Latin, and flamenco music.
The cast and creatives of House of Flamenka 
House of Flamenka is created and directed by dance queen Arlene Phillips (Grease, Guys and Dolls, Strictly Come Dancing). The steamy production stars world-class flamenco dancer Karen Ruimy. 
House of Flamenka is choreographed by James Cousins, alongside master of Flamenco Francisco Hidalgo.
House of Flamenka tickets are available now!
For the best night out this autumn, look no further than House of Flamenka tickets, this thunderous, high-energy fusion of contemporary dance, flamenco, passion, and tantalising drama makes the perfect recipe for a party! Book your tickets now!
Age restriction
To be confirmed.
Running time
1 hour 50 minutes (including one 20 minute interval)
Performance dates
17 October 2023 – 28 October 2023
Venue Information
Peacock Theatre
Portugal Street, Kingsway, London, WC2A 2HT
Customer
Reviews
15 reviews
4.0