London Theatre Review: Come From Away at the Phoenix Theatre
Posted on 15 March 2019
After all the hype surrounding a brand-new production or transfer, I always worry I will be the lone voice muttering, "I didn't like it." But hurrah! I really enjoyed Come from Away, a tale about kindness whilst in extremely horrific circumstances.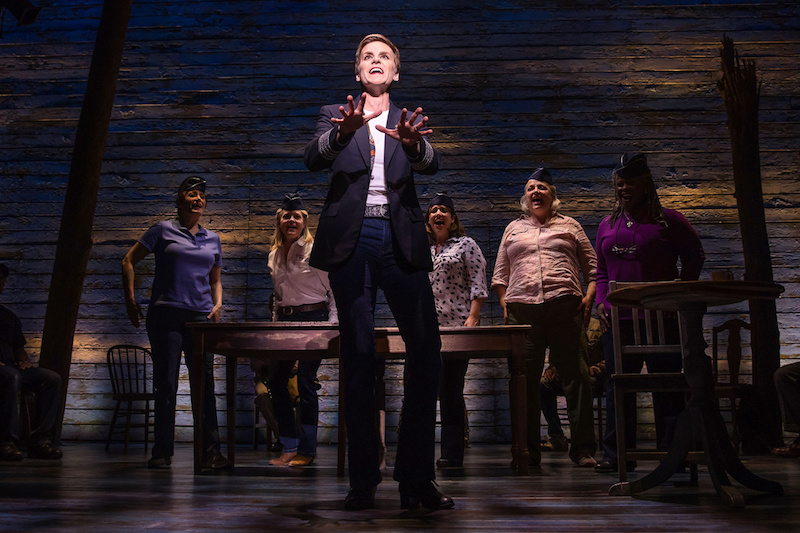 Canadian-American musical Come From Away is now playing at the West End's Phoenix Theatre.
The town of Gander in Newfoundland is presented in this production as a small, insular little town where all the islanders have slightly odd Canadian-Irish accents. The island has a massive airport from the days when jets had to refuel before continuing across the Atlantic.
Once jets were able to fly across the seas without refuelling, it became a base for air traffic control but was mainly forgotten about until Operation Yellow Ribbon was activated on 11 September 2001. Gander became home to 7000 air passengers who had found themselves in mid-air when a series of atrocities occurred in New York City and at the US Pentagon. American air space closed down, all planes and its passengers and crew were diverted, and the town of Gander would change forever.
This is a strangely feel-good musical, which will sit better with some than others. Many have described it as "too nice". The horror of 9/11 is very much in the background with the focus on the differences between 'the plane people' and the Gander natives – from the woman who volunteers with the SPCA and takes it on herself to look after the animals and the Mayors who welcome people into their homes and whiskey cabinets to the character of Beverley, (Rachel Tucker) an American pilot who has fought misogyny to become one of the first female captains in the US with a love song to her career being 'Me and the Sky'. Even in moments of tension, such as the Egyptian passenger treated with suspicion, the production doesn't linger that the world has changed forever for everyone whether it be two passengers Nick and Diane finding love or a woman unable to get in touch with her firefighter son.
This is one of the few musicals I have seen that has a stronger book than music. It could have easily lost the songs, which are high-quality but not always the most memorable. This is partly because the focus is on the company with rock- and Gaelic-influenced songs rather than individuals and there isn't a clear signature song.
It is impossible not to fall for Come from Away. The cast give it their all, the story is incredibly moving and it received a much-deserved standing ovation at the end. For many audiences, this "too nice" story about humanity in adversity will be a much-needed respite from all the horrible news around.
---
Come From Away West End tickets from just
£

24!

The Canadian-American musical, Come From Away, has become an international sensation.

In addition to gaining a lot of buzz from some Donald Trump drama, the smash-hit musical also recently became a huge nominee for the 44th Annual Olivier Awards this year with a whopping 8 nominations, including two simultaneous Best Actor in a Supporting Role in a Musical nominations for Clive Carter and Robert Hands, a nomination for Best Actress in a Supporting Role in a Musical for Rachel Tucker, Best Director for Christopher Ashley, and Best New Musical. The Phoenix Theatre production of Come From Away is booking until 14 September 2019.

See what everyone is raving about and book your Come From Away London musical tickets today from £24!
Shanine Salmon was a latecomer to theatre after being seduced by the National Theatre's £5 entry pass tickets and a slight obsession with Alex Jennings. She is sadly no longer eligible for 16-25 theatre tickets but she continues to abuse under 30 offers. There was a market for bringing awareness that London theatre was affordable in an era of £100+ West End tickets – Shanine's blog, View from the Cheap Seat, launched in April 2016, focuses on productions and theatres that have tickets available for £20 and under. She is also quite opinionated and has views on diversity, pricing, theatre seats and nudity on stage. Her interests include Rocky Horror, gaming, theatre (of course) and she also has her own Etsy shop. Shanine tweets at @Braintree_.