London Theatre Review: Waitress The Musical at the West End's Adelphi Theatre
Updated on 23 July 2019
Waitress is one of 2019's most anticipated transfers along with Come from Away and boy, has it been worth the wait! The original Broadway musical is currently booking at the Adelphi Theatre until 19 October 2019 in an open-ended run.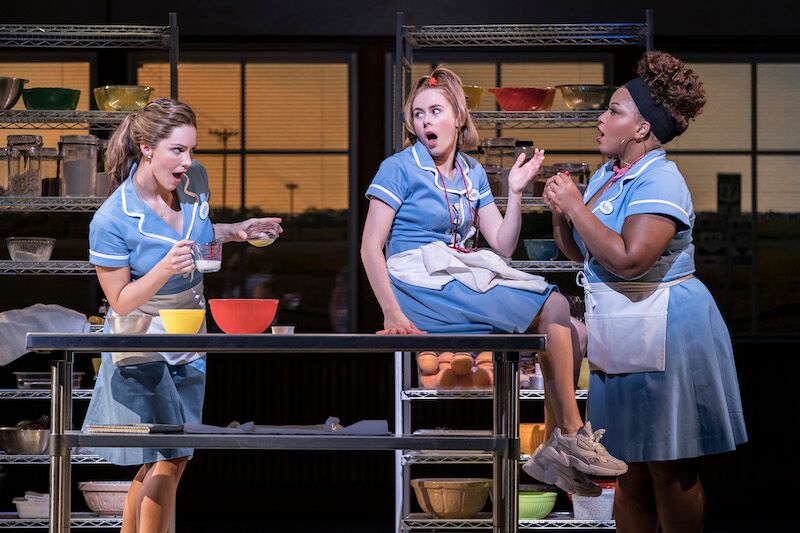 The plot of Waitress The Musical in a nutshell
Waitress tells the story of Jenna (Katherine McPhee), whose interest in pies serves as a distraction from her husband Earl (Peter Hannah), a lazy and cruel man. Jenna receives unwavering support from her fellow waitresses, Becky (Marisha Wallace) and Dawn (Laura Baldwin) who have their own issues at home: Becky is her husband's carer whilst Dawn is desperately looking for love. When Jenna finds out she's pregnant, it's a bittersweet revelation. Papa don't preach, she wants to keep her baby, but she no longer wants to be married to the father...
The Waitress West End musical in review
Waitress isn't just a frothy tale about pies and the Deep American South. Jenna is a desperately unhappy woman looking for an escape, and at a time where she feels most trapped, but there is a light at the end of the tunnel; a baking contest in a nearby town that could win her $20,000, and the handsome gynaecologist, Dr Jim Pomatter (David Hunter).
Sara Bareilles's music and lyrics compliment Jessie Nelson's book as it is a show full of humour and warmth that isn't afraid to take its audience to a dark place; from all the extramarital affairs to a sassy nurse who is here for the pies and not so subtle judgement of the inappropriate relationship between Jim and Jenna from Nurse Norma. Much of the comedy comes from Becky and Wallace's performance, which reminded me a lot of Nicole Bryer from Nailed it. A kind, loving woman who isn't afraid to put herself first time she has a sisterly relationship with Jenna and Dawn that is touching to witness.
For many, they will be here to see Jack McBrayer (Kenneth in 30 Rock), who brings an incredible energy and comedic approach to the role of Ogie. McBrayer doesn't have the strongest voice but he does get all the best lines. It's interesting casting for a production that doesn't need the A-List names.
Ultimately, this is Katherine McPhee's show; her vocals are like Barellies' and there are some moving moments like "She Used to Be Mine" as she laments losing herself to her baby and her awful husband, but there is also a lot of fun and life. As with any good musical characters, they get their happy endings. That being said, this is a musical that doesn't shy away from how hard life can be for many people.
Grab a slice of that sweet Waitress pie with London theatre tickets for as low as £24!
Perhaps you've seen the hit film, but that shouldn't shy you away from seeing this critically acclaimed musical live on stage.
🎫 Book your affordable tickets for Waitress at London's Adelphi Theatre from just £24 and up!
Shanine Salmon was a latecomer to theatre after being seduced by the National Theatre's £5 entry pass tickets and a slight obsession with Alex Jennings. She is sadly no longer eligible for 16-25 theatre tickets but she continues to abuse under 30 offers. There was a market for bringing awareness that London theatre was affordable in an era of £100+ West End tickets – Shanine's blog, View from the Cheap Seat, launched in April 2016, focuses on productions and theatres that have tickets available for £20 and under. She is also quite opinionated and has views on diversity, pricing, theatre seats and nudity on stage. Her interests include Rocky Horror, gaming, theatre (of course) and she also has her own Etsy shop. Shanine tweets at @Braintree_.