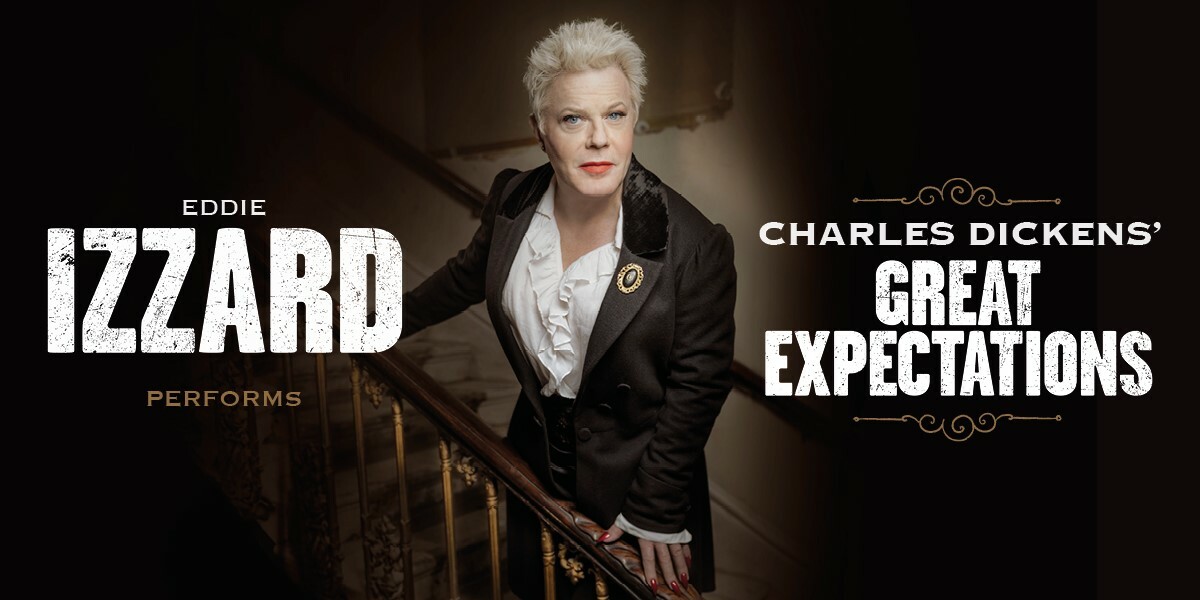 Book tickets for Great Expectations starring Eddie Izzard (and Eddie Izzard, and Eddie Izzard) at London's Garrick Theatre today!
Keep me updated
We'll tell you as soon as tickets go on sale:
Tickets for Eddie Izzard's Great Expectations available now!
Expectations are great for the newest adaptation of Charles Dicken's classic novel, starring actor, comedian, and multi-marathon runner, Eddie Izzard. Following a sold-out run in New York, where it received rave reviews, Eddie Izzard's Great Expectations will play at London's Garrick Theatre for six weeks only. Get your tickets now, before someone Pips you to it!
About Great Expectations
Written at a time of great social change in Britain, Charles Dicken's 19th-century novel reflects the economical and educational revolution that slowly took hold of England's towns and countryside. When blacksmith apprentice, Pip, receives an unexpected fortune from a mysterious benefactor, he embarks on a life-changing journey to London. It is here that he learns the true cost of love and friendship.
About Eddie Izzard
Eddie Izzard ran 32 marathons in 31 days raising more than £1.6 million for Comic Relief, and she will need that endurance when she takes on 19 characters and 544 pages that make Charles Dickens Great Expectations so, well, great!  Bursting onto the comedy scene in the 80s, Eddie Izzard has rarely left the stage or screen since. Izzard's comedy special, Dressed to Kill, won two primetime Emmy Awards and she is regularly considered one of the country's most funny and unique comedians. Alongside comedy and her athletic endeavors, Eddie Izzard has also starred in a number of much-loved TV series and films, including The Chronicles of Narnia, Castles in the Sky, and Valkyrie.  
About the show
'Eddie Izzard Commands a Classic' stated The Wall Street Journal when the show first opened in New York's Greenwich House Theatre last year. The fast-paced, solo adaptation of the ultimate rags-to-riches tale explores the power of money and a subtle costume change!
Cast and creatives
Adapted for the stage by Eddie Izzard's brother, Mark Izzard, and directed by Selina Cadell with set design from Tom Piper and lighting by Tyler Elich. Costume styled by Tom Piper and Libby Da Costa. The composer is Eliza Thompson and the movement director is Didi Hopkins.
Eddie Izzard's  Great Expectations tickets on sale now!
Eddie Izzard's highly praised, highly anticipated solo show will run at the Garrick Theatre, for just six weeks only. Get your tickets before it's too late.
Age restriction
Children under the age of 15 are required to be accompanied by a responsible adult in seats adjacent to each other
Running time
2 hours 15 minutes (including interval)
Performance dates
24 May - 01 July 2023
Customer
Reviews
50 reviews
4.7
'⭐⭐⭐⭐ 'Eddie Izzard's glorious solo Great Expectations is a witty, respectful take on Dickens.''

'⭐⭐⭐⭐ 'Eddie Izzard seduces in charismatic one-woman show… Izzard winds us in intelligently and expertly so that this familiar story casts its spell over us anew.''

Garrick Theatre Safety Policy
Health & safety measures
Regular visible cleaning of all touchable surfaces before and after performances
Paperless or print at home tickets
Pre-order food and drinks online
Availability of hand sanitiser