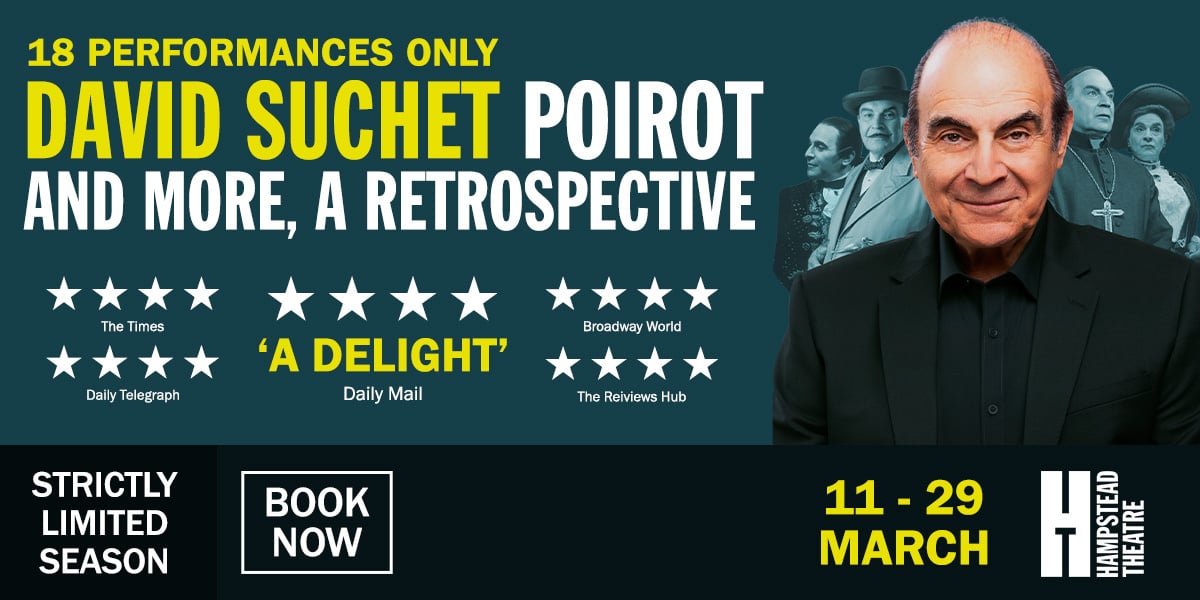 Back to Plays
David Suchet: Poirot & More, A Retrospective Tickets
Hampstead Theatre, London
Take a look back at the incredible five-decade career of renowned actor David Suchet.
Tickets for David Suchet: Poirot & More, A Retrospective are available now!
David Suchet fans will delight as the iconic British actor takes to the stage to share stories and insights from his enduring career, in this charming production. Suchet is said to reveal all, even the secrets behind the iconic moustache, walk and voice! Celebrate Suchet's illustrious career and rejoice in his accounts as you embark on a journey through some of his most memorable roles. Tickets for David Suchet: Poirot & More, A Retrospective at the Hampstead Theatre are available now! 
About David Suchet: Poirot & More, A Retrospective 
Following a smash-hit West End Run, Hampstead Theatre offers audiences a one-of-a-kind chance to acquire an insight into the work of one of the most renowned and captivating actors of our time. Suchet will give retrospectives on a fabulous five-decade acting career and the assortment of roles he has embarked on, which will shine a fresh and intimate light onto some of his most lavish and entertaining performances. 
As the production progresses, Suchet shares personal anecdotes and insights into his craft with the audience, including the process he goes through to bring his characters to life, and the physical and emotional transformation he undergoes for each role. He also offers a rare and intriguing glimpse into the creative decisions and collaborations that have made his performances so memorable from the beginning.
About David Suchet 
Suchet captivated millions across the globe for 25 years in his leading role as Agatha Christie's extravagant Belgian detective. Beyond Poirot, the Emmy award-winning and multi-Olivier award-nominated actor has continued his success by playing celebrated roles such as Lady Bracknell, Cardinal Benelli and Sigmund Freud. On stage, he has brought the literary greats to life, including Shakespeare, Oscar Wilde and Edward Albee.
David Suchet, Poirot & More, A Retrospective tickets are available now!
*David Suchet: Poirot & More, A Retrospective *is a must-see for fans of the actor, and anyone who appreciates the art of performance. The show has toured internationally and has received critical acclaim for its engaging and enlightening look at the life and career of one of Britain's most beloved actors! Book your tickets today!
Age restriction
To be confirmed.
Running time
To be confirmed.
Performance dates
11 March - 29 March 2023
Special notes
There will be a post show talk for same day ticket holders after the performance on 15 March.
Access
There will be a Captioned Performance on Wednesday 15 March at 7:30pm.