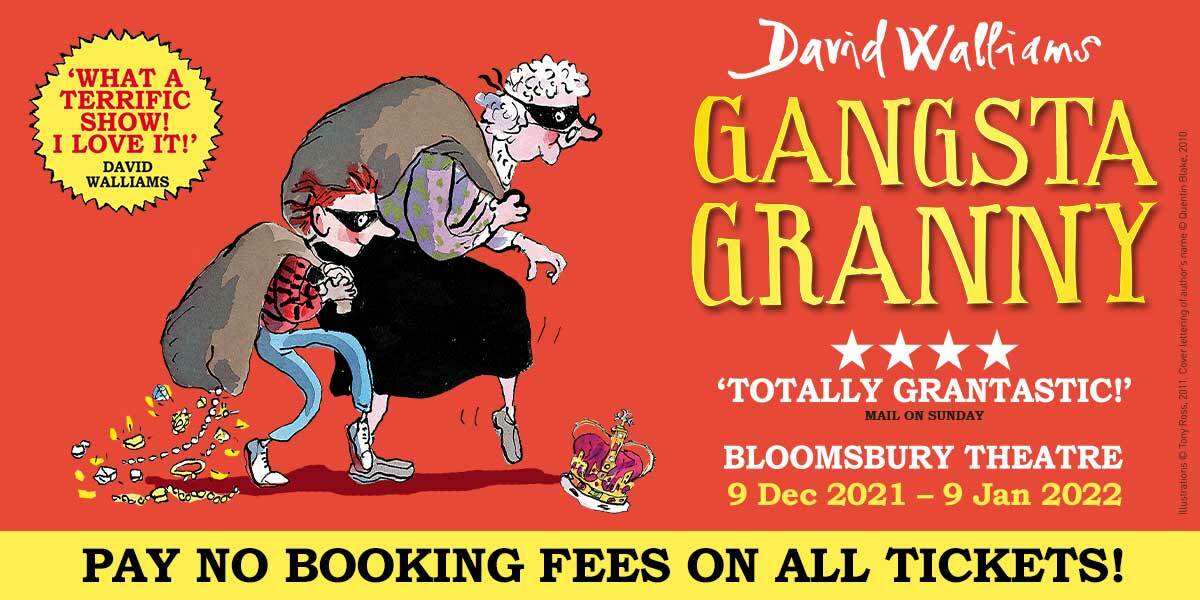 Back to Plays
Gangsta Granny Tickets
Bloomsbury Theatre, London
4.5
67 reviews
Gangsta Granny gives the gift of adventure this Christmas!
Keep me updated
For all the latest news and tickets on sale in the west end:
Tickets Refunded if your event is cancelled
Official tickets from an authorised retailer
100% Secure booking process guaranteed
Everyone's favourite Gangsta Granny is returning to London this Christmas!
This award-winning production, nominated for the Best Entertainment & Family Olivier Award, features an amazing cast, stunning sets and will have you dancing in the aisles! Tickets for Gangsta Granny are sure to make the season bright, so be sure to book your tickets today!
David Walliams' Gangsta Granny
It's Friday night and Ben knows that means only one thing - staying with Granny! There will be cabbage soup, cabbage pie and cabbage cake, and Ben knows one thing for sure - it's going to be sooooooo boring! But what Ben doesn't know is that Granny has a secret - and Friday nights are about to get more exciting than he could ever imagine, as he embarks on the adventure of a lifetime with his very own Gangsta Granny!
From the acclaimed producers of Billionaire Boy and Awful Auntie comes the award-winning West End production of this amazing story by David Walliams, the UK's best-selling author for children.
This will certainly THE show of the holiday season so book your Gangsta Granny tickets now!
Everyone's favourite duo Ben and Granny are coming to London for an extremely limited Christmas caper. Bring some holiday adventure to the whole family with a trip to Gangsta Granny at the Bloomsbury Theatre!
---
Age restriction
To be confirmed.
Running time
2hr 10min (inc. interval)
Performance dates
9 December 2021 - 9 January 2022
Content
Recommended for ages 6 and above.
Customer Reviews
67 reviews4.5
Jennifer Sullivan
23rd August
It was wonderful! We thoroughly enjoyed it!
Arthur
23rd August
The children really enjoyed the show,unfortunately a member of the cast became ill during the performance,it confused the kids because we had a new gansta gran,but still very good
Francis Fitzgerald
22nd August
Had a great time. Hillerous. So did my granddaughter and her friend both 14
Shernet Hardy
20th August
It was really good family entertainment, rather pricey confectionery and drinks but overall a lovely way to spend Sunday evening.
Ron Fuller
20th August
Was a good show especially for kids the only reason I'm not giving it a 4 or 5 stars is because of the quality of shows I've seen before this although my daughter loved it and I really enjoyed it
Mrs Sara Roberts
16th August
This was brilliant fun. My 5 year old loved it. Great theatre too. The cast really got the children (and adults) involved.
Neil Jones
15th August
Fantastic show..... fantastic venue....
Anna Gwardys
26th September
Good play. Actors really good - especially the two playing the main characters. My grandson loved it even though his English is not that good yet (he had read the book before seeing the play which helped). It was my first time at the Garrick and the experience was way below expectations. The state of the theater (e.g. lots of rubbish in the isles, parents drinking beer and wine and leaving plastic cups everywhere, etc.) was appaling. I have been to theatres in various countries and never seen anything like that before. Pity as it diminished the experience.
sean
22nd September
The show was great. It was just the squeaky chairs all through the show that wasn't good.
Bailey family
3rd September
The first half of the show was ok & the second half was brilliant. Hence the 4 stars would be 5 if based on the second half. The Cast were very good with Ben & Granny being real starts. Raj coming out to interact with the audience in the interval was great.
Helen
2nd September
The show was great, it was just a pity our seats were so bad. From the back of the stalls my children could barely see a thing. Booster cushions would be an idea.
Frances Jacobs
2nd September
Excellent show, thoroughly enjoyed by my 3 grandchildren aged 7,8 and 15 and myself. Loved the message it conveyed about loneliness of older people in such a super story. Well done to all concerned in the production and to David Walliams! Well worth seeing!!