Annie: ideal for Christmas and the New Year
Posted on 20 December 2017
Most musical theatre fans are familiar with Annie the musical, which was first performed on Broadway in 1977, with its West End debut in the following year. Since then, there have been West End revivals in almost every decade. This year saw the most recent revival with stars from TV, comedy, dance and stage in the tragi-comic role of Miss Hannigan.
Meera Syal is the latest incarnation of Miss Hannigan during this extended run of Annie. Syal's Miss Hannigan is not a pantomime villain, but she is uncompromising, uncaring and neglectful of the orphans in her care and of herself. Syal plays her as a comic tragedy, seeking solace in her bottles of gin stashed in her office safe and her failed romantic overtures to Bundles the laundry man. As expected from a great comic actor, able to transform herself into a variety of characters, Syal savours the chewing gum accent of New York, topped with the nasal whine we all know from movies and TV shows. Using the rhythms and flat tones of New York, Syal displays the cynical humour of Miss Hannigan. Syal lands punchy one-liners with sharp accuracy. When Annie claims that her parents would return for her, as promised in the letter they left with her as a baby, on the steps of the orphanage in 1922, Miss Hannigan retorts "that was in 1922 it's now 1933, they must have got stuck in traffic." The humour is harsh, cruel and very funny just like Miss Hannigan.

Who knew Syal could sing? I love her interpretation of "Little Girls" with its mixture of spoken word and singing. Syal shows off the hard-talking, witty New York dame, who survives the only way she knows how by using people and situations. This comes through so well in another fantastic number, "Easy Street" in which Syal sings and dances, using perfect comic timing, with her brother Rooster, played by Jonny Fines. He has a brilliant voice and his hard-edged portrayal of Rooster is a good match for Syal, along with Lily played as a brassy blonde by Kate Somerset Howe.
As someone who sings in choirs, I am very critical of singers and musicals. Fortunately, I was not disappointed by any of the cast in Annie. Our eponymous heroine is a triumph. Madeleine Haynes has an amazingly powerful voice, she hits the high notes every time with her clear soprano vocals. She manages to convey the poignancy and optimism of "Tomorrow" and is again note perfect. Haynes makes it seem effortless, always singing in tune and sustaining the long notes in every number. Haynes' Annie is a tough cookie, sweet but not saccharin, with the steel of a survivor at her core. Haynes plays Annie as whip smart and caring, keen to please but fully capable of standing up for herself and against injustices by others against the vulnerable children, adults and dog in her life. Haynes is a talented dancer, moving well to the choreography which is as sharp as the lyrics and dialogue.
I really love the group numbers, one of my favourites is the show-stopping "It's the Hard Knock Life", performed with tremendous talent, energy and enthusiasm by the Orphans (Team Madison). I also enjoyed how the Team Madison Orphans who play Molly, Duffy, Tessie, Pepper, July and Kate, mock the singers and presenter of the Radio show in their version of the Oxydent Smile jingle, "You're Never Fully Dressed Without a Smile." Their singing and dancing are synchronised and funny; they also act with great comic timing. The Orphans show similar vitality in all their numbers including "Maybe" which is also sung as a sweet solo by Annie. The " Hooverville" number, which has a good tap routine, raises the issues of unemployment, homelessness and poverty, haunting masses of people during the Great Depression. "NYC" is a spectacular number; the superb tap routine by the 3 sailors and their 3 female partners is reminiscent of "On the Town." I loved the Lindy Hop references in this joyous number, which brings to life the old Hollywood musicals of that era. It's fantastic to see a variety of dance styles in the group numbers.
Alex Bourne as Daddy Warbucks, is a competent singer who pulls at the heart strings in "Something Was Missing," dancing a charming waltz with Annie. Keisha Atwell, as Grace Farrell, displays her gorgeous vocals in operatic style numbers including, "You Won't Be an Orphan for Long" and "I Don't Need Anything But You."
The transitions between scenes are smoothly and cleverly done, as the props are designed to enable the cast of children and adults to move them. Actually, the whole set is excellently designed. It is also canny and endearing to have the dog, Sandy, run across the stage in between a few scene changes. Sandy, played by Amber, is a talented and well trained dog, as well as being very adorable.
Politics is treated with a light touch by FDR and his Cabinet in their rendition of "Tomorrow", which is great fun, with many comic moments. They do refer to what was happening in Germany, as well as mass poverty and unemployment, but don't worry, Annie is a feel-good musical, with a happy ending on Christmas Day.
Annie is a joyful celebration of the Christmas spirit of hope and new life and the triumph of good over evil, ideal for Christmas and the New Year.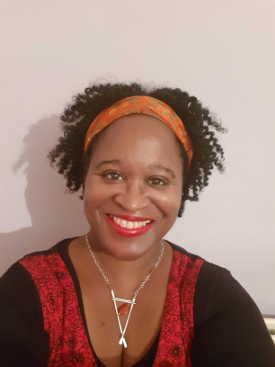 Since I was a child and now as an adult, I have loved performing, as an amateur, in choirs and the theatre. As a theatre goer my tastes are broad, I relish musical theatre and dance. I am passionate about plays by a huge range of writers. I am excited by the wide variety of contemporary plays which entertain, challenge and make me feel deeply.
10 years after a life-threatening road traffic collision left me disabled, I retired from working as a National Officer of a trade union. In recent years, I have been inspired to write short fiction after attending creative writing courses. In 2017, I began writing theatre reviews and I am thrilled by the opportunities to combine two of my loves: live theatre and writing.