London Theatre Review: Caroline or Change at the Playhouse Theatre
Posted on 7 December 2018
Why have I never heard of this musical spectacular? With Caroline, or Change set in Louisiana in November 1963, we witness an African-American maid named Caroline (Sharon D. Clarke) cook and clean for the Gellmans whilst befriending and comforting the son, Noah Gellman, a recently bereaved boy from a Jewish family. Where she works serves a good metaphor for her social position, as well as her emotional state.
Caroline works in physical isolation from the Gellman family, as she spends most of her time in their basement washing and ironing with only the radio, washing machine and dryer to keep her company. However, they turn out to be very good company indeed; from Caroline's mind, the radio transitions into a female pop group akin to the Supremes, but more harmonious and with stronger voices, and they cheerlead her throughout the day.
The fantastical washing machine, vividly played by Me'sha Bryan, is a giddy, bubbly woman, who counsels Caroline when things go wrong. I wish I had a dryer like the devilishly charming one in the basement played by Ako Mitchell, whose voice ranges from a deep bass you can feel in your gut to a thrilling falsetto. Caroline, authentically acted by Sharon D Clarke, is strong, yet vulnerable and lonely; struggling to make ends meet for her young children she is open to temptation. You can feel her frustration, you can hear the pain in her voice and you can see her fighting herself from her movement and expressions. This is best demonstrated in the numbers "I Got Four Kids" and "Lot's Wife."
This is a musical where everything is in verse, even the snatches of spoken word. The singing is superlative. Sharon D Clarke has a powerful voice and she knows exactly how to control it; from a deep contralto to a mezzo soprano. Her voice is full-bodied, clear, alternately strong and soft, changing the dynamics with the differing circumstances of her character.
I was also impressed by the clear diction of each actor, which is difficult to achieve and maintain when singing – and remember, nearly all of this fabulous musical is sung! Although stoic, everyone knows Caroline is miserable, wouldn't you be? Intelligent and capable of much more, she is boxed into a corner due to the racism and sexism of the Jim Crow south. Divorced from her husband who had become an abusive drunkard after returning from WWII and being unable to find work, Caroline wants more for her life than to be stuck in service 16ft below the sea in a boiling hot basement. "I Got Four Kids" expresses her pent-up frustration, feelings of being trapped and the weight of responsibility she bears for providing for her children and even for sending care packages to her son fighting in Vietnam. Clarke expresses Caroline's anxieties hopes, dreams and desires using the great lyrics of "Gonna Pass Me a Law," including a fantasy that Nat King Cole will come over to her house, which is very amusing.
Lauren Ward is the trying Rose Stepnick Gellman, a well-meaning New Yorker transplanted to Louisiana after marrying the recently widowed Stuart Gellman. She hasn't acclimatised to Louisiana's way of life and attitude to race. She misses the Upper West Side and doesn't get on with her new husband's son, Noah. She has the kindly paternalistic approach to managing Caroline, whom she repeatedly calls Carolyn. Ward's great acting and singing shows just how hard Rose is trying to fit in to be a good housewife and mother to Noah, but she is trying too hard. Jack Meredith gives a natural performance as the grieving and sometimes defiant Noah Gellman and has a clear and strong singing voice.
Among my favourite musical numbers is the difficult "I Hate The Bus," in which Omonua gets to showcase her full vocal range. Dotty and Caroline meet at the bus stop and even though the conversation between them is sung, it is very naturalistic. Naana Agyei-Ampadu plays the ambitious, pragmatic and somewhat opportunistic Dotty, who has a wonderful voice. This leads us into another great number, "Moon Trio," led by Angela Caesar's operatic soprano as the Moon. The characters Dotty, Caroline and the Moon are in perfect harmony here. Ako Mitchell, who also acts as The Bus, has the gritty gravitas of a bus that has seen it all, warning us that "The earth has bled, now comes the flood." Abiona Omonua as Emmie, Caroline's young rebellious daughter, plays her with vitality and vigour.
There are so many other great numbers, including "1943," which uses the sounds and beats of big band music and starts off optimistically telling the story of Caroline's marriage to a sailor during the war. "Lot's Wife" is a showstopper; powerful, full of hurt, which Caroline has suppressed for such a long time. Clarke conveys Caroline's regrets and voices a lament and cry from the heart, which seems to be torn out of her body; "murder my hope, murder my dreams, strangle the pride," she feels she has to "Scour my skin til I stop feeling." She wants to stop all the bitterness from eating her up "Don't make my sorrow make evil of me."
Make sure you see this gifted cast in an imaginative musical filled with brilliant songs!
---
Caroline, or Change is playing at the Playhouse Theatre through 6 April. This show has been an incredible success with critics and audiences alike. Don't miss your chance to see the fabulous Sharon D Clarke on stage in London. Book your Caroline, or Change tickets now to guarantee your seats!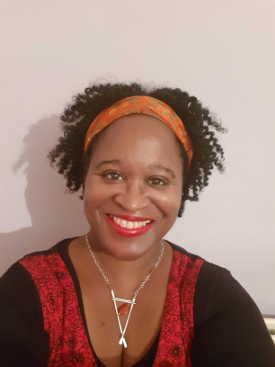 Since I was a child and now as an adult, I have loved performing, as an amateur, in choirs and the theatre. As a theatre goer my tastes are broad, I relish musical theatre and dance. I am passionate about plays by a huge range of writers. I am excited by the wide variety of contemporary plays which entertain, challenge and make me feel deeply.
10 years after a life-threatening road traffic collision left me disabled, I retired from working as a National Officer of a trade union. In recent years, I have been inspired to write short fiction after attending creative writing courses. In 2017, I began writing theatre reviews and I am thrilled by the opportunities to combine two of my loves: live theatre and writing.