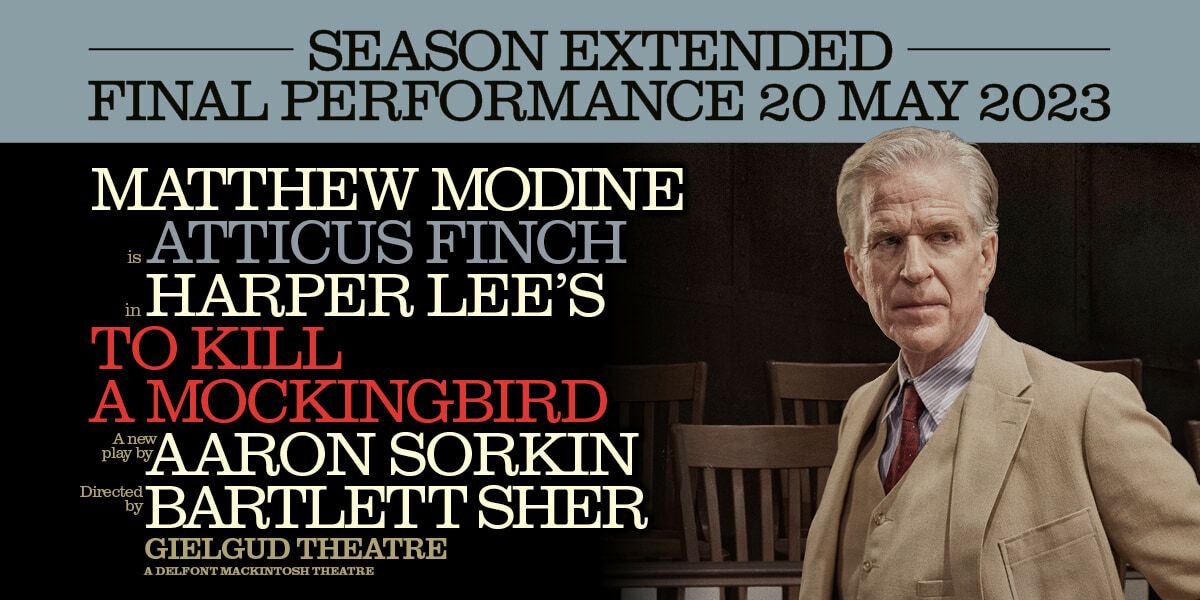 Harper Lee's critically-acclaimed coming-of-age classic at the West End's Gielgud Theatre!
Keep me updated
We'll tell you as soon as tickets go on sale:
Free E-TicketsThis show offers free, no-hassle self-print or e-tickets
To Kill a Mockingbird play tickets are on sale now!
To Kill a Mockingbird made the journey from Broadway to the West End in 2022 and is playing to 20 May 2023. After an extremely successful Broadway debut, Aaron Sorkin's new production of To Kill a Mockingbird earned several Tony Award nominations. This incredible show has received nightly standing ovations for its utterly revolutionary adaptation. You'll want to book To Kill a Mockingbird tickets before it leaves the West End!
##To Kill a Mockingbird at London's Gielgud Theatre through 20 May 2023!
Harper Lee's incredible novel won the Pulitzer Prize and was long on the top of banned book lists. The story was inspired by Lee's childhood in Alabama and follows Atticus Finch and his daughter Scout. Known as one of literature's towering symbols of honesty and compassion, lawyer Atticus Finch seeks the truth in a town that seems determined to hide it.
This Pulitzer Prize-winning novel has seen many adaptations over the years including an Academy Award-winning film and multiple adaptations for the stage. An adaptation by Christopher Sergel played in the UK on and off from 2006, including a production at Regent's Park Open Air Theatre in London in 2013 and 2014 ahead of a UK tour.
New Adaptation of To Kill a Mockingbird
This new adaptation of the classic novel sees things in a different light. Don't expect Atticus to be the shining beacon of virtue you have always known him to be. This new adaptation comes from Aaron Sorkin. The show opened at Broadway's Shubert Theatre in December of 2018. The show opened to great success and has been well received by critics and audiences alike. The show earned an impressive 9 Tony Award nominations and came away with the award for Best Performance by an Actress in a Featured Role in a Play. Among many other nominations, the show would go on to win a Drama Desk Award and an Outer Critics Circle Award.
To Kill a Mockingbird London cast and creatives
The cast of To Kill a Mockingbird stars Matthew Modine (Atticus Finch), Harry Attwell (Mr. Cunningham/Boo Radley), Helen Belbin (Miss Stephanie/Dill's Mother), Niall Buggy (Judge Taylor), Colin R Campbell (Mr Roscoe/Dr Reynolds),John Hastings (Bailiff), Rebecca Hayes (Mayella Ewell), Simon Hepworth (Link Deas), Ellis Howard (Dill Harris), Jason Hughes (Bob Ewell), Tom Mannion (Sheriff Heck Tate), Sam Mitchell (Jem Finch), Anna Munden (Scout Finch), Cecilia Noble (Calpurnia),Jude Owusu (Tom Robinson), **David Sturzaker ** (Horace Gilmer) and Natasha Williams (Mrs Dubose's Maid). Candida Caldicot is on organ, and Jack Benjamin is on guitar.
The cast is completed by Ciyo Brown, Cheryl Burniston, Jack Crumlin, Alan Drake, Max Ferguson, Phillipa Flynn, Niamh James, Julie Legrand, Nigel Lister, Tiwai Muza, Itoya Osagiede, Oyin Oyija and George Telfer.
Aaron Sorkin's new play is based on Harper Lee's original Pulitzer Prize-winning novel, and is directed by Bartlett Sher. Sher is joined by the original Broadway creative team of Miriam Buether for sets, Ann Roth for costumes, Jennifer Tipton for lighting, Scott Lehrer for sound as well as the original score by Adam Guettel with music supervision from Kimberly Grigsby and hair and wigs from Campbell Young Associates. The original team are joined by Serena Hill as Casting Director, Hazel Holder as Voice & Dialect Coach, Titas Halder as Associate Director, Rasheka Christie-Carter as Assistant Director, Tavia Rivée Jefferson as Cultural Coordinator, and Candida Caldicot as Musical Director.
Tickets for To Kill a Mockingbird are available now!
Witness Harper Lee's classic come to life on stage. Book tickets for To Kill a Mockingbird before it flys out of the West End!
Age restriction
Age Recommendation: 12+. All persons under the age of 16 must be accompanied by and sat next to an accompanying adult. They may not sit on their own within the auditorium
Running time
2 hr 50 min (including 15 minute interval)
Performance dates
10 March 2022 - 20 May 2023
Content
Please be advised that this production contains racially explicit language, themes and content and references to sexual abuse and violence. There will be brief gunfire audio in the performance.
Special notes
Everyone, regardless of age, must have their own ticket to enter the theatre. Children under the age of 16 must be accompanied by and sat next to a ticketholder who is at least 18 years old. Children under the age of 3 will not be admitted. Latecomers may not be admitted until a suitable break in the performance. You may not bring food or drink purchased elsewhere.
The producers cannot guarantee the appearance of any particular artist, which is always subject to illness, injury and statutory leave entitlement.
Customer
Reviews
1094 reviews
4.8
Gielgud Theatre Safety Policy
Health & safety measures
Paperless or print at home tickets
Visitor measures
Cash free venue - contactless payments only