London Theatre Review: New Cast of Waitress at the Adelphi Theatre
Posted on 15 July 2019
Waitress the musical comedy remains faithful to the plot and structure of the film on which it is based, which is more than you can say for most of its main characters, regarding their spouses. The eponymous 2007 film was not a musical but, fortunately, the production is an inspired transformation. The set is imaginatively designed; the cast and crew change the set so smoothly and with such great synchronicity that they make it look effortless. The music and lyrics, composed by Sara Bareilles, perfectly fit the story and the characters. The six-piece band are wonderful. The casting too is a great fit.
Waitress, the rom-com musical, like the film, is a more realistic portrayal of women's relationships with themselves and their partners than other rom-coms. Jenna, perceptively played by Lucie Jones, is a poor waitress in small town America, stuck in a psychologically, physically and financially abusive relationship with her husband Earl. She discovers she is having their baby. Jenna doesn't want to stay with Earl and is ambiguous about the baby. Her self-soothing involves creating new recipes for pies, which she bakes every day for the café she waits tables at. Her wing women are waitresses Marisha Wallace as Becky, the stereotypical sassy black woman and Ashley Roberts as the painfully introverted, unconfident Dawn, who each have their own issues.
The music is a mixture of country rock pop, which is in keeping with the small town America vibe. Bareilles lyrics and music are intelligent, imaginative, fun, and tender. Indeed, the whole musical is great fun and inventive. The vocals are superlative. Jones has an amazing voice and range which is perfectly pitched throughout. Jones' version of 'Make It Work' is a good example of her excellent vocal technique: with her long sustained notes and runs matching Bareilles' witty lyrics and music. Jones' rendition of 'She Used to be Mine' is poignant coming in waves of anguish, regret, anger, strength and gentleness. It reveals how self-critical Jenna is and whether Earl has succeeded in destroying her. Wallace's voice is also superb, with warm rich tones and power in her scintillating voice; she can sing any song in any style and make it her own. I love how she puts a soulful spin on 'I Didn't Plan It' and makes it anthem-like, as it is really a soft rock song. Wallace's dazzling technique shows how easily she controls her voice and embodies Becky's feelings.
The trio's performance of 'The Negative' is funny and has a lot of wordplay, in fact, most of the songs in Waitress contain astute puns and metaphors. Like the best female pop groups, the trio's harmonies are tight, reflecting their close friendships. Their honeyed tones are like a good sponge which has a correctly proportioned mixture, a good rise and is springy to the touch. Admittedly my similes need work, unlike this ingeniously crafted musical.
There are inventive touches including the number 'Club Knocked Up,' an amusing and clever little ditty performed by a barber-shop trio of women as a bridge between scenes. There is also the refrain of 'Sugar, Butter, Flour,' sung like bells chiming reminders throughout the play.
Earl, menacingly played by Piers Bate, is a nasty abusive leech, who constantly puts Jenna down, is possessive, controlling and violent. He is without any redeeming qualities and could be seen as a pantomime villain, however, abusive behaviour like this does exist in real life. Jenna's two best friends, particularly Becky, urge Jenna to leave him. They are very supportive of Jenna and each other. Becky and Jenna encourage Dawn to embark on online dating. When she meets the quirky Ogie, who clearly has much in common with Dawn, and is totally devoted to her, they guide Dawn to embark on a relationship with him. Dawn's anxieties about dating are highlighted in 'When He Sees Me.' It is a tricky song to sing, with its changes in tempo and style from slow to fast-paced conversational lyrics. It's a catchy tune with strong lyrics, but this wordy song is too much of a stretch for Roberts. However, when Roberts sings in a group, as a trio or as part of the ensemble, there is a lovely blended sound. Furthermore, Roberts is just right for Dawn, portraying her anxiousness and awkwardness so well.
Jenna's feelings and actions are messy and contradictory like many of us. Whilst she is working out whether to stay and how to leave Earl she gets embroiled in an affair with Dr Pomatter, her gynaecologist, animatedly played by David Hunter. He is at first clumsy and awkward with Jenna due to his sexual attraction conveyed in their first duet 'It Only Takes a Taste,' which is full of double entendres about their mutual attraction and the temptation to pursue it. It is very funny. Their affair is fun and does wonders for Jenna's self-confidence, despite both knowing it's a 'Bad Idea' which is another cleverly worded and perceptively performed duet between Jenna and Dr Pomatter. Even though Dr Pomatter shows and tells Jenna that 'You Matter to Me' and she reciprocates, and his falsetto is insane, this is not enough. Hunter's vocals are fantastic, he has a clear voice and he sings close harmonies with Jones.
There is a lot of smart and silly comedy in Waitress. I love the one-liners from Becky delivered with machine gun intensity and aimed at anyone in her line of fire. Jenna's humour is drier and resigned, Dawn's gawkiness is amusing, displaying brilliant physicality and slapstick comedy from Roberts. The best proponent of the brilliant comedy in Waitress is Dawn's date Ogie played by Blake Harrison, who is a scene stealer with his wacky physicality and excellent timing. He is hilarious in his performance of 'Never Ever Getting Rid of Me' displaying awkward bodily movements, a lack of boundaries and complete unselfconsciousness. The zany Ogie is a good counterpoint for Dawn who is timid and full of anxieties about the right way to behave and what others think of her. Note that the line "I love you means you're never ever ever getting rid of me" has no stalker connotations, it's side-splitting. Whereas Earl's 'You Will Still Be Mine' is creepy and menacing. Harrison and Roberts are uproarious in the number 'I Love You Like a Table' which is another show-stopper. Other comical moments include the tableaux of the 3 couples (2 of whom are having affairs) shagging in their own inimitable fashion, it is riotous.
The Jenna, Becky and Dawn trio of voices continue to complement each other gorgeously at the end of the play in 'Everything changes.' Led by Jones as Jenna, it is a celebration of moving on, forgiving yourself and how having her baby gives Jenna a new perspective; courage to leave her toxic relationships and improve her life. We arrive full circle at the end with 'Opening Up' as the last number performed by the whole company, heralding a fresh start.
---
Waitress is currently booking at the West End's Adelphi Theatre through 7 December 2019
Keep an eye on Waitress tickets during our #LTD20 campaign and you might get a secret serving of savings!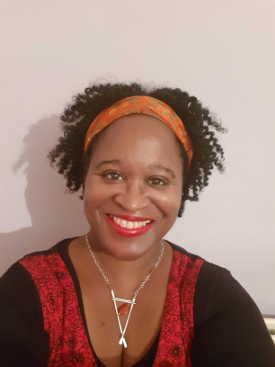 Since I was a child and now as an adult, I have loved performing, as an amateur, in choirs and the theatre. As a theatre goer my tastes are broad, I relish musical theatre and dance. I am passionate about plays by a huge range of writers. I am excited by the wide variety of contemporary plays which entertain, challenge and make me feel deeply.
10 years after a life-threatening road traffic collision left me disabled, I retired from working as a National Officer of a trade union. In recent years, I have been inspired to write short fiction after attending creative writing courses. In 2017, I began writing theatre reviews and I am thrilled by the opportunities to combine two of my loves: live theatre and writing.