Top 7 shows to see during London Pride 2019
Posted on 7 June 2019
Happy Pride Month! Summer is here and of course, June brings more than sunshine but rainbows too with Pride month. Fortunately, we live in a country where Pride can be celebrated. If you're in London or planning a trip this Pride month, or in July when London's Pride weekend will take place this year, then here are some great ideas to help you celebrate this year. We're lucky that London has some really great LGBT shows, but if we were to whittle them down, here are our top 7 favourite shows to see during Pride 2019…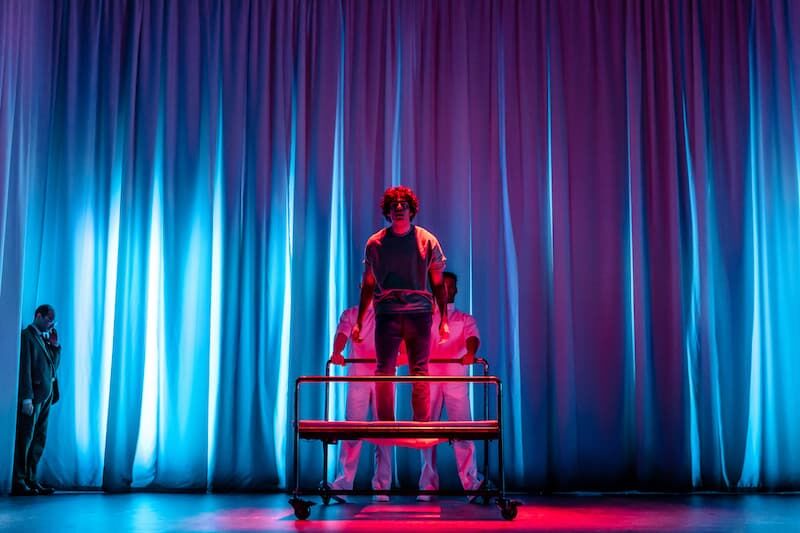 Equus (6 July – 7 September)
If you're looking to make both pride and summer hotter this year then award-winning director Ned Bennett's revival of Equus is the ticket for you. Following its five-star run earlier this year at the Theatre Royal Stratford East, it's making a transfer into London's Trafalgar Studios for a limited 9-week run. Sir Peter Shaffer's psychological play begins when a horrifying crime is committed and Dr Martin Dysart attempts to discover what possible motives 17-year old Alan Strang could have had to carry out such a ghastly offence. The psychiatrist digs deep and begins to lose himself in the process as he delves further into Alan's mind which is consumed by warped worship, sexuality and religious fervour. This shocking and dark production focuses on what it means to be normal and what compels us to act the way we do. This highly acclaimed play is set to shock audiences once again this summer, and tickets are likely to be hotter than the great British weather, so be sure to get yours whilst availability lasts!
🎟 Book your tickets for Equus in London here.
The View UpStairs (18 July – 24 August)
This provocative musical was an off-Broadway hit, being one of the hottest productions in New York, and now The View UpStairs is making a West End transfer set to make sure London is hot and bumping this summer. Max Vernon's hit musical about love, hope, friendship, community and progress, is coming to the Soho Theatre this summer for just over 4 weeks and you're not going to want to miss this one. The story follows a fashion designer, Wes, who buys an old building, not knowing that four decades ago, in the 70s, it was a flamboyant gay bar, where the trousers were flared, and the disco hits blared. Wes gets sucked into a soulful journey of self-discovery and sensual seduction. After having received unparalleled acclaim from the critics, public and celebrities, this off-Broadway show is sure to fire up Soho whilst paying homage to LGBT culture. The View UpStairs is the perfect way to celebrate Pride this year so book your tickets today to secure the best seats whilst you can.
🎟 Book your tickets for The View UpStairs in London here.
On Your Feet! (14 June- 31 August)
If you want to party along to Gloria Estefan's greatest hits this Pride then this crowd-pleasing bio-musical is the perfect show for you. This summer see On Your Feet! The Story of Emilio and Gloria Estefan at the London Coliseum for a pinch of Cuban Spice! Conga to London's West End to learn about the inspiring true story about heart, heritage and two people who believed in each other and their talent, on their journey to becoming international superstars. This heart-warming, toe-tapping production has taken to the stage and has already won over audiences, critics and the public alike, and is set to do so in the long-awaited West End transfer. Feel the rhythm of the music and book your tickets for On Your Feet! to see why Broadway has been raving about this smash-hit musical!
🎟 Book your tickets for On Your Feet! in London here and save up to 61%.
Everybody's Talking About Jamie (booking until 25 January 2020)
Jamie New is sixteen and like many his age, is terrified of what the future holds. However, with the support of his mum, friends and local drag queens, he overcomes prejudice and the bullies who fight to put him down. Jamie isn't going to hide in the darkness but instead steps into the spotlight, in six-inch stilettos of course, and be the sensation he was always meant to be. This award-winning, heart-warming show instantly won the hearts of audiences in the West End and continues to do so with its extended run, now booking until January 2020. True to its title, it has been the talk of London since it added extra pizazz to Shaftesbury Avenue. Tickets for Everybody's Talking About Jamie are the hottest in town at all time and likely even more so for Pride this summer 2019, so be quick to secure your tickets today!
🎟 Book your tickets for Everybody's Talking About Jamie in London here.
9 to 5 The Musical (booking until 4 April 2020)
9 to 5, what a way to spend an evening! Based on the 1980 hit movie starring Dolly Parton, comes 9 to 5 The Musical, following a hugely successful UK tour. With beloved characters from the film, a book from Patricia Resnik and an Oscar, Tony and Grammy-nominated score from Dolly herself, this girl power musical come to life on stage in the West End's Savoy Theatre. The story follows three women who are brought together due to their sexist pig of a boss needing to be a taught a lesson. They take matters into their own hands and leave him hanging and decide to run the office their way, finding their voices and regaining control along the way. This hilarious show is perfect for a feel-good evening and with the queen of country music behind music and lyrics, it makes a great addition to your Pride celebrations!
🎟 Book your tickets for 9 to 5 The Musical in London here.
SIX (booking until 5 January 2020)
Welcome to the show, to the histo-remix… if you haven't seen this show yet you may possibly be wondering what this raved, hit show is all about. Well, as the queens say, everybody knows that they used to be six wives, the famous wives of Henry VIII that is, but now it's time for them to tell her-story. This isn't your average history lesson though, as these iconic queens turn pop princesses, turn up the beat and have a song battle to express their side of the story for the first time in 500 years. They're no longer being reduced to a single word in a stupid rhyme and they're having the ultimate party whilst they do. If you're looking for the place to celebrate Pride and girl power, then SIX tickets are guaranteed to please you.
🎟 Book your tickets for SIX in London here.
Diane Chorley: Chatting with Chorley (booking until 5 July)
It's only right you find yourself in Soho during Pride month so whilst you're there, you may want to head into the Soho Theatre and head downstairs for this exciting new talk show. Join Diane Chorley and join the matriarch of the cult 1980s Canvey Island nightclub and watch as she outshines two fabulous guest stars, from the big screen and stage alike. Chorley isn't afraid to get her guests talking, as she has enough aces up her sleeve to make even Max Clifford turn red. Get your tickets for Chatting with Chorley and you'll be certain to have an unforgettable night, filled with laughter, anecdotes, music, and of course, endless fun.
🎟 Book your tickets for Diane Chorley: Chatting with Chorley in London here.
---
Pride month is typically the month of June, but the 2019 Pride London dates are from 8 June to 6 July. The Pride in London parade will take place on 6 July.