What's closing in London Theatre this month? (March 2019)
Updated on 11 March 2019
With just 28 days, February always seems to come and go in the blink of an eye and sadly that's also the case for some of our favourite London theatre shows, which will have their final curtain calls this month. Whilst a 'strictly limited runs' mean shows come to an end much sooner than you'd like, there's still time to grab tickets and catch them whilst you can. Check out what West End and London theatre shows are closing in the month of March below.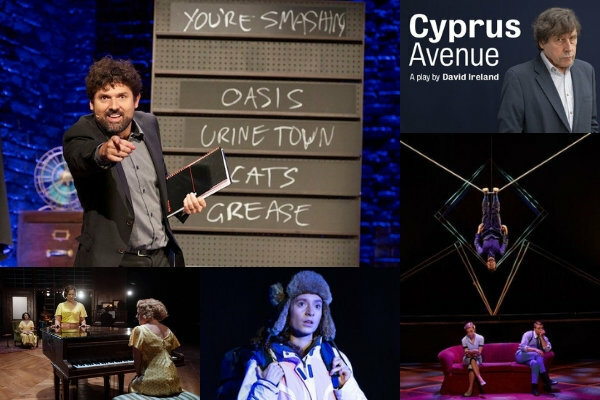 You'll be doing backflips after seeing Hotel
Cirque Eloize: Hotel (closes 9 March)
Cirque Eloize has been celebrating their 25th anniversary with their fabulous new show Hotel. Through acrobatics, dance, live music and theatre, you will be wowed by this unique blend of circus. After stepping into the lobby you'll be met with an art deco hotel inspired by the grandest of hotels, where tourists and travellers mingle throughout the 1920s, as well as stopping by in the 1970s and 2040. With an original score by Éloi Painchaud, you'll be transported through time as you witness intimate stories hidden behind closed doors. Be sure to act fast before this contemporary Canadian circus leaves town.
Purchase your last-minute tickets to Cirque Eloize: Hotel at the Peacock Theatre here.
Another night, another improv, another hit musical
Showstopper! The Improvised Musical (closes 16 March)
The Showstoppers have been entertaining audiences around the world for years and years, having a critically acclaimed West End run, numerous tours and festivals, and, lest we forget, a BBC Radio Four series under their belt. These Olivier Award 2016 winners are back to thrill the West End once again and their limited run at The Other Palace is coming to a close far too soon. From audience suggestions to a whole new improv musical every night, you can see this show again and again and be in for a whole new treat every time.
Purchase your last-minute tickets to Showstopper! The Improvised Musical at The Other Palace here.
David Ireland's play is as shockingly dark as it is outstanding
Cyprus Avenue (closes 23 March)
This shockingly dark comedy stars award-winning actor Stephen Rea, who plays Eric Miller, a Belfast loyalist. This award-winning play has sold out the Royal Court Theatre once before, and after transferring across the world to New York, Dublin and Belfast, it made a return here to the West End, where it's considered the "most shocking and relevant play in London". The tale follows Eric, an old man, who believes his heritage is under attack despite his family trying to convince him to let go of his battles from the past. This outrageous play draws on its darkness in order to drive home its point and take you all the way to an unexpected violent end.
Purchase your last-minute tickets to Cyprus Avenue at the Royal Court Theatre here.
A Hundred Words for Snow (closes 30 March)
Tatty Hennessy's play, A Hundred Words for Snow, both opens and closes in the West End's Trafalgar Studios this month after its hit runs at The Vaults and the Arcola Theatre. The tale is an emotional coming of age story that explores the themes of life varying from birth to death. Being set in the melting North Pole, there's also light shed on the destruction of the planet, but despite such serious topics, it's heartwarming at its core. Critics and audiences alike were enthralled with the show before it transferred, so be sure to catch it in the West End before it's gone.
Purchase your last-minute tickets to A Hundred Words for Snow at Trafalgar Studios here.
The American Clock (closes 30 March)
The American Clock, a provocative play by Arthur Miller, is another show with a very limited run making your window in which to catch it a narrow one. This is a production you'll want to stop time for because despite being set in the swinging jazz era of the 1920s, the themes of hope and unrealistic ideals still resonate today. The American Clock focuses on the Baum family amidst the stock market crash in 1929's New York City and watches their lives change following a financial crisis. Rachel Chavkin (Hadestown) directs this period piece and presents it as something that remains just as strong and relevant in today's world. This play is one you will not want to miss!
Purchase your last-minute tickets to The American Clock at the Old Vic Theatre here.
Also Closing in March 2019…
Caroline, Or Change closes on 2 March 2019 at the Playhouse Theatre. Only 3 performances left!
Purchase your last-minute Caroline, Or Change tickets from £18.
Soft Animals closes on 2 March 2019 at the Soho Theatre.
Purchase your Soft Animal tickets.
Keith? closes on 9 March 2019 at the Arcola Theatre.
Purchase Keith? tickets.
Equus closes on 23 March 2019 at the Theatre Royal Stratford East.
Purchase your Equus tickets.
Yamato: Passion closes on 31 March 2019 at the Peacock Theatre.
Purchase Yamato: Passion tickets.