Why you should be excited for & Juliet
Updated on 29 April 2019
Perhaps you've already heard about the upcoming show this year that's got everyone in the theatre scene abuzz? I'm talking about & Juliet, a brand-new musical following on from one of Shakespeare's greatest works (and possibly the most popular love story in the world). I was lucky enough to take a sneak peek behind the curtain for a workshop-style preview of what's to come and I must say, if you're not already excited about & Juliet, then you should be!
You're probably wondering how the story could go on... They both died, right? Well, brace yourselves for a story of what would have happened if Juliet hadn't picked up that bloodstained dagger because in this Shakespearean what-if scenario, she gets to choose her own fate and how her story ends. Excited yet? No? Then how about this: & Juliet not only boasts a great story but is also accompanied by the music of acclaimed Swedish songwriter Max Martin. Think Taylor Swift's 'Blank Space', Katy Perry's 'I Kissed A Girl' and Britney Spears's '...Baby One More Time', just to name a few. Yup, it just got a whole lot better!
There are so many reasons to get pumped for this debut production, which heads to the West End's Shaftesbury Theatre this autumn, but here are a few that just might truly entice you…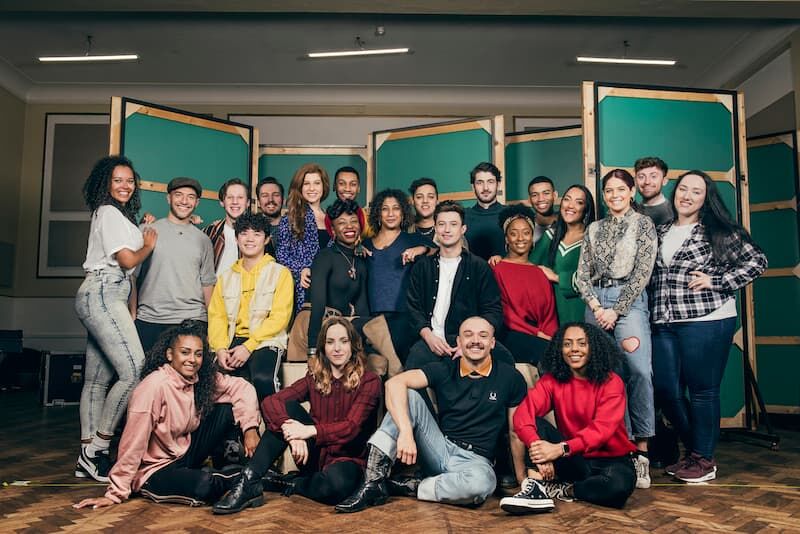 The cast and crew for the daring new musical, & Juliet
This ain't HIS-story. It's HERstory!
Two young, star-crossed lovers dying after only just coming together, despite their feuding family… blah blah blah, that's so 16th century. This reimagining turns Shakespeare's tragedy on its head and this time, Juliet doesn't die. Instead, she gets a life and she calls all the shots! & Juliet is the tale you never knew you needed, but once you see it, it'll be the only version you accept. With girl power on the rise in the West End thanks to the show-stopping SIX that has dominated the Olivier Award nominations this year and the all-female play Emilia, & Juliet couldn't have come at a better time. This musical takes a centuries-old classic that we all know and, let's admit it, love and makes it both contemporary and arguably a million times better. If you're wondering how an already-amazing story could be improved, then you're in for a treat when this musical begins.
Max Martin's greatest hits in one musical
If you didn't know who Max Martin was before reading about & Juliet, you've definitely at least heard one or more of his songs before. The Swedish lyricist and record producer has written and produced some of the biggest pop songs of all time and has won numerous awards for his work, including 4 Grammy Awards, 10 ASCAP Pop Music Awards. What's more, he was even nominated for an Academy Award for Justin Timberlake's 'Can't Stop the Feeling!'. His work ranges from '…Baby One More Time' and 'Everybody (Backstreet's Back)' to the likes of 'Love Me Like You Do' (Ellie Goulding) and 'Can't Feel My Face' (The Weeknd). And yes, they really are all featured in & Juliet! With the greatest pop hits in tow, this musical is set to make a lot of noise when it takes to the stage.
But you may be wondering how Max Martin's pop songs are going to fit into a Romeo & Juliet story… First of all, this isn't your traditional Shakespeare tragedy. This is Juliet's story, remember? And these hits, which span decades and genres, give this new tale the extra pizzazz that makes it, unlike its tragic counterpart, a completely contemporary and upbeat, feel-good show. The way in which they have incorporated these chart-topping songs into the production is nothing short of brilliant and the songs are bound to make this musical a sure-fire hit. Having such an iconic literary character as Juliet both singing and responding to such modern songs really sets this production apart from your average Shakespeare's Globe production.
& Juliet's cast and creatives – the industry's best of the best!
To be successful, a musical needs an all-rounded, solid team and the cast and creatives for & Juliet are definitely bringing their A game for this exciting new production.
Miriam-Teak Lee (Hamilton) leads this cast as our Juliet (and praise casting director Stuart Burt for this decision because she is an absolute sensation). After being fortunate enough to see & Juliet in a workshop recently, I can tell you that she's going to take the West End by storm. She's absolutely got the star quality that a leading lady needs and she carries this story incredibly; both commanding the stage and leading the rest of the cast with ease. You never expect to envision Juliet as a heroine but after you see this musical you will!
Cassidy Janson (Chess, Beautiful: The Carole King Musical) is an added bonus to any cast she's a part of but she brings an extra bit of oomph to this production. Janson will be taking on the role of Anne Hathaway (the wife of Shakespeare not The Princess Diaries star) and the character of April, but you'll have to get tickets and see how that one pans out. She may be small, but she brings a big voice and a big character, making it impossible not to like her. Janson will be appearing in Man of La Mancha at the London Coliseum this summer before embarking on & Juliet, so be sure to catch this incredible leading lady.
Oliver Tompsett also joins the cast, playing the legendary playwright himself, William Shakespeare, and what a fantastic casting decision this is! Tompsett is an incredible West End leading man, having starred in the likes of Kinky Boots, Wicked, Guys and Dolls, We Will Rock You and Rock of Ages.
If you're wondering about Romeo, then yes, he will be in this story and played by Jordan Luke Gage (Bat Out of Hell). His incredible vocals are going to blow the roof off of any theatre this production graces, whilst simultaneously ensuring you have a soft spot for even this incarnation of Romeo.
Also joining the & Juliet cast is Arun Blair-Mangat, who plays May, one of Juliet's best friends and quite the show stealer. His previous works include playing Romeo in Romeo & Juliet (UK tour), Kinky Boots and Leave to Remain. His voice is simply beautiful and has the power to completely grasp you, both in heart and mind.
A part of this production that stood out in the workshop alone is how incredibly tight the choreography is. It's contemporary and fresh, which gives these songs a new lease of life. Jennifer Weber has already ensured that the cast and ensemble will look brilliant because this choreography is positively divine.
& Juliet is going to capture the heart and soul of many theatregoers and it offers endless reasons why you should be rushing for tickets. A new show should always induce excitement but when it's set to be this good, it's only right to be completely giddy.
Tickets to & Juliet beginning at £25!
& Juliet is set to hit the West End on 2 November 2019 at the Shaftesbury Theatre, where it is booking until 28 March 2020. Book your & Juliet tickets today for as low as £25 on select seats and enjoy the show!
---
Purchase your & Juliet Shaftesbury Theatre tickets from £25.
A love for theatre stemmed from my love of literature and music, but the West End on my doorstep opened up a whole new appreciation and passion for all things stage-y